Some teachers give wrap ups at the end of a lesson, but Edwards Middle School teacher David Yancey is giving his students "rap ups."
Yancey, 31, has been teaching at the school for eight years, and while he's always had a passion for educating, when he realized his students were struggling to understand government, he had to find a new way to help them retain each lesson.
"Students have always hated social studies since the dawn of time," Yancey told NBC News in an email. "I realized that students almost choose to be disconnected from the material. In an attempt to bridge the gap, I chose to ask my mentoring group 'What songs are in right now?'"
The Conyers, Georgia, teacher said — once the group stopped laughing — they told him about a song with a hook that goes, "about a week ago."
"In an attempt to drive home the material, I changed the lyrics from 'about a week ago' to 'about a month ago,'" Yancey said. "I also made 'I'm Coach Yancey' the same night based on Iggy [Azeala]'s 'I'm so Fancy.'"
But it's not all hip-hop: The teacher's repertoire also includes a version of Adele's "Hello," entitled "Hello from the Cherokee."
Yancey's eighth-grade students have responded overwhelmingly positively to his social study raps, which he gives at the end of a unit in order to help his students retain the information from the lesson, he said.
In videos posted on YouTube, Yancey is seen rapping his own lyrics along to Migos' "Bad and Boujee," which he tweaked to "Mad and Losing," and devoted to a lesson about General Ulysses S. Grant and the Civil War.
With the lyrics to Yancey's version projected on to a screen, the students are able to rap along with the teacher. Some students have recorded videos of Yancey rapping and posted them to Twitter, where they have gone viral.
Many of the raps have been posted by Yancey himself YouTube.
While Yancey isn't completely sure if the raps have improved his students' grades, he said some of his former pupils have told him they still remember his lyrics years later and are able to put them to use.
"I have found doing raps as a culminating activity has had an immediate impact on engagement. Students who will already be successful enjoy the expressions as much as those students who use it to connect the dots," Yancey said. "When I hear that students I taught three years ago are still singing them or that they are helping them in US History at the high school then I am fully satisfied as a teacher."
And Edwards Middle School has taken notice of Yancey's unique teaching style and his devotion to his students.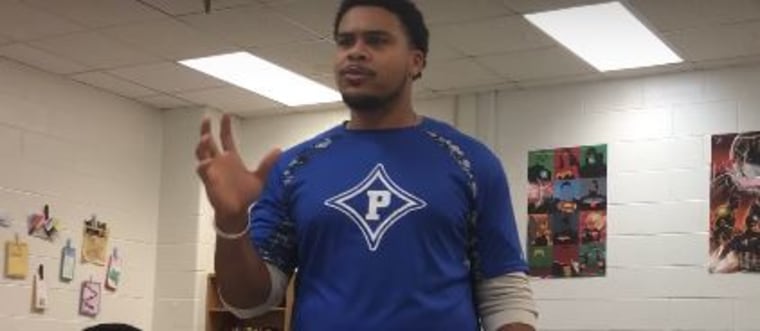 "He's one of the most popular teachers, especially on the grade levels," Edwards Middle School Principal Fred Middleton said. "In the morning he greets every student. Not just the ones he teaches."
Middleton, who says Yancey runs all his songs by him, said the teacher is beloved by his students.
"He's a positive person, and outside of his classroom he's a positive person. One of the most important thing you can do as a principal is make the atmosphere better for everyone [with people who are] always positive, upbeat and willing to do whatever we have to do for the kids," Middleton said.
Last year, Yancey's colleagues voted him Teacher of the Year, but he says he's just doing what he loves.
"At the risk of sounding cheesy, the students don't care what you know, until they know that you care," said Yancey.