A Kentucky pastor who starred in a reality show about handling snakes during church services, died Saturday night after a fatal snake bite, police said.
Pastor Gregory Jamie Coots — the star of the National Geographic Channel's "Snake Salvation" — died at Full Gospel Tabernacle in Jesus Name in Middlesboro, Ky., after suffering a snake bite to his finger, Middlesboro police spokeswoman Jeannie Miller told NBC News on Sunday.
Coots was bitten at the church at 8:30 p.m. but died at his home two hours later, after refusing medical treatment "because of religious beliefs," Miller said.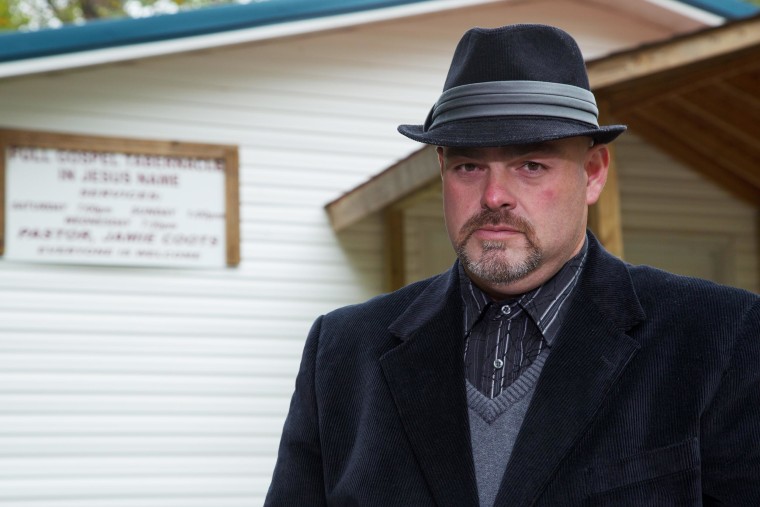 She said the animal was believed to be a rattlesnake.
Handling snakes is practiced by a handful of fundamentalist churches, based on an interpretation of certain Bible verses that say true Christians should be able to handle serpents without being harmed.
National Geographic's senior vice president of communications, Chris Albert, said the channel had no plans for another season of "Snake Salvation."
"However, we hope to air a special tribute so people can understand Pastor Jamie and his method of worship and see that he died doing what he believed was his calling," Albert said.
"We were constantly struck by his devout religious convictions despite the health and legal peril he often faced. Those risks were always worth it to him and his congregants as a means to demonstrate their unwavering faith," a statement from National Geographic read.
In 2008, Kentucky Fish and Wildlife officers arrested Coots after confiscating more than 100 snakes from his home.
Following that arrest, Coots told Kentucky NBC affiliate WLEX, "I'm not going to stop buying snakes … I've been bit 7 times by a snake. I even lost a finger to a snake."
In 2012 a preacher in West Virginia was bitten by a snake during a similar ritual and died after he didn't go to the hospital for over eight hours.
— Elisha Fieldstadt