The deaths are appalling and bleak — and frequent enough that they can begin to feel like they are an inescapable affliction of American life.
They happen all over the country, in a variety of settings and circumstances. But they all end the same: a young child mortally wounded by a gun.
Consider what happened in the first 11 days of November: a 9-year-old boy was targeted and shot dead by gang members, a 6-year-old boy was killed by police in Louisiana, a 5-year-old Ohio boy was struck by street gunfire that tore through his home, a 9-year-old boy shot himself in Detroit, and 2-year-old boy was fatally shot in the face while he played with his twin brother in Georgia.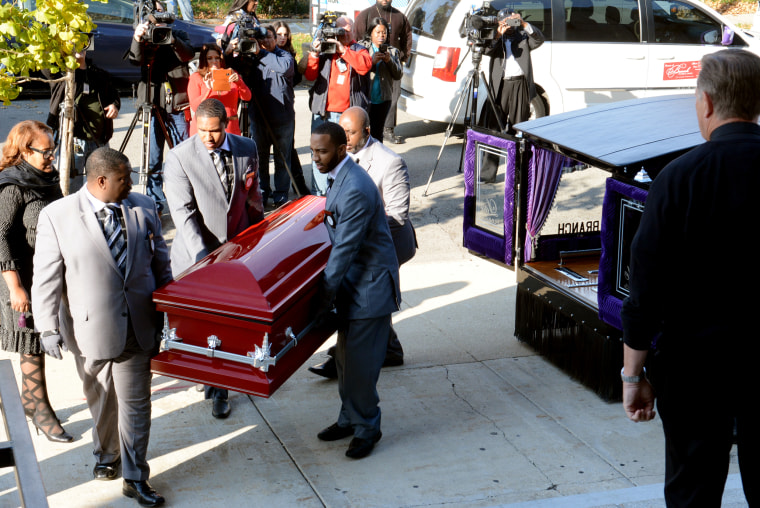 That sample is small, but it reflects the many ways firearms kill America's youngest citizens. Many are accidental — victims of mistaken gunshots, often the result of negligence by adults who fail to keep their weapons locked away. Others are murdered, or struck by gunshots that were not intended for them.
The recent cases also illustrate how frequently such tragedies unfold: just about every other day, on average.
"We make make it incredibly easy for anybody who wants a gun to get a gun. And, we don't store them safely."
From 1999 to 2013, the most recent year for which data collected by the Centers for Disease Control and Prevention is available, 2,733 children aged 11 and under were killed by firearms in some way or another. That comes down to 15 a month, or 3.5 a week.
A similar analysis by NBC News, covering the 12 months after the December 2012 killings of 20 children and six educators in Newtown, Connecticut, found 173 victims under the age of 12.
Eighty of the shootings were accidental. But more, 93, were intentional.
A third of the 173 victims were killed by their parents, including cases of murder-suicide, NBC News found. In fact, a stranger was rarely to blame; in most cases that did not involve a parent, the gun was fired by another child, a relative or family friend, or the victim.
Jon Vernick, deputy director of the Johns Hopkins Center for Gun Policy and Research, pointed out that, when viewed as a portion of the part of the 33,000 firearm deaths in America in 2013, the number of victims under the age of 12 is tiny.
Vernick also noted that the number of accidental firearms deaths — among children and overall — has been declining steadily for the last couple decades. He credited the spread of laws that required parents to store guns in safe places.
Eighteen states and the District of Columbia have such measures on the books, but a new one hasn't passed in more than 10 years, he said.
It is more difficult to prevent intentional firearms deaths, Vernick said. One way, he said, is "to make it harder for dangerous people to gain access to guns in the first place." But such measures, including efforts to expand background checks, have failed in Congress.
"I don't think we need to accept this number or conclude that there are just going to be such deaths," Vernick said.
David Hemenway, director of the Harvard Injury Control Research Center, said that he has found evidence that unintentional firearm deaths of children may actually be under-reported.
His research has also found that American children are many times more likely to die from a gunshot than their peers in other developed countries. And there is only one reason why, he said.
"Because we have guns. Because we have easy access to guns," Hemenway said. "We make make it incredibly easy for anybody who wants a gun to get a gun. And, we don't store them safely."