The full version of this story was originally published by The Center for Public Integrity, a nonprofit, nonpartisan investigative news organization in Washington, D.C.
In March, Republican presidential candidate Donald Trump was vehement: Super PACs are a "disaster" and "very corrupt."
With his opponent, U.S. Sen. Ted Cruz of Texas, gazing expressionlessly at him from the next podium during a Republican primary debate, Trump added, "Ted has super PACs, and you have to look at the people that are giving to those super PACs, number one. It's very important to do that."
"There is total control of the candidates," Trump continued. "I know it better than anybody that probably ever lived."
Click Here to Read the Center for Public Integrity's Version of This Article
If he's right, New York investor Robert Mercer and his daughter Rebekah, the very same mega-donors who propped up Cruz's bid, are due for some scrutiny.
In June, the Mercers threw their support — and super PAC — behind Trump's bid, at a time few other mega-donors were doing so. And in August, reportedly acting on Rebekah Mercer's suggestion, Trump hired and promoted a cadre of operatives closely connected to the Mercers, including two who had run the Mercers' super PAC, to his campaign leadership team.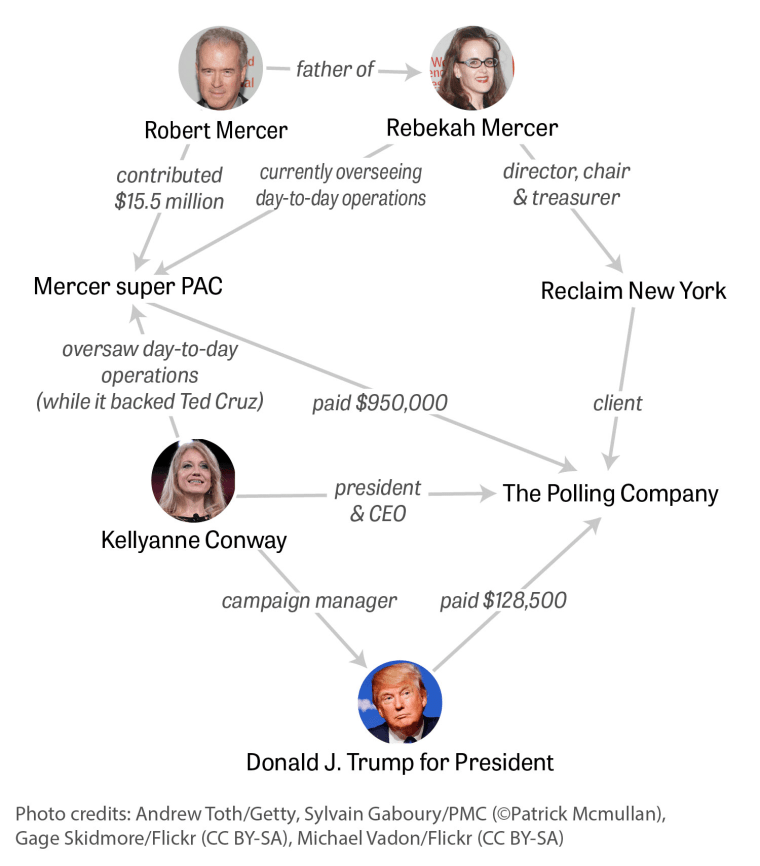 Mercer, reclusive by nature, isn't inclined to speak publicly about his giving, making it a challenge to determine much about either his reasons for promoting a Trump administration or what he stands to gain. Robert and Rebekah Mercer both declined to be interviewed for this story.
But a Center for Public Integrity review of Mercer's political and philanthropic spending found clues.
Mercer's largesse has largely gone to anti-establishment groups and insurgent candidates working to pull the Republican Party further to the right, rather than the business-backed organizations closely associated with the Republican establishment, adding to his reputation as an ideologically motivated giver.
He has heavily funded ultra-conservative media outlets, like Breitbart News and Brent Bozell's Media Research Center.
His foundation gives to groups that question human involvement in climate change, such as the Heartland Institute think tank and others. He's also backed the Citizens United Foundation and the Government Accountability Institute, organizations that have ardently pursued an anti-Hillary Clinton agenda.
There are signs, however, that Mercer is also motivated by issues that affect him personally. At least twice, he has unleashed gushers of outside spending to derail the re-election of a lawmaker — one who backed a tax on hedge fund transactions, another who investigated his company's tax strategies.
CLICK HERE TO READ THE FULL ARTICLE
The Center for Public Integrity is a nonprofit, nonpartisan investigative news organization in Washington, D.C.