Military helicopters were deployed Wednesday to help battle wildfires raging across more than a million and a half acres of Kansas, Oklahoma and Texas.
At least six people are confirmed to have been killed as the grass and dry-tinder fires have raced through the southern Plains, fueled by hot weather, strong winds and low humidity. Authorities said the fires in Kansas and Oklahoma were the largest in the histories of both states.
And the worst may be yet to come: The National Weather Service's Storm Prediction Center said Wednesday that critical and severe fire conditions could continue across the region through Sunday.
Fires in Oklahoma were at 342,237 acres on Wednesday afternoon, with little to no percent containment.
"There's a bunch of hot stuff underneath them cedar trees, and with humidity dropping and wind picking up, it will ignite them cedars, and it's off to the races again," Oklahoma Forest Ranger Brian Ryles told NBC station KFOR of Oklahoma City.
More than 659,000 acres have burned in Kansas, said Katie Horner, a spokeswoman for the state Emergency Management Division.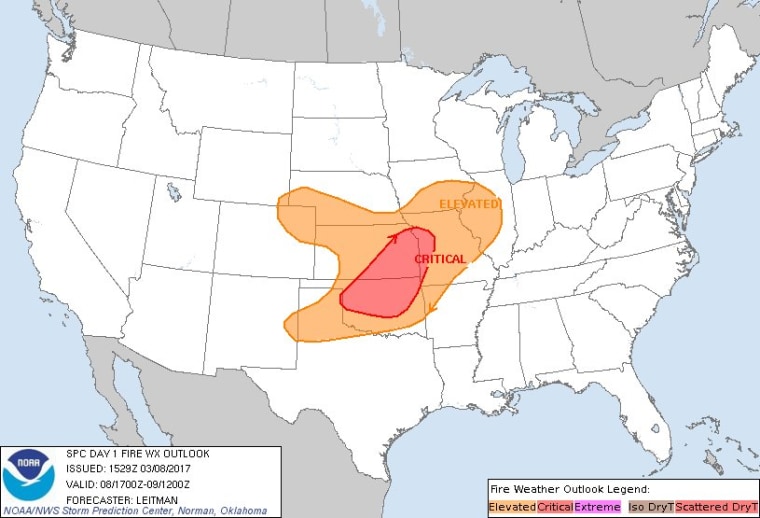 Horner said it would be several weeks before the damage could be fully assessed, but she confirmed that one person had been killed, along with an untold number of livestock in several counties. Authorities said as many as 13,000 people have voluntarily evacuated their homes in Reno County.
Garth Gardiner, a rancher in Clark County, estimated that the fire charred 80 percent of his 50,000 acres and that he lost a third of his cattle — as many as 500 cows.
"I've cried a lot of tears and tried to stay strong," Gardiner told NBC station KSN of Wichita.
Reno County Sheriff Randy Henderson, meanwhile, said the fire there was fueling itself.
The flames hollowed out many of the county's cottonwood trees, Henderson told reporters Wednesday — turning them into wooden "chimneys" shooting flames high into the air.
"The concerns there, with the wind changes and the wind picking up, [are that] those cottonwood trees will explode and embers will ignite some fresh grass," he said.
With difficult terrain blocking ground equipment, the National Guard dispatched six UH-60 Blackhawk helicopters to drop tens of thousands of gallons of water over the fires in Kansas, said Jay Gradinger, the Kansas National Guard's military assistant to civil authorities.
Authorities requested two CH-47 Chinook helicopters to beef up the aerial assault on Wednesday afternoon Gradinger said.
Little expansion was reported Wednesday in fires that have consumed almost 500,000 acres in Texas, where four people are confirmed to have been killed. One of the largest fires, the 135,000-acre Lefors East fire in Gray County, was fully contained by Wednesday afternoon, the Texas A&M University Forestry Service said.
No causes for the fires have been determined, authorities said. New research published last month in the Proceedings of the National Academy of Sciences found that 84 percent of wildfires in the United States are caused by humans.