Regis Philbin, a legendary television host best known for the morning show, "Live! with Regis and Kathie Lee," and the widely popular game show, "Who Wants to Be a Millionaire," died Friday night, his family said. He was 88.
"We are deeply saddened to share that our beloved Regis Philbin passed away last night of natural causes, one month shy of his 89th birthday," the family said in a statement on Saturday.
"His family and friends are forever grateful for the time we got to spend with him – for his warmth, his legendary sense of humor, and his singular ability to make every day into something worth talking about. We thank his fans and admirers for their incredible support over his 60-year career and ask for privacy as we mourn his loss."
A talented actor, singer, dancer, comedian and an all-around media star, Philbin charmed his way into living rooms across the country with his earnest New York accent and incredible gift of gab.
Philbin's secret to success, however, was never to become the star himself.
"You just don't go to the next question and you don't jump all over the guest. You let them be the star of whatever time they have with you," he said, according to Variety.
Philbin, a native of New York City, found success hosting a number of local morning shows and other talk shows before he became a national star in 1988 with "Live! with Regis and Kathie Lee," a New York-based talk show that was nationally syndicated.
The show went through different iterations after Kathie Lee Gifford left in 2000, briefly becoming "Live with Regis" and featuring a series of guest hosts. In 2001, Kelly Ripa permanently joined as co-host and it became "Live! With Regis and Kelly."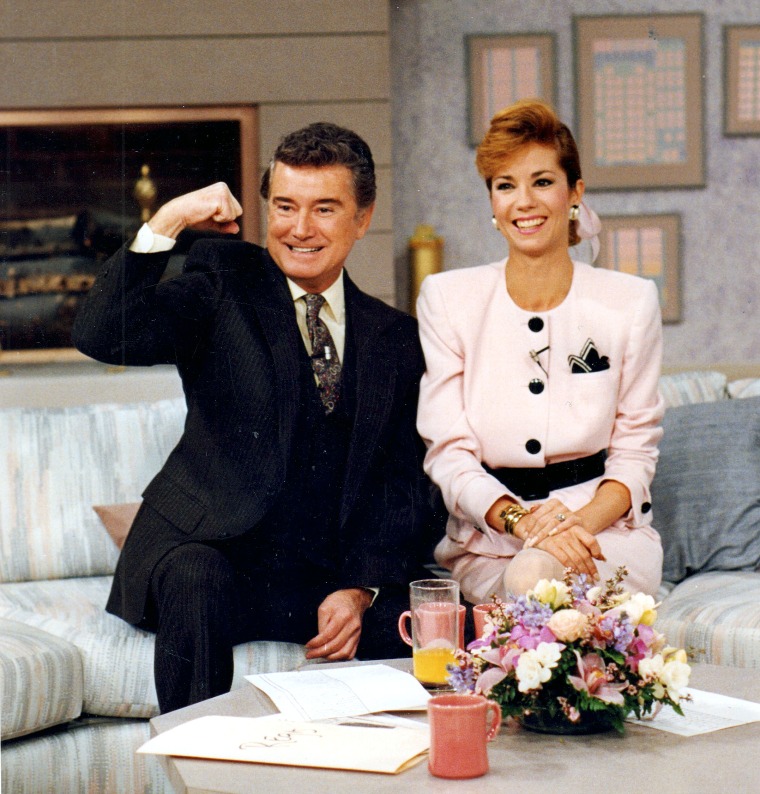 After nearly 30 years, Philbin left the show himself in 2011 after airing 6,000 editions, hosting more than 20,000 guests, and being seen by 1.1 million in-studio audience members, according to Variety.
Philbin held the Guinness World Record for Most Hours on Camera on U.S. television, with more than 16,700 hours over the course of his career.
He also earned a number of accolades, with Emmy wins for his morning show as well as his work as a game-show host. HIs stint as host of "Who Wants to Be a Millionaire" earned him a trophy in 2001.
He also made guest appearances on numerous TV series, including "How I Met Your Mother," "30 Rock," "Ugly Betty," "Seinfeld," co-host Ripa's series "Hope and Faith," "Mad About You" and "Spin City," Variety reported.
Philbin was remembered by a number of people who have taken up his television-hosting mantle, including from Hoda Kotb of "TODAY," who tweeted, "Heartbroken. We will miss you regis."
Kelly Ripa and Ryan Seacrest, hosts of "Live with Kelly and Ryan," released a joint statement calling Philbin "the ultimate class act" who brought "his laughter and joy into our homes every day on Live for more than 23 years."
"We were beyond lucky to have him as a mentor in our careers and aspire everyday to fill his shoes on the show," the statement posted to Instagram said. "We send our deepest love and condolences to his family and hope they can find some comfort in knowing he left the world a better place."
Robert Iger, executive chairman of The Walt Disney Company, which owns ABC, said Philbin was "always bringing happiness to us all."
"Regis graced us with warmth, humor & a self-deprecating wit, always bringing happiness to us all," Iger tweeted. "Our hearts go out to Joy and to his family. Rest In Peace, Regis."
"Regis was a great broadcaster, a good friend and a tremendous amount of fun.," Jimmy Kimmel tweeted. "He leaves behind a beautiful family and a TV legacy that will likely go unmatched. Regis, I hope our friend Rickles met you at the pearly gates with open arms and a slew of the insults you loved so much."
President Donald Trump also commented.
"One of the greats in the history of television, Regis Philbin has passed on to even greater airwaves, at 88," the president tweeted. "He was a fantastic person, and my friend. He kept telling me to run for President. Holds the record for 'most live television,' and he did it well. Regis, we love you."
Maria Shriver remembered Philbin as a "legendary figure in TV," and actor Bob Saget called him a " TV icon" and a "good man."
"My sympathies to Joy and all of his children and friends," Saget wrote in a tweet.
Television host Chris Harrison added: "We throw this word around too much but Regis Philbin was a legend. He was a true gentleman I'm glad I got to know and a TV host I admired and was honored to follow. Much like Arnold Palmer everybody has a great 'Regis' story, I'm grateful I have mine."