A North Carolina detective's hunch may have brought closure to a mystery that has haunted a family for nearly half a century.
Authorities in Caldwell County this week discovered human remains inside a green 1968 Pontiac at the bottom of a lake. It matches the model of the car that 44-year-old Air Force retiree Amos Shook was driving when he vanished on Feb. 19, 1972.
"He had gone out for the evening and never came home, there was no trace of him after that," Det. Sgt. Shelly Hartley of the Caldwell County Sheriff's Office told NBC News.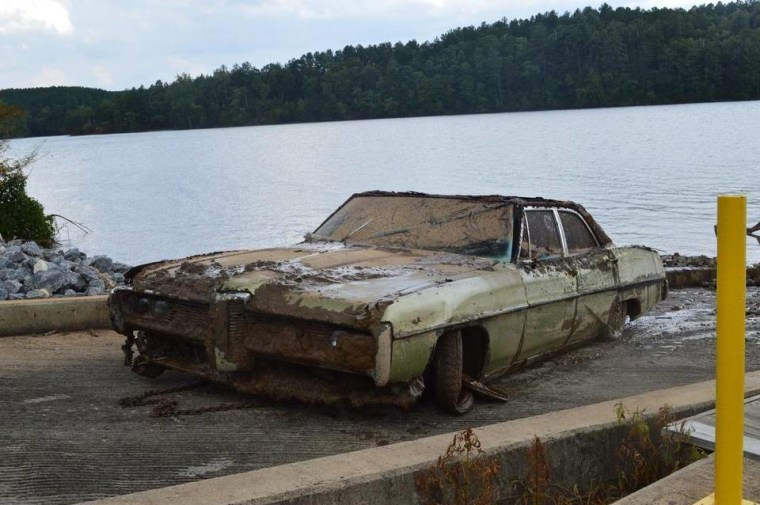 Shook's daughter visited the county last month seeking information about her father's disappearance, Hartley said. She and her family had moved from North Carolina to Tennessee.
"She wanted a copy of the report," she said. "Of course, from 1972 that's easier said than done."
Hartley said the department was unable to find a report, though. Euipped with only a description of Shook from the night he went missing, she asked the local fire department this week to search nearby Lake Rhodhiss, located about a mile from Shook's former home.
"The fact that he went missing with a car and the car had never been located — generally we find a car," Hartley said. "My belief is if you don't find a car in 43 years, it's in the water somewhere probably."
Using sonar technology, the local fire department found the green 1968 Pontiac Catalina, submerged in 30 feet of water, on Monday night.
Authorities on Tuesday pulled the car from the lake and found human remains — along with Shook's wallet and identification, inside.
Hartley said it would take some time for the coroner's office to positively identify the remains as Shook's and determine how he died.
"We still have a mystery as to how he got there, we'll always wonder that," she said.
Hartley said she notified Shook's daughter of their findings.
"She was just in tears, she was so grateful," she said, adding that Shook's family was coming to Caldwell County on Friday.
"That's the same year I was born," Hartley said in reference to the year Shook went missing. "I'm very happy, 43 years later, to be able to give the family some closure."