Rep. Jim Jordan, R-Ohio, said Friday that none of the wrestlers he coached at Ohio State University told him they'd been abused by the team doctor — or even talked about it in the locker room.
"Conversations in a locker room are a lot different than allegations of abuse," the powerful congressman told Fox News' Bret Baier. "No one ever reported any abuse to me. I would have dealt with it."
Asked if he ever heard any locker-room banter about what Dr. Richard Strauss was allegedly doing, Jordan replied, "No. No. No type of abuse. We did not hear that."
Jordan's remarks came a day after a fifth wrestler he coached at Ohio State publicly contradicted his claims that he had no idea the team doctor molested them and other athletes. The initial allegations were brought to light by NBC News on Tuesday.
During the Fox interview, Jordan confirmed that he would be speaking next week with investigators from the law firm that is looking into the sexual abuse allegations against Strauss, who committed suicide in 2005.
Although Jordan disparaged the backgrounds of some of his accusers, his defense during the Fox interview was largely an assertion that all of his accusers are lying, and he said they knew they were doing so. He said he was not sure why but suggested that they may have political motives.
Meanwhile, Jordan's conservative allies rallied to his defense on Friday.
Several conservative news outlets, including The Daily Caller and Breitbart News Network, highlighted voices in support of Jordan and took shots at the chief whistleblower in the abuse case, Mike DiSabato, and the other accusers. Their reports appeared to be similar to talking points generated by Shirley & Banister Public Affairs, an Alexandria, Virginia-based firm that has supported groups like the National Rifle Association and the Tea Party Patriots.
Asked by NBC News how the public relations firm got involved in the Jordan defense and who was footing the bill, Diana Banister, the company's president, said the firm reached out to the congressman.
"Jim Jordan is a man of integrity, he's been falsely accused, and conservatives rally around people who have been falsely accused and tainted by the media," said Banister.
Ian Fury, chief spokesman for Jordan's congressional office, did not return an email from NBC News seeking more information on Shirley & Banister's involvement.
Jordan, a founder of the conservative House Freedom Caucus and a staunch ally of President Donald Trump, has been discussed as a replacement for Rep. Paul Ryan as the next speaker of the House. Jordan has been highly critical of the investigation into alleged collusion between the Trump campaign and Russia, which has earned him praise among conservatives.
Jordan and his allies have implied that the accusations against him may be politically driven by those who don't want him to become speaker. Earlier this week, Jordan questioned the timing of the accusations "in light of things that are going on in Washington," apparently referring to his prominent role in questioning the FBI and Department of Justice with regard to the Russia probe.
He repeated that claim in his Fox News interview.
"The timing is suspect," Jordan said.
The five accusers — four have spoken to NBC News and a fifth to the Wall Street Journal — all said they respect Jordan and several described him as a "friend." One of them, Shawn Dailey, who said he donated to Jordan's first political campaign for state representative in 1994, said he participated in conversations with Jordan where the abuse was discussed, directly contradicting Jordan's claims. None of the wrestlers reached out to NBC News to share their story; they chose to speak only after being contacted by a reporter.
The university opened an investigation into the alleged abuse by Strauss in April after DiSabato came forward with accusations.
DiSabato said he was bracing for a backlash from Jordan after NBC News reached out and asked DiSabato whether Jordan had known about the allegations against Strauss. DiSabato said he had recently gotten in touch with Jordan to ask for his support in coming forward, because he was concerned that the university would ultimately sweep his allegations under the rug — and he was dismayed when the powerful congressman pleaded ignorance.
"Sexual abuse is not a political issue," DiSabato said in a text message to NBC News.
Jordan has said from the start that he had no knowledge of any sexual abuse by Strauss, even as former wrestlers he coached more than two decades ago — including Dailey and Mark Coleman, former UFC world champion who roomed with Jordan on several wrestling trips — have publicly contradicted him. The wrestlers said that Strauss regularly showered with them, and it was common knowledge that he inappropriately touched team members during appointments.
The memo from Shirley & Banister Public Affairs contained no information denigrating Dailey, and does not mention Coleman. Instead, it focused on the other wrestlers who have made the allegations against Jordan, particularly DiSabato.
"These are serious accusations, and the accusers ought to be taken seriously," the Shirley & Banister press release stated. "Close examination, however, reveals that Jordan's initial accusers might not be the most credible witnesses."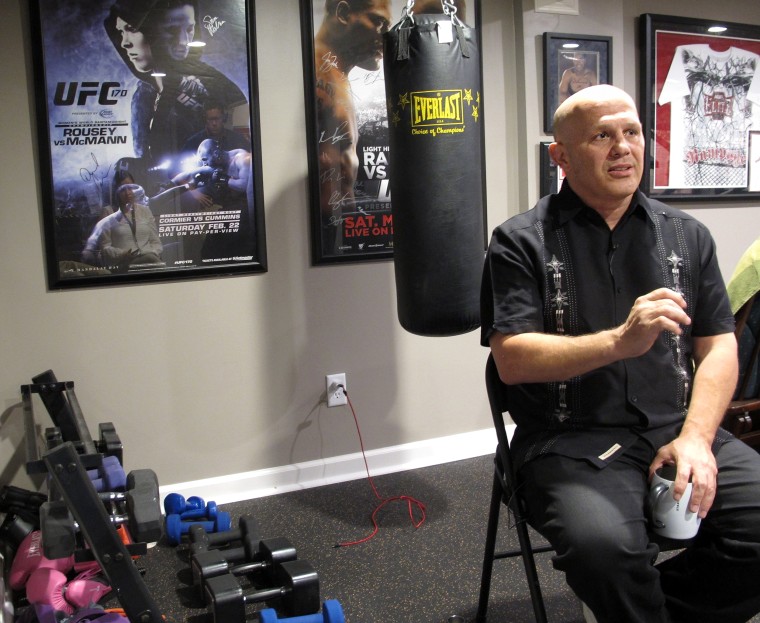 It goes on to note several items that have previously been reported, including DiSabato's legal battle with Ohio State after his Columbus, Ohio-based licensing firm lost its contract with the school, a fight that did not involve Jordan. The release also points out that another accuser, Dunyasha Yetts, served 18 months in federal prison for fraud — something the former star OSU wrestler admitted in his NBC News interview.
And it notes that the law firm investigating the Strauss allegations for Ohio State, Perkins Coie, worked on behalf of Hillary Clinton's campaign to hire the firm that produced a dossier containing unverified and salacious allegations about Trump.
Ohio State didn't hire Perkins Coie directly — the firm was hired by Porter Wright Morris & Arthur, a law firm appointed by the Ohio Attorney General's Office as legal counsel to Ohio State, university spokesman Benjamin Johnson said in a statement.
The Ohio attorney general is Mike DeWine, a Republican currently running to succeed Gov. John Kasich.
DiSabato and the other ex-wrestlers said they were prompted to come forward after the conviction earlier this year of former Olympics gymnastics doctor Larry Nassar. The evidence that DiSabato turned over to Ohio State included a videotape featuring statements from himself; Coleman; a former OSU student who worked at a clinic with Strauss; and the former Ohio State wrestling coach Russ Hellickson.
After NBC News reported earlier this week that former Ohio State wrestlers were criticizing Jordan, Fury quoted Hellickson, Jordan's mentor, as saying: "At no time while Jim Jordan was a coach with me at Ohio State did either of us ignore abuse of our wrestlers. That is not the kind of man Jim is, and it is not the kind of coach that I was."
Several articles in conservative outlets have featured that Hellickson quotation in their stories.
But in the video made by DiSabato and viewed by NBC News, Hellickson said he told school administrators about Strauss's abusive behavior and also warned the doctor that he was being too "hands on" with students and that he should stay away from his wrestlers.
Hellickson has not returned calls for comment from NBC News.