The negotiations surrounding the $1.1 trillion dollar spending bill seem to be coming to a close, Speaker of the House Paul Ryan announced at a breakfast Tuesday morning.
"We are putting our bill together, we have been negotiating, will be posting sometime today," Ryan told attendees at the Politico Playbook Breakfast event just steps from the Capitol.
This would set up a vote in the House on the massive spending deal — referred to as the omnibus – on Thursday.
"I am not going to predict how the vote count will go down," Ryan said, unwilling to admit if a majority of House Republicans would back the deal. "Look, in negotiations like this, you win some, you lose some. Democrats won some, they lost some, we won some, we lost some. At the end of the day, we are going to get this done."
Related: 'Significant Issues' Remain as Congress Works to Avoid Government Shutdown
Senate Democratic Leader Harry Reid, shortly after Ryan made these comments, took to the Senate floor telling Republicans "it's decision time" on the package.
"At this point the only major outstanding issue is the Republicans' insistence on raising the export ban on crude oil," Reid said. "We've made it clear that if they want this oil export ban, there must be included in this policies to reduce or carbon emissions and encourage use of renewable energy."
Senate Majority Leader Mitch McConnell also attended the morning event with Ryan but chose not to weigh in on the final stages of the deal as to not "scoop ourselves."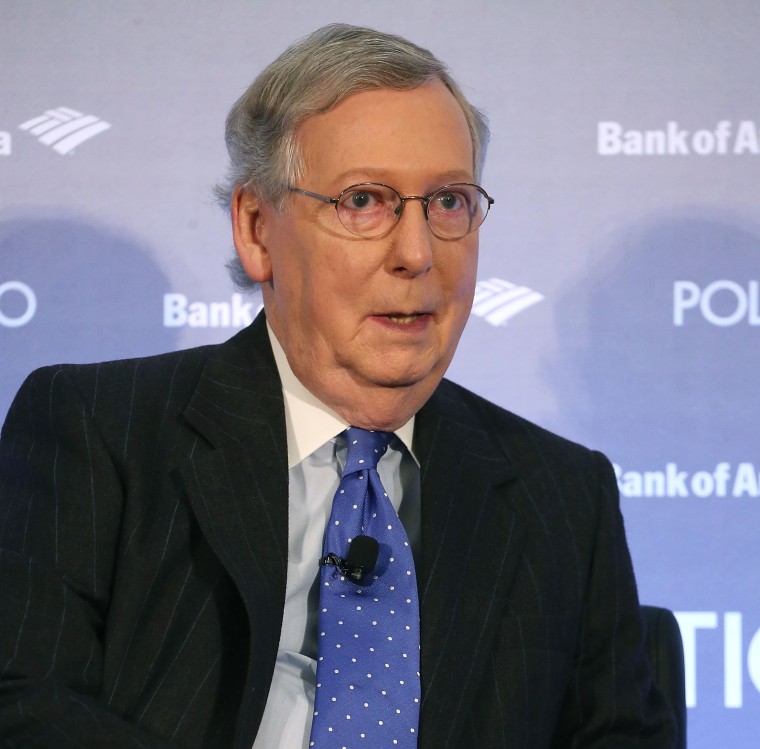 THE 2016 RACE
There were a number of topics discussed by the Republican leaders of the House and Senate during the POLITICO discussion Tuesday including the 2016 race as the final Republican debate of the year will be held in a few hours.
"I think this is going to sort itself out fine," Ryan said about the GOP race noting it's a "competitive Republican primary."
The 2012 vice president nominee put to rest any speculation that he would somehow get in the 2016 race.
"That's ridiculous talk. That's just dumb speculation. I am doing this (speakership) job," Ryan said.
Neither congressional leader gave much thought to a brokered convention nor would weigh in on specific candidates.
"It hasn't happened in a very long time and I think it's highly unlikely to happen," McConnell said, predicting the key to a Republican victory in November would be winning the purple states.
THE FIGHT AGAINST ISIS
In the wake of the recent terror attacks, Ryan and McConnell were asked about debating and passing an Authorization for Use of Military Force (AUMF) for the war against ISIS. Both leaders seemed open to the idea but unwilling to put too many restrictions on the future commander in chief.
McConnell said he doesn't believe that broad of an AUMF would be able to get 60 votes in the Senate.
Related: House Passes Bill to Keep Government Open, Averting Shutdown
"If we are going to do an AUMF, it ought to give the president all the authority that he may need rather than trying to micromanage the conflict, McConnell said, adding, "I would not want to saddle the next president with a highly restrictive AUMF."
Ryan says we "can" and "should" put together and debate an AUMF but also reiterated it needs to be one that "doesn't handcuff the next president from doing what that person thinks is necessary to defeat not contain – to defeat ISIS."
A LITTLE INSIDE BASEBALL
Towards the end of each 30-minute interview with McConnell and Ryan, the moderators asked them a few more personal questions to learn more about the members.
Ryan, who just took over as speaker in late October and as heavily reported in the past had no interest in taking the position, said about it now "it is what it is. I am fine" and called himself a "happy warrior."
The Wisconsin congressman — who dubs himself "a routine person" — said he is finally settling into his new schedule surrounded by many new friends — aka, his security detail.
"(I) wake up at 6, go down to the gym at 6:28, start my work out at 6:30, work out until 8, leave…" Ryan admitted.
And, he confessed his "tolerant wife" was letting him keep his bow hunting beard until he can go back in the woods after session and bag two more deer.
McConnell, on the other hand, had some choice words for his beloved Washington Nationals Baseball team.
"They need to get rid of (Jonathan) Papelbon. Getting in fights with the most valuable player of the National Leagues strikes me as not a team building exercise," the majority leader said.