Rep. Walter Jones Jr., a 13-term Republican from eastern North Carolina whose about-face on the Iraq War came to define his congressional service, died Sunday on his 76th birthday, his congressional office confirmed.
No cause of death was announced. Jones entered hospice care last month as his health sharply declined after he suffered complications from a broken hip he sustained in a fall, and he had been on leave since then.
When he was re-elected to a 13th term in November, Jones was the only House Republican nationwide to run unopposed.
Rep. Mark Meadows, R-N.C., chairman of the conservative House Freedom Caucus, announced Jones' death on Twitter on Sunday afternoon.
Jones wasn't a member of the Freedom Caucus, but he supported many of its positions in his 24 years serving the 3rd District of North Carolina.
He was a deeply Christian orthodox conservative of the pre-Donald Trump era, strongly supporting the military and just as strongly opposing taxes, same-sex marriage and abortion.
Jones ignored his party's leaders in 2012 when he voted against extending tax increases enacted during the administration of Republican President George W. Bush (a vote that cost him his seat on the Financial Services Committee), and he was the only House Republican to vote against the Republican tax bill in 2017 — he said the measure would add too much to the national deficit.
He sponsored or co-sponsored six measures in the House to restrict funding for and access to abortions, and he once called same-sex marriage "an assault on the Judeo-Christian values upon which this country was founded."
Jones was also a fierce protector of the numerous military installations in his district, which is home to Camp Lejeune, Marine Corps Air Station Cherry Point, Seymour Johnson Air Force Base and New River Marine Corps Air Station.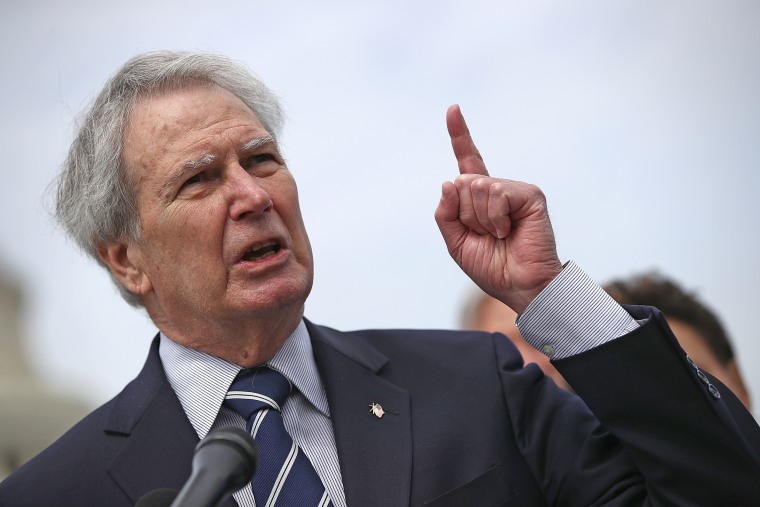 But it was his stark reversal of his support for Bush's war in Iraq that Jones was most famous for, a turnabout that marked the beginning of a period increasingly outside the House Republican mainstream.
Jones initially supported the war in 2002 — even going so far as to have spearheaded the effort to persuade the House cafeterias to rename french fries as "Freedom Fries" to protest France's opposition to the U.S.-led war.
"This is a real tribute," he said at the time. "Whenever anyone orders Freedom Fries, I hope they will think about our men and women who are serving in this great nation."
But he soon regretted the vote, he told The Associated Press in 2017. After he attended funeral services for Marine Sgt. Michael Bitz in 2003, he wrote an apologetic letter to Bitz's family. And he continued writing such letters — more than 11,000 to relatives of dead U.S. service members in the following years.
When Jones wrote that first letter, "there were a lot of emotions going through my mind, and I still carry today the pain of voting for an unnecessary war," he told The Daily Tar Heel, the student newspaper at the University of North Carolina, in November 2017.
Jones told the newspaper that he also began regularly visiting wounded service members at Walter Reed National Military Medical Center in Maryland "to be reminded that war is hell — people die; people get wounded."
Jones was a conservative Democrat when he first ran to succeed his father in Congress in 1992. He lost, and in 1994, he joined the Republican Party and was elected as part of the so-called Republican Revolution led by Rep. Newt Gingrich, R-Ga.
But Jones' opposition to the war after 2003 highlighted his growing estrangement from some elements of his party. Jones voted with the party 81 percent of the time over his full congressional career — but only about 60 percent of the time after Trump was sworn in in January 2017.
He called on Rep. Devin Nunes, R-Calif., then the chairman of the Intelligence Committee, to step aside from the committee's investigation of alleged Russian influence in the 2016 election, arguing that Nunes was too closely tied to Trump.
And he consistently opposed U.S. military actions overseas since Trump took office, sharply criticizing U.S.-led operations in Afghanistan and Syria.
Colleagues remembered Jones on Sunday as a man of principle who stood up for his beliefs even when they were unpopular.
"He was a public servant who was true to his convictions and who will be missed," Democratic North Carolina Gov. Roy Cooper said in a statement.
Sen. Thom Tillis, R-N.C., said: "He always did what he felt was right for his constituents, his district, and his country, and it was no wonder why he was so widely admired and trusted."
CORRECTION (Feb. 11, 2019, 12:30 a.m. ET): A previous version of this article misidentified North Carolina Gov. Roy Cooper's party affiliation. He is a Democrat, not a Republican.