A former top military aide to Secretary Ash Carter used a government credit card to pay large bar tabs at strip clubs in Rome and in South Korea frequented by prostitutes and engaged in "inappropriate" behavior with women, a long-awaited report by the Department of Defense Inspector General released Thursday found.
The results focus on Major Army Gen. Ron Lewis, who was fired roughly a year ago by Carter, his mentor and friend, after an investigation into the three-star general's misuse of his government credit card and engaging in an inappropriate relationship while married.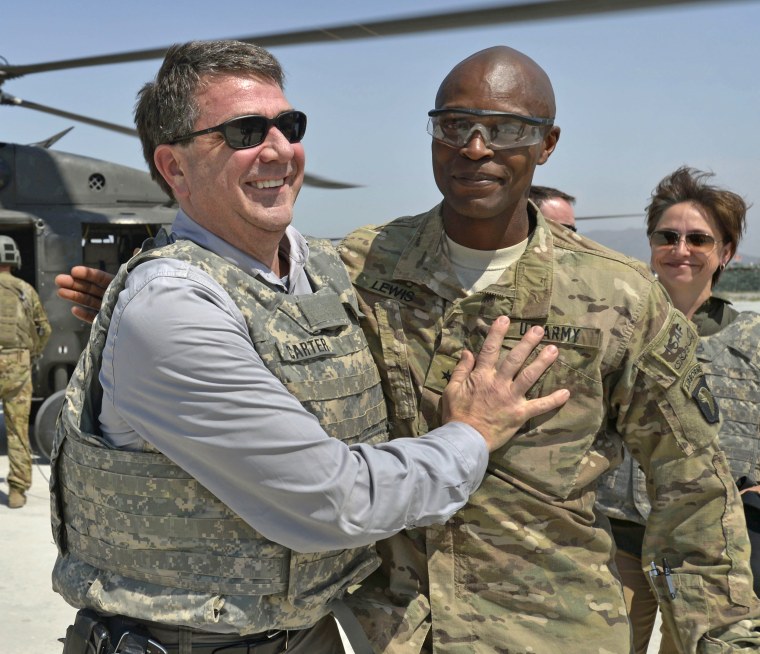 "As I said when I first learned about allegations of misconduct against Maj. Gen. Lewis and removed him as my Senior Military Assistant, I expect the highest possible standards of conduct from the men and women in this department particularly from those serving in the most senior positions. There is no exception," Carter said in a statement.
The report found that Lewis misused his government credit card by paying $1,121.25 at a strip club in South Korea called the Candy Bar club and $1,755.98 at the Cica Cica Boom club in Rome. Both establishments are frequented by prostitutes.
The "Candy Bar" is in an area off-limits to US military service members that is locally called "Hooker Hill."
Lewis later claimed his credit card was stolen and Citibank forgave the Candy Bar charges.
Related: Top Aide to Defense Secretary Ash Carter Fired for 'Misconduct'
At the Cica Cica Boom club, which has signs outside advertising lap dances and "sexy show", Lewis admitted that he drank "more than moderation". When his personal card was denied for the nearly $1,800 tab, he went back to the hotel, escorted by a female employee of Cica Cica Boom, and awoke a subordinate staffer at 1:40 am to get his government credit card, the report found.
The report also cites an incident in Hawaii in which he drank too much and attempted to kiss a subordinate, forcing her to physically push him away and block his advances.
The report finds that Lewis engaged in inappropriate behavior with females and drinking to excess in public with subordinates, but it does not accuse him of adultery. In another instance, the report found, he invited a female subordinate into his hotel room twice and conducted official business with her while shirtless and wearing only gym shorts.
After the second incident when the female left the hotel room, obviously upset and embarrassed, an officer who saw her recommended she not go to see Lewis again without a "buddy."
The incidents occurred while Lewis was on official travel with the Secretary of Defense.
Ultimately the investigation only substantiated the allegations of credit card misuse, including lying to a credit card company and bank and falsifying information, according to several defense officials. Lewis faces reduction in rank and a hefty fine.
Secretary of the Army Eric Fanning could recommend adjudication and then Lewis would face a grade determination board.
In a statement the Army said Thursday that it is "evaluating the investigation to determine what administrative or disciplinary actions may be appropriate."