It's more common than you think — you reach a deal over an e-commerce site like Craigslist or eBay, but when you go to complete it, things go bad.
That's what happened last week to a 22-year-old man who thought he was buying an iPhone near Philadelphia. When it came time to show up in person to pay for the phone, he walked into an ambush and was shot in the leg by the "seller," who was really an armed robber, police said.
It wasn't the first time that's happened. Online deals gone bad are so common, in fact, that cops across the country are starting to step in, teaming up with residents to safeguard transactions in their neighborhoods by inviting online sellers and buyers to "safe exchange zones" at police offices, where surveillance cameras track all exchanges.
"I think the criminal is going to think twice about coming up here and trying to do a transaction, especially if they're here for no good," said Mark Samson, a spokesman for the St. Augustine, Fla., Police Department.
Records of online transactions' turning violent are plenty.
In April, a 36-year-old Colorado woman was sentenced to 100 years in prison for luring a pregnant woman to a meeting through Craigslist, slashing her with a knife and cutting her fetus out of her womb.
In 2011, Marine Lt. Col. Karl Trenker was shot in the chest and the stomach when he showed up to sell a gold necklace in a deal his fiancée had arranged on Craigslist in Deerfield Beach, Fla.
"There's a lot more dangers here" than in Iraq or Afghanistan, Trenker told NBC News at the time. "For me, one of the dangers is [meeting with strangers encountered online]. I think that's something people need to be aware of."
That's why designated safe zones are needed, Samson said.
"We're not involved. It's just a safe place," he said. "If nothing else, it's making someone feel a little safer than at their house or the gas station across the street."
The concept has spread to many cities — so many that Galbraith Group, a Texas-based e-commerce company, offers a searchable map of safe zones across the United States. It's called Safe Deal.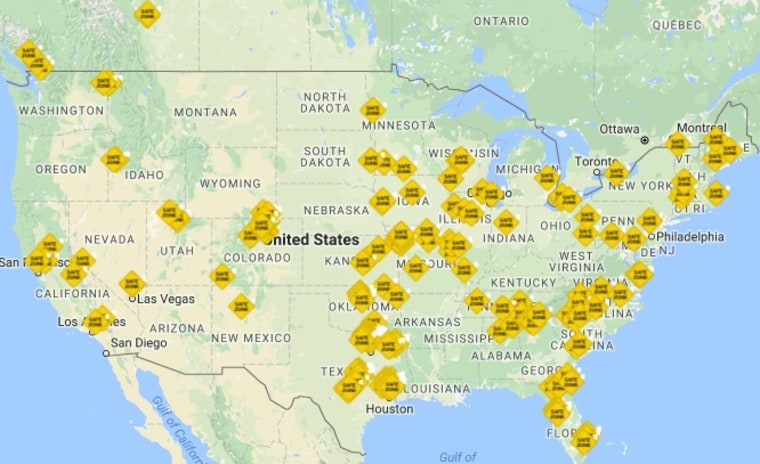 "I just think it's safer for everybody else," said Diane Junger, who started a Facebook group where Waretown, N.J., residents can buy, sell and trade their products.
"You have your kids in the car, do you really want to go to somebody's house?" she asked.
When Junger heard that local police were creating an exchange zone, she immediately added it to the group's guidelines and encouraged members to use it. So far, she said, the exchange zone has been successful.
Some customers complain that clients falsely advertise or show up with damaged goods, such as smashed phones or destroyed food dishes.
"There's really nothing that's too big of a problem that I can't handle," Junger said. "If it's not what it's supposed to be or it's an electronic and it doesn't work and it's iffy, then we'll just cancel the deal."