Search teams were scouring South Carolina marshlands for the bodies of two people killed when their small plane collided in midair Tuesday with an Air Force fighter jet, officials said.
The F-16 Fighting Falcon collided with the civilian Cessna C150 just after 11 a.m. ET, about 11 miles north of Charleston, sending debris raining down on land and water. Officials at the Shaw Air Force Base, east of Columbia, said the pilot was headed toward Charleston as part of a routine instrument training when the rare accident occurred.
The pilot — Maj. Aaron Johnson of the 55th Fighter Squadron — ejected from the jet and survived. He was recovered by workers near the Medway Plantation in rural Berkeley County, and was taken to Joint Base Charleston for observation, said Col. Stephen Jost, commander of the 20th Fighter Wing at Shaw.
"He had no injuries at that time. But he could be subject to some ejection injuries," Jost said at a news conference Tuesday afternoon, adding that he had yet to interview Johnson about the incident.
Details about the two victims who are presumed to have perished were not immediately available.
Berkeley County Rescue Squad Chief Bill Salisbury told reporters that a wallet had been found and authorities were working to confirm the identity of the victims with family.
Some debris from the small plane was found in a rice field, Berkeley County officials said.
The Cessna had just left the Berkeley County Airport in Moncks Corner and was likely headed for Myrtle Beach before colliding with the F-16 minutes into its trip, officials added.
There were no reports of injuries on the ground from the crash. The debris from the single-seat F-16 was found about 7 miles away from where the midair hit occurred, Jost said.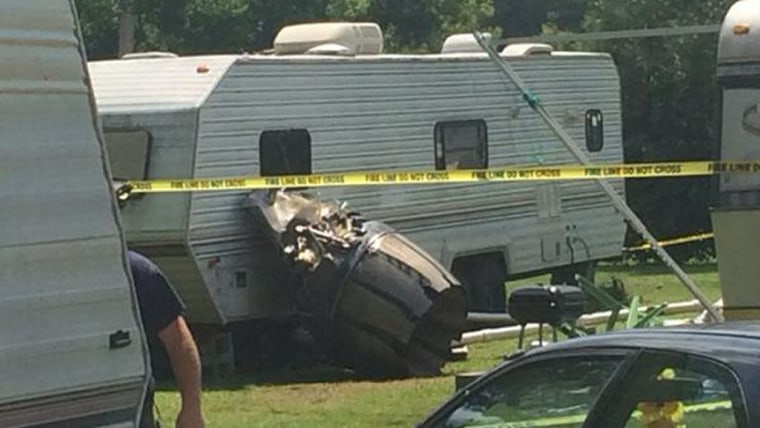 The National Transportation Safety Board, which earlier confirmed that two people were killed, said it was sending an investigator to the scene to determine what happened.
Kathryn Dennis, a cast member of the Bravo TV reality show, "Southern Charm," tweeted that the small plane crashed on the field in front of her home.
A witness told the station that he saw two planes collide in the air and saw a huge explosion, describing it as a "ball of fire in the air."
The Air Force has employed F-16s since the 1970s, though very few active-duty squadrons still fly them.