GRAND RAPIDS, Mich. — More than 800 people showed up to a town hall Tuesday night to both praise and berate the only Republican member of Congress who has called for impeachment proceedings against President Donald Trump.
It's the first time Rep. Justin Amash has faced voters in a question-and-answer setting since declaring on Twitter less than two weeks ago that he supported opening impeachment proceedings. He entered Tuesday to a standing ovation from many, but was also greeted with deep skepticism, and even anger, by others during the sometimes-contentious two-hour event.
The libertarian-leaning Republican, who often is the lone Republican to vote against his party, reminded voters that his job is not to represent the position of voters in his district but to "uphold the Constitution."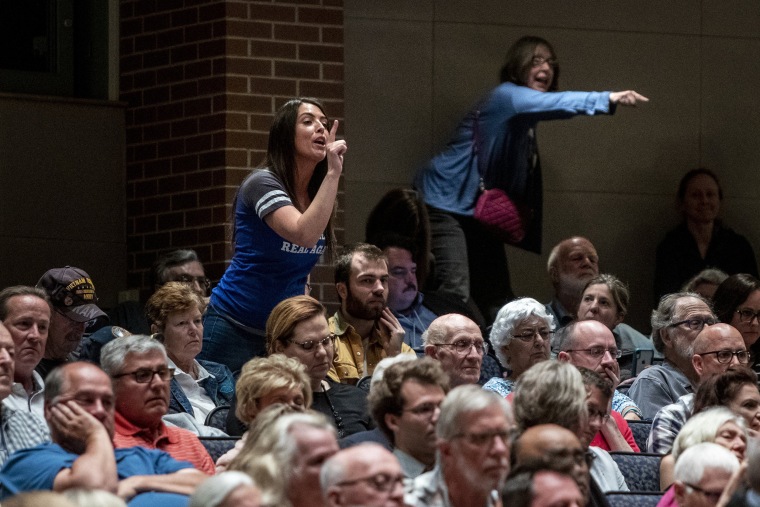 Amash, who was first elected to Congress in 2010 as part of the tea party wave focused on a limited government and ballooning deficits, has repeatedly bucked his party on issues of government spending, health care and now impeachment. His support of an impeachment inquiry puts him in line with just more than three dozen Democratic House members. That group does not yet include House Speaker Nancy Pelosi.
Amash on Tuesday defended his position, which he said he came to after reading the 448-page report by special counsel Robert Mueller, saying that it's not about criminality but about losing the trust of the public. He cited Volume II of the Mueller report that outlines nearly a dozen instances where President Donald Trump attempted to interfere with the investigation.
"Obstruction of justice is more relevant when there is no charge in the underlying crime," Amash said in response to woman in a red "Make America Great Again" hat who said she was "disappointed" with Amash's statement.
He told the two high school girls who thanked him and their AP government teacher for teaching them to think critically that his biggest concern was that partisanship has supplanted congressional independence and that he fears "we've gotten to the point that impeachment will never be used."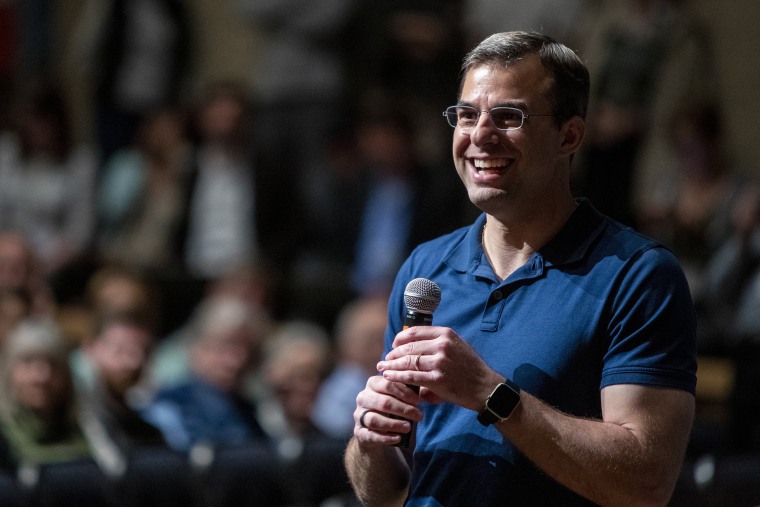 One impassioned woman stood to tell Amash that she logged countless hours volunteering for his first congressional campaign but has since changed her opinion of him.
"You have spent the last two years failing to do your job," the woman said to Amash.
She defended Trump, saying that the president and his campaign were spied upon. Amash said that the president cares little about the individual privacy rights except when it might affect him.
"They are not protecting your rights. They want to protect the president. But the rest of you, forget about it," Amash said. "The government can spy on all of you."
Amash said he had not yet ruled out a presidential campaign against Trump, running as an independent or a Libertarian. Some in the audience accused the congressman of overlooking his district and trying to raise his national profile with his impeachment comments.
The crowd included Democrats who had never voted for Amash but wanted to support him, Republicans who wanted to hear him explain himself and hard-core Trump supporters who came to challenge him.
His primary opponent, Jim Lower, also attended. Lower told NBC News that since he announced his primary challenge after Amash voiced his support for impeachment proceedings, he's received a significant amount of support.
"I just think he's a very slim minority of people who have come to that conclusion, and that's not surprising because in Congress he is usually a lone 'no' vote or he thinks that he is smarter than everyone or he thinks somehow he sees things that they aren't," Lower said. "Frankly, it's out of step with reality and its out of step with where the voters are at."
Cathy Garnaat, a Republican who supported Amash and the president said she was upset about Amash's position but wanted to hear his reasoning. She said that she will definitely support Trump in 2020 but that Tuesday night was the first time she had heard that the Mueller report didn't completely exonerate the president.
"I was surprised to hear there was anything negative in the Mueller report at all about President Trump. I hadn't heard that before," she said. "I've mainly listened to conservative news and I hadn't heard anything negative about that report and President Trump has been exonerated."
Cheryl Wanless, a Republican who has supported Amash, said she was confused by his position but after hearing him speak, doesn't "have a problem proceeding with" impeachment.
"Though in the back of my mind, I know it is not going to pass the Senate most likely," she said. "But if the process has to go this far, I think that's fine — go ahead."
Amash expressed criticism of Trump beyond the Mueller inquiry. He said that the government at the top is lacking in ethics and morality, which he says matter.
He told an African American man who wondered why Trump was being demonized when the president has helped minorities.
Amash countered by saying that many would disagree and that is the president "demonizes" people.
"Why are people so angry with each other when the economy is doing so well?" Amash rhetorically asked. "I think it's because of the tone the people are setting at the top."