"We got something in common," Dale Ross told Al Gore last summer. "You invented the internet. And I invented green energy."
Ross, the mayor of Georgetown, Texas — pop. 65,000 — was having a bit of fun with the former vice president and longtime environmental activist. But, in the coming months, his rapid ascendancy in the renewable-energy cosmos might make the boast seem less of a joke.
The mayor has recently been interviewed by a Dutch film crew and appeared on both NPR and MSNBC. He spoke last month at the Earth Optimism Summit in Washington, sponsored by the Smithsonian Conversation Commons. And in the coming months, he will take on the role of unlikely hero in three high-profile documentary films, including the sequel to Gore's 2006 hit, "An Inconvenient Truth."
A volunteer politician from a little-known town in central Texas, Ross might otherwise be laboring at his more workaday tasks: issuing proclamations to residents who turn 100 and promoting the beauty of Georgetown's central square. But he is becoming a national media darling because, in an era of hardened political boundaries, he has unapologetically colored outside ideological lines. He is a Republican, a conservative and a Donald Trump voter (with an asterisk on the last point) who is so committed to green energy he has pushed his city to become one of the first in the country to get all of its electricity from the wind and the sun.
A hip video blogger from Los Angeles showed up not long ago to hear Ross's rap on renewable energy.
"We've got an endless supply of wind and sun," the mayor said on the blog. "I'll take that bet over fossil fuels, any day of the week." The bearded, denim-clad blogger from the West Coast, who goes by his first name, Hyla, quickly embraced the the mayor, wearing white shirt and bow-tie, as "my honorable Republican homie."
Ross, 58, makes time for all curious outsiders — even when one-hour interviews stretch to four. "My Tea Party friends accuse me of being a Democrat," Ross chuckled. "But we need to put national politics aside and make decisions that are best for the people we serve."
Though he clearly doesn't shrink from the attention, Ross says it's really all about the city he loves. A conversation with him will not end without at least one boast about the town square (acclaimed for its beauty and preservation of 19th-century architecture), a beloved swimming hole and the relentless hospitality offered by what he calls "the greatest city on earth!"
Ross, an accountant by day, said the city's moves toward alternative energy had nothing to do with politics and everything to do with common sense.
Despite its rich history in the petroleum industry, Texas has become a national leader in renewable electric power because of its ample supplies of both sun and wind. "We started in 2008 with the goal of getting 30 percent of our power from renewables by 2030," Ross said. But improved technology in solar panels and more accessible transmission lines allowed the city to become much more ambitious.
With favorable weather, Georgetown already could claim last year that it got all its power from renewable sources. It will slide just under that mark in 2017. But it has a contract with a new solar farm coming online in West Texas next year.
"From then on, we will be 100 percent renewable," said Ross. "I think we will run out of fossil fuels before we ever run out of sunshine and wind."
The electricity will come from the solar installation in the west part of the state and from a giant wind farm 40 miles west of Amarillo in the Texas panhandle. That energy feeds into the state's general electrical grid. But Georgetown has contracts directly with the solar and wind providers, paying their rates to pull as much power off the grid as it needs.
"I think we will run out of fossil fuels before we ever run out of sunshine and wind." Dale Ross, Republican mayor of Georgetown, Texas.
The mayor said that long-term contracts will shield the city from price fluctuations, and the volatile politics of the energy sector, for 25 or 30 years to come.
Ross said he voted for Trump, though he did not like either of the nominees in the 2016 election. He believes that Trump backed himself into a corner by pledging during the campaign to abandon the Paris climate agreement. "When you put politics in the decision-making process, it's not going to be an optimal decision," he said.
He deemed himself "disappointed on a personal level" that Trump reversed America's commitment to meet carbon-reduction goals. "But that does nothing to us here, because we have 20- to 25-year wind and solar contracts. We have stability," Ross said. "There is nothing the federal government can do about that."
The makers of "An Inconvenient Sequel," which debuts in New York and Los Angeles July 28 before opening in theaters nationwide, said Gore was intent on spending time with the Texas mayor.
"Al feels this issue has really grown beyond politics and parties and he felt it was important to reach out and spend some time with a leader in a deeply red state, in a red city, who was so intent on going to solar and going to wind," said Jon Shenk, who directed the film with his wife, Bonni Cohen.
The mayor, in turn, became smitten with Gore, the politician he voted against multiple times. He said the former vice president had a "wicked" sense of humor and was loose enough to pose for pictures beneath the Williamson County Republican Party banner. Gore also took time to speak to Ross's wife, who runs the local history museum. And when Gore discussed the economics of energy, Ross was impressed.
"He really knows his stuff," Ross said. "He is incredibly smart. He is just the real deal."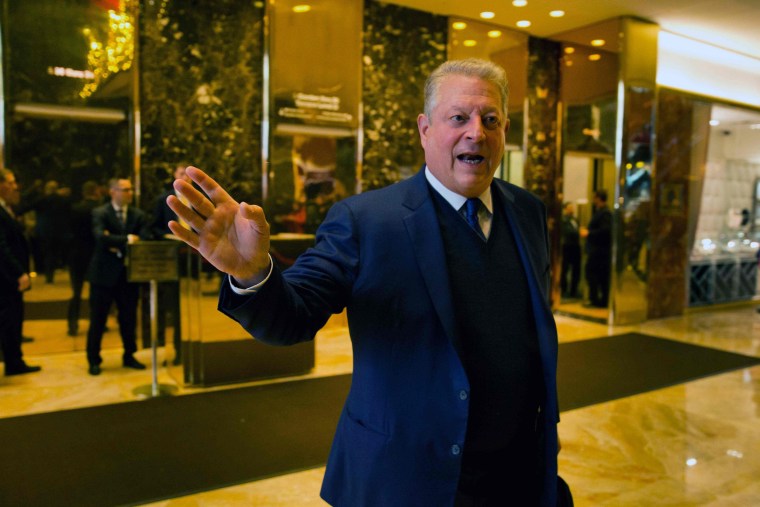 Michael Bonfiglio, who filmed the mayor for "From the Ashes" — a dark National Geographic documentary about the coal industry that was partly funded by Michael Bloomberg's philanthropic arm — wanted a figure who represented the nation's shift from coal power to non-polluting alternatives. The director didn't know he was also getting a salesman who likes to hand his out-of-town visitors a Georgetown commemorative coin. "It's impossible not to be charmed by the guy," Bonfiglio said.
The sentiment apparently won over at least one other filmmaker, Jamie Redford (son of Robert Redford), whose HBO documentary "Happening," also features Ross. HBO has not yet said when it will release the film, which focuses on clean energy and broader themes like human resilience and social justice.
Is the little-known pol from a red state suddenly in danger of over-exposure? Bonfiglio concedes he felt a "slight twinge" when he learned Ross would appear in so many other forums. "But he is such a compelling figure, and so is the town, that we had to keep them in," the director said.
Mayor Ross got another affirmation in early May when voters returned him to office for a second three-year term. He won 72 percent of the vote. Last Thursday, he and his wife traveled to Washington to attend a screening of "From the Ashes" at National Geographic's headquarters and museum. Mickie Ross says she and her husband remain "awed and impressed" every time they get to return to the capital.
Her husband gives an "aw shucks" to the suggestion he has done anything that special, saying Georgetown's energy initiative amounts to a "no-brainer."
"We are going to provide cost certainty on our electricity for 25 or 30 years. And there are no pollutants going back in the atmosphere," he said. "Everybody wins on this deal."