A climber who fell on Mount Hood in Oregon on Tuesday has died, officials said, and rescuers guided down two others who were stranded and rescued a third by sled Tuesday night.
The climber, who was not identified, fell 700 to 1,000 feet into the Hogsback area, which is at an elevation of around 10,500 feet, according to the Clackamas County Sheriff's Office and NBC affiliate KGW of Portland.
The climber was pronounced dead upon arrival at Emanuel Medical Center in Portland, the sheriff's office said. A Black Hawk helicopter from the Oregon National Guard airlifted the man.
Rescuers later reached other stranded climbers, the sheriff's office said on Twitter just before 4:40 p.m. local time (7:40 p.m. ET).
Two men who were in the group that included the fallen climber were returned to a lodge via a snowcat vehicle Tuesday night, sheriff's Sgt. Brian Jensen said shortly after 7 p.m.
"They appear to be physically and mentally exhausted," Jensen said.
A woman who was with that group couldn't walk and was safely lowered by sled, 600 feet at a time, he said.
Three other climbers, part of a different group, also made it down safely, Jensen said.
The call of a fallen climber was received at around 10:30 a.m., and Jensen said other climbers went to his aid. The mountain, which has a summit of 11,240 feet, is the state's highest peak.
The Oregon Office of Emergency Management said that the climber who fell was on the way up to the summit without ropes when he fell, KGW reported.
Maj. Chris Bernard of the 304th rescue squadron out of Portland said 14 rescue specialists were sent to the mountain, in conjunction with other groups. Portland Mountain Rescue had sent 13 climbers on their way up, the sheriff's office said. Mount Hood National Forest is about 50 miles southeast of Portland.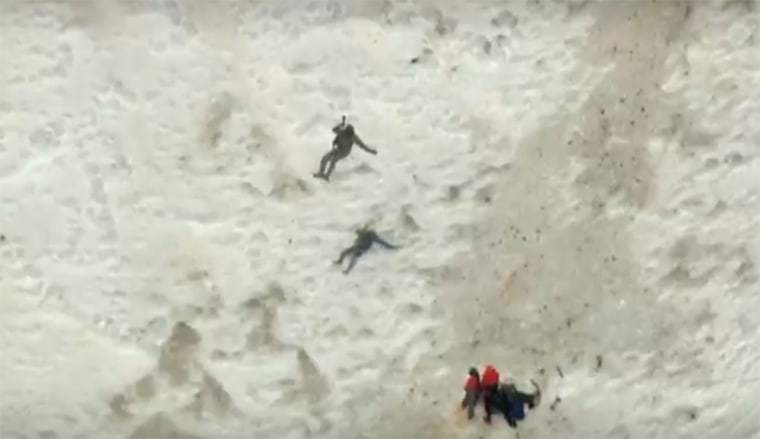 Rough weather was expected for the area at around 1 a.m., with rain, snow and winds, Jensen said, and rescuers were described as working against time to save those still stranded.
"It's obviously extremely tragic. I mean, anytime someone loses a life is devastating," Jensen said Tuesday night. "We are thankful, however, that we are able to get these other folks down safely."
Scott Lucas, head of search and rescue for the state emergency management agency, said that when people get hurt, "they generally slip trying to summit, and end up back in the Hogsback area," which is what happened Tuesday.
The mountain, a dormant volcano, attracts more than 10,000 climbers a year but the normal climbing season is from April to mid-June, according to the U.S. Forest Service. On average, there's about one fatality on the mountain per year, according to the Forest Service.
Steve Rollins of Portland Mountain Rescue told KGW that Hogsback is the most popular climbing route on the mountain.
"Hogsback is a steep spine that goes from the crater of the volcano up toward the summit, approximately 800 feet in length," Rollins told the station.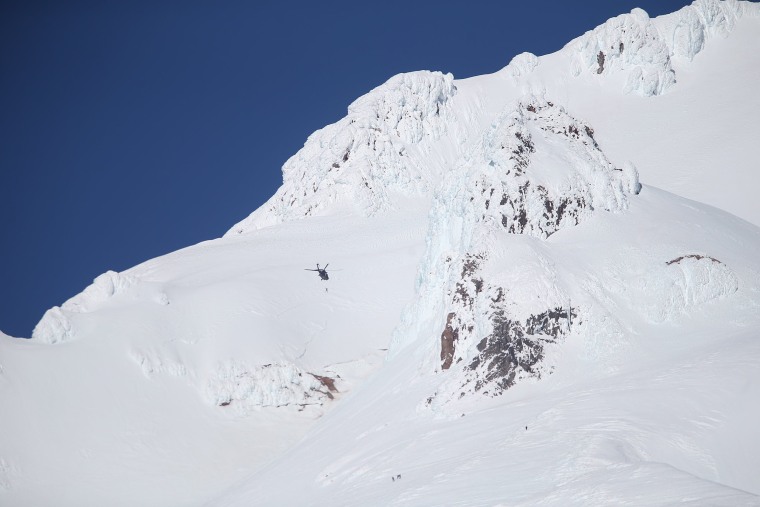 One climber who turned back on Tuesday described conditions as "terrible."
"You had ice axes and crampons and you couldn't get secure foot in your holds," Wyatt Peck, 26, of Portland, said, adding that there was a layer upon layer of ice, making holds difficult. "If you were to slip and fall, you couldn't dig your axe in and stop yourself," he said.
"This is the worst climbing day I've experienced for sure, condition wise," Peck said.