Rescuers on Saturday freed a humpback whale entangled in hundreds of feet of fishing line, after a two-day effort.
A whale watching boat first spotted the whale off the coast of Newport Beach near Los Angeles on Friday, and a National Marine Fisheries Service crew was able to cut off about 100 feet of line.
At around 9:30 a.m. Saturday, the whale was spotted near La Jolla Cove around 65 miles down the coast, and SeaWorld Rescue team boats caught up with the mammal, Sea World and the National Oceanic and Atmospheric Administration said.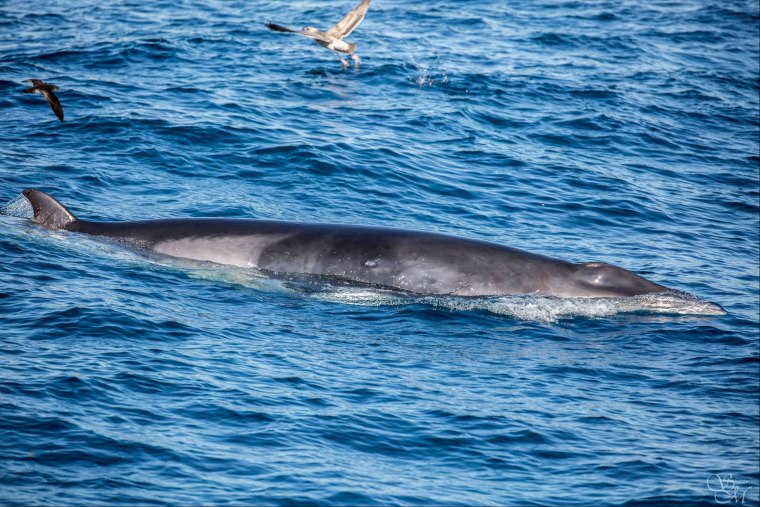 The rescue took around three hours, and boats — attached to the animal from a floating line attached to the fishing gear — traveled with the whale for five miles before they were able to cut away most of the around 230 feet of line, SeaWorld said.
It is hoped that enough line was removed that the 40- to 50-foot-long adult whale will survive, officials said.
"We need to be realistic with regards to the ultimate outcome for this animal," SeaWorld spokesman Dave Koontz said. "While a significant amount of line was removed from the whale yesterday and today, there is still line in its mouth."
The whale is believed to be the same creature that was seen struggling with ropes several days ago off Santa Barbara, about 75 miles northwest of Los Angeles, Justin Viezbicke, a NOAA program specialist who was part of Friday's rescue effort, told The Associated Press.
NOAA's whale rescue team has responded to about 50 entangled whales since January — a spike that could be attributed to warmer waters bringing the giant animals closer to shore, where they encounter fishing gear, Viezbicke said.