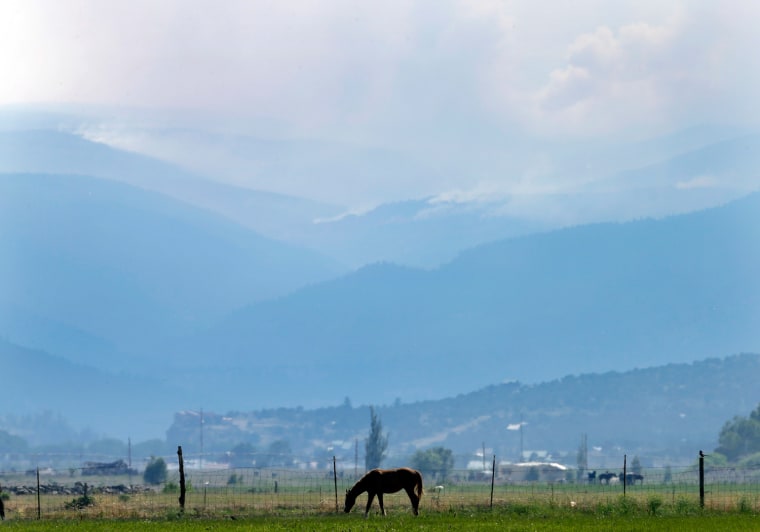 DEL NORTE, Colo. - Tourists and business owners forced to flee a popular summer retreat in the southwestern Colorado mountains resigned themselves to a long wait as fire officials declined to speculate when they might be able to reign in an unprecedented and erratic blaze raging through the Rio Grande National Forest. 
The fire more than doubled in size over the weekend, growing to an estimated 114 miles by Sunday night, authorities said.  And heavy winds fanning drought-stricken, beetle-killed forest showed no signs of relenting before Tuesday, fire officials said.
"They just said they had no idea how long it would be before we could back in South Fork," said Mike Duffy, who owns the South Fork Lodge.
Duffy said he and his wife, Mary, were able to get their personal possessions before fleeing fast-advancing flames that officials on Friday feared would overtake the town. But with the fire still within three miles of South Fork, they are worried about the long-term impact of a prolong evacuation and news reports about the massive blaze threatening the tourism-dependent town.
Summer visitors include many retirees from Texas and Oklahoma who come to the mountains to flee the heat.
"Here we are the 23rd of June. We had to tell people not to come because we are not there," Duffy said. "I just don't how much more of an affect it will have. Everyone's bottom line is going to get tagged by this. ... You still have to pay your property taxes whether you make money or not."
The town has 400 permanent residents, but South Fork Mayor Kenneth Brooke estimates that between 1,000 to 1,500 people were in town when the evacuation was ordered. More than 600 firefighters were battling the blaze, and more are coming every day.
As of Sunday night, officials said they knew of no structures lost and their efforts remained focused on protecting South Fork, the Wolf Creek ski area and homes along Highway 149 as the newest arm of the fire crept through beetle kill toward the historic mining town of Creede.
Creede, near the headwaters of the Rio Grande River, was the last silver boom town in Colorado before the industry went bust in the late 1800s. It has since dwindled in population, making way for a thriving tourist industry that relies on the town's colorful past.
The town also is known for such characters as Robert Ford, who ran a tent saloon there and was best known for shooting and killing outlaw Jesse James in Missouri in 1882.
Pete Blume, a commander with the Rocky Mountain Type 1 Incident Command Team, said the wildfire is the worst ever known to hit the Rio Grande National Forest.
"It's not typical to have these kinds of fires here," said Blume. But he said the 30 to 40 mile-an-hour winds, beetle-killed trees and drought are "also not the norm."
Tim Foley, a fire behavior expert with the same incident command as Blume, said beetles have killed most of the forest's hundreds of thousands of acres of mature spruce.
Elsewhere in Colorado, about a dozen fires also continued to burn. Firefighters were making progress on a 19-square-mile wildfire near Walsenburg in southern Colorado. The fire was 10 percent contained.
And a wildfire in foothills about 30 miles southwest of Denver was expected to be fully contained Sunday evening. That fire burned 511 acres and forced 100 people to leave their homes.
In the Rio Grande forest, firefighters are hoping for a break in the high winds as well as the anticipated July monsoons to help them fight back the flames. They also want to reduce the number of new spot fires being sparked by wind-whipped ashes. 
Until then, Blume said, "with that much beetle kill and drought we could have every resource in the country here and still not put in a containment line."