HOLLY SPRINGS, Miss. — Darlene Velasco can't afford to treat her Type 2 diabetes. She doesn't make enough money at her job selling college sports memorabilia to pay for medication or private health insurance and, at $13.50 an hour, earns too much to qualify for Medicaid.
That's been the case for years and without treatment, Velasco, 45, was declared legally blind in May. The disease built up cataracts in her eyes and when her vision began to blur and disappear, she found herself driving to her job that carries no health benefits steered only by the memory of the backcountry roads that surround her home.
"I reached out to everybody I could, asking about programs for people who can't afford medical insurance — hardworking people," she said late one October night, deep in this Mississippi hill country. "Not everyone has that financial stability with benefits. Some of us get our paycheck biweekly, struggle to make ends meet, pay rent and raise kids. It's not easy."
Mississippi is one of 14 states that chose not to expand Medicaid, forgoing about $1 billion from the federal government each year since 2012 when the Affordable Care Act offered states the opportunity to expand care.
The states that choose to go along with the program, first rolled out under the ACA, will eventually have to provide a 10 percent match of the funds by 2020. That would cost Mississippi about $100 million a year, and Republican lawmakers insisted it would be detrimental to the state economy.
In Mississippi, a state that has one of the highest uninsured rates in the country — currently ranked at 45 out of 50 — about 100,000 people fall in the same coverage gap as Velasco, according to the Kaiser Family Foundation. In total, 2.5 million poor adults fall into that same gap in the 14 states that did not expand Medicaid.
Meanwhile, health care costs continue to grow, creating a core campaign issue in Mississippi's gubernatorial election that will be decided Tuesday. State Attorney General Jim Hood, a Democrat, supports expansion to address costs, while Republican Lt. Gov. Tate Reeves opposes it.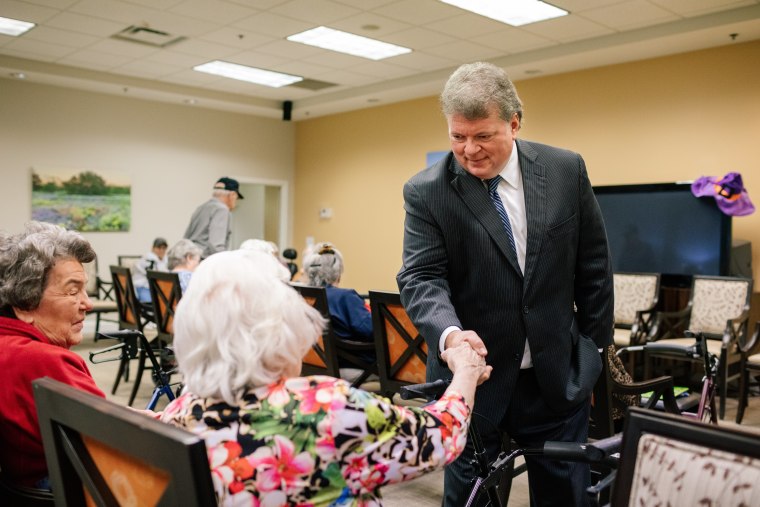 A review by NBC News of the Medicaid budgets for all 14 states that refused expansion showed their expenses increased drastically after 2012 — despite state lawmakers' objections that accepting expansion would cost too much. Mississippi's budget grew by about $173 million — a 20 percent increase — since 2012, while enrollment grew by only 10,000 over the same period.
Jesse Cross-Call, a senior policy analyst at the Center on Budget and Policy Priorities, studied Medicaid expansion and state budgets and testified before the Mississippi Legislature near the end of October.
He said there was a growth in Medicaid spending in nonexpansion states initially because enrollment grew briefly after the passage of the ACA, but Mississippi and the other states' budgets remain inflated because of rising health care costs.
"State Medicaid spending is increasing and the primary driver is prescription drugs, an aging population, disabilities and other health care costs, but it's not Medicaid expansion," Cross-Call said. "There are greater health care forces acting on states right now, but many states have made it so Medicaid expansion has been a net saver."
Louisiana, which passed expansion in 2016, reported savings of $199 million in 2017 and $350 million in 2018. Virginia, where expansion went into effect in January, predicted $152 million in savings in 2019 and $270 million in 2020. Numerous other states have also experienced savings through the program, as well.
A 2017 Health Affairs study found "expansion states did not experience any significant increase in state-funded expenditures, and there is no evidence that expansion crowded out funding for other state priorities."
Mississippi has yet to see any savings, and though Velasco didn't get health insurance through the state to treat her diabetes and avoid becoming legally blind, Mississippi taxpayers still paid through the state's department of rehabilitation services to treat her vision at a cost of more than $20,000.
It also meant Velasco had to undergo cataract surgery in October, a procedure that terrified her and could have been prevented if she had been able receive coverage through Medicaid or somehow pay about $500 a month for her medication or the several hundred dollars needed monthly to afford private insurance.
"They knocked me out because I was that scared," she said. "I had tears coming out of my eyes. I was crying."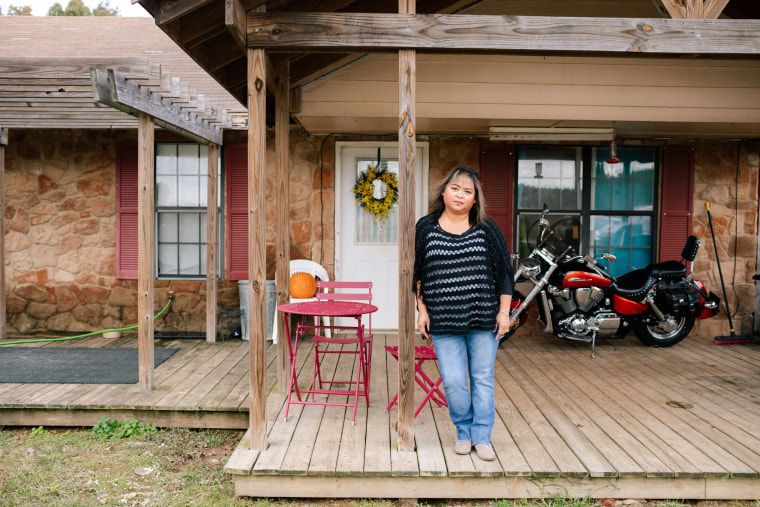 'I can't just go to the doctor'
The lack of health insurance has left millions of Americans in those states that chose to go without Medicaid expansion to carry the burden of medical debt when they need to receive health care.
Velasco said she socks away a few dollars out of each biweekly paycheck to save up to go to the doctor. She's losing hearing in one ear and doctors told her she had a cyst on an ovary when she visited the emergency room for stomach pain two years ago.
Eventually, Velasco hopes to be able to afford to have them examine it.
"It hasn't caused cramps or anything. I'm hoping it melted away," she said. "But I can't just go to the doctor. I have to pay out of pocket. Every time I go when I'm sick, I have to pay $160 when I get seen."
In the state that has the highest percentage of its residents with past-due medical debt in the country, it appears that many people choose to go without, according to a study done by the Financial Industry Regulatory Authority Investor Education Foundation.
More than half in Mississippi said the cost of health care led them to not fill a prescription, avoid the doctor or skip a medical test, according to the study.
"In a sense, the people of Mississippi are saying the cost of health care is driving them away from medical services, and we see that nationally in the data as well," Gary Mottola, the research director for the FINRA Foundation, said.
When the foundation began the study in 2012, 41 percent of Mississippians said they held past-due medical debt. That number dipped to 31 percent in 2015 with the passage of the Affordable Care Act, but has since grown again to lead the nation at 41 percent in 2018 after funding and advertising for the ACA was cut.
For many, the dollar numbers attached to accidents or unexpected illnesses are so large that they become abstract and unapproachable.
Samantha Mechell, 59, broke her hip three months ago when she tripped over her cat. A visit to the hospital and the ensuing surgery needed so that the longtime waitress could walk again cost her $140,000. Without insurance, she said her bill was sent to collections before she completed physical therapy.
"I wanted to go back to work early but my doctor said I couldn't without my walker," she said, still limping heavily minutes after her midweek lunch shift ended. "I have bills. Nobody pays those but me. There's only me."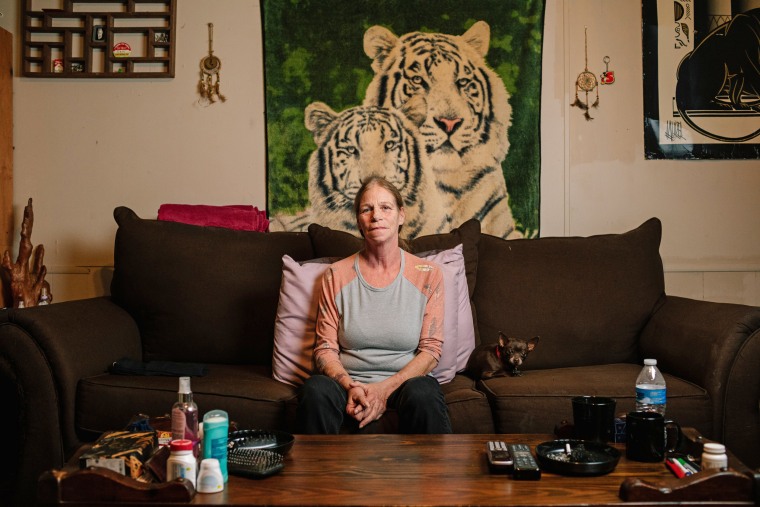 She earns $900 monthly, which goes to rent and utilities, while the $20 or $30 she makes in tips each day help pay for food and gas.
When she couldn't work, she said she used loose change she collected and some of the tax returns that she saved for a rainy day to pay for meals of ramen noodles or hot dogs.
"They want all this money, but I don't have much," she said. "It's just rough. I know there's a lot of people out there like me."
Are lives at risk?
Advocates for expansion and health care experts argue that the lack of access to health insurance coverage could be putting people's lives at risk, especially in rural areas, in part because hospitals are having to provide uncompensated care that is endangering their economic viability and causing some to close their doors.
That's a problem in Mississippi, where almost half of the state's rural hospitals are at "high financial risk," according to the independent consulting firm Navigant.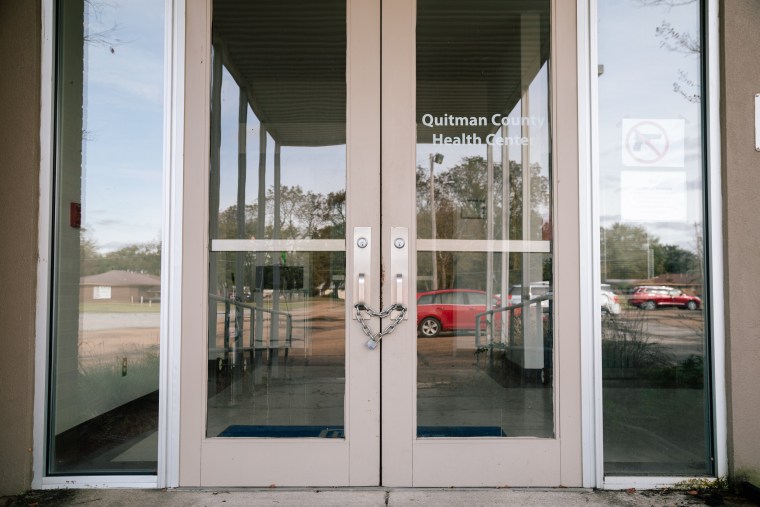 A 2018 study from the University of Colorado found these issues are exacerbated in the 14 states that refused Medicaid expansion, finding that states that did not expand Medicaid saw a sharp increase of hospital closings, while states that expanded Medicaid saw closure rates decrease.
There is now a clear number tied to those life and death stakes, according to a report published this year by the National Bureau of Economic Research. It found the states' decision over Medicaid expansion has had a cumulative impact on mortality among older adults, leading to 19,200 fewer deaths in Medicaid expansion states from 2014 to 2017, while states that decided against expansion "likely resulted in 15,600 additional deaths" that could have been avoided.
"It's one thing not to have health insurance, but not to have access to any health care is a whole different thing and that's where we are," said state Rep. Robert Johnson, a Democrat who represents the impoverished Mississippi Delta town of Natchez. The hospital in that town is at risk of closing and considered "critically essential" to the community by Navigant.
"What do we do if the emergency room isn't there anymore?" he added.
Roy Mitchell, the executive director of the Mississippi Health Advocacy Program, and his organization work to help families obtain and maintain health care coverage in the state. He said that the push to expand Medicaid consistently hits roadblocks because of the political perception that it would be too expensive for the state.
"I've been working in public health advocacy in Mississippi for 25 years. The equity arguments in Mississippi fall on deaf ears," Mitchell said. "Unfortunately, we always look at the financial side here. I'm surprised there hasn't been a greater reaction by the faith-based community because the equity arguments for Medicaid expansion are so overwhelming — and it saves lives."
The politics of expansion
Drawn by potential savings and the benefits of health care coverage, voters in Idaho, Nebraska and Utah — typically conservative states — supported the expansion of Medicaid at the ballot box during the 2018 election. Similar battles are occurring in North Carolina and Georgia.
Now, even Republicans in deeply red Mississippi are beginning to find expansion attractive.
Bill Waller Jr., the former chief justice of the Mississippi Supreme Court who ran against Reeves in the Republican primary for governor, advocated for a form of expansion similar to a plan supported by the Mississippi Hospital Association, which would have beneficiaries pay a $20 monthly fee and a $100 copay for hospital visits.
Waller lost to Reeves by 8 points after the lieutenant governor cast him as sympathetic to national liberals and compared him to Bernie Sanders and Hillary Clinton. Months after the brutal primary, Waller still called the expansion issue existential for the state and pointed to the success seen in Arkansas, which expanded Medicaid in 2013 and provided coverage to about 250,000 people.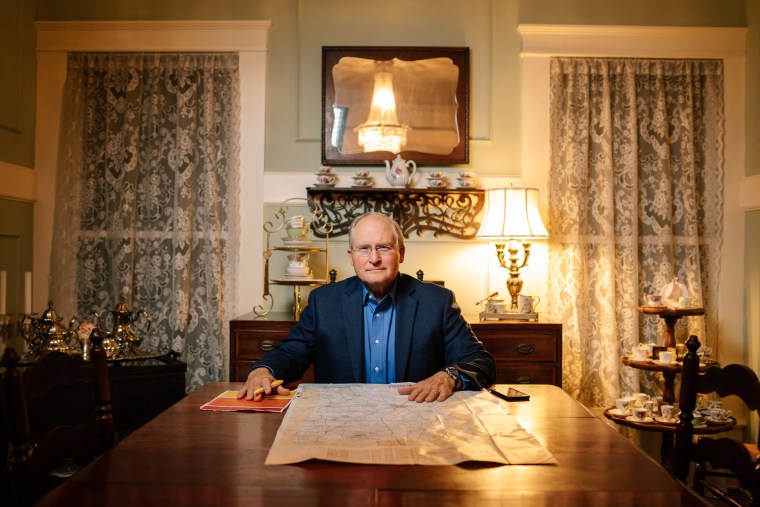 "It's critical for the advancement of the state, both economically and socially," Waller said, sitting in his wood-paneled office in downtown Jackson, just a few blocks from the governor's mansion.
Waller declined to endorse Reeves and would not say if he will vote Tuesday for him or for Hood, the lone Democrat to hold statewide office, whom Waller called a "credible political figure" who could push through expansion.
Reeves, meanwhile, maintains opposition to the expansion, though he has provided few policy solutions to address the state's growing health insurance crisis.
Reeves' campaign did not respond to interview requests. Campaign spokesman Parker Briden also declined to provide NBC News an interview with Reeves after the lieutenant governor briefly spoke at a press event in Jackson, Mississippi, where he discussed his opposition to Medicaid expansion in late October.
He mainly insisted at the event that his opponent would raise taxes, which Hood denies, but still did not provide an alternative.
"We believe you know how to spend your money better than any government entity ever will," Reeves said at the time.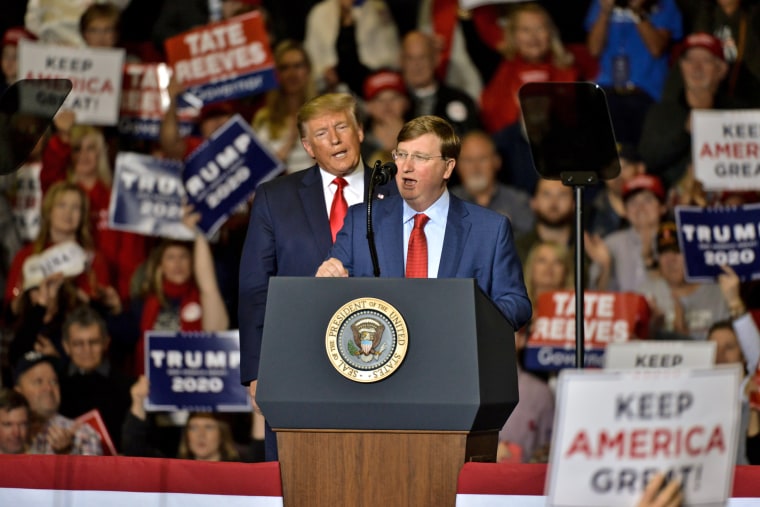 Cost is always an issue in Mississippi and it was exacerbated when Reeves and the state Legislature passed the largest tax cut in state history in July 2017. Now, a state with already low revenue is seeing its assets shrink even further.
The state is projected to lose $46.5 million this year and $415 million per year once the tax cut hits its full level in 2028, according to Mississippi's Department of Revenue and Legislative Budget Office.
In an interview, Hood lamented that Reeves and state Republicans passed the tax cut, calling it "a corporate tax giveaway." He pointed to that as a reason Mississippi is struggling to pay for Medicaid, as well as fund increases to a beleaguered education system and much-needed fixes to thousands of damaged roads and bridges.
Hood said that makes it more difficult to ignore that the state's proposed general fund budget for financial year 2019 was $5.6 billion — less than the $6 billion the state would have already banked from the federal government had it chosen to pursue expansion in 2012.
But when asked how he planned to pay for his policy proposals considering that tax cut was still in place and he would likely work with the same Republican Legislature that passed the cut, Hood did not have a clear answer and said he would likely renegotiate private government contracts.
As for Medicaid expansion, Hood said he felt confident he could get it passed if he followed the same route advocated by the Mississippi Hospital Association and Waller, though he noted he wasn't "sure of every detail" and didn't "know the answer to how exactly that happens."
But he insisted that Mississippi taxpayers wouldn't foot the bill.
"That one doesn't cost anything," he said. "It generates $100 million a year, creates 10,000 jobs. It's an economic driver."
In the meantime, however, people like Velasco continue to hope that the politicians arguing almost 200 miles south of her home will find some solution.
For her, time is of the essence.
"I've gone years without medication, and it's gotten to a point where you hit rock bottom," Velasco said, folding her hands in her lap. "And it's just like, 'OK, if I go, I go.' That's just how I have to see it."