KYIV, Ukraine — A retired U.S. Army Special Forces soldier who worked alongside the Ukrainians and died in an artillery barrage in Bakhmut earlier this week told NBC News in a February interview that he felt "compelled to come help."
When the war started, Nicholas Maimer was already working in Europe, he said, as he walked the frozen grounds of a training compound for members of Ukraine's Territorial Defense Forces. 
"I think in recent history … this was one of the most clear-cut violations of human rights and national sovereignty that we have seen," he said, the snow of a Ukrainian winter crunching underfoot as he strode past military green tents, public latrines and steel wire fences. "So, I personally — with my background — I knew I was compelled to come help."
At the time, Maimer was training volunteers and helping Ukrainian officers develop training programs of their own. One challenge, he said, was overcoming a Soviet-era military mentality that sometimes discouraged individuals from taking the initiative.
He was working to "give them the tools that they need to defeat the Russians," he said in a wide-ranging interview, in which he discussed training strategies, the capabilities of the volunteers, the spirit of those he trained and his 14-hour working days.  
With his face wrapped in a ski mask and his eyes covered by dark sunglasses to hide his identity at the time, Maimer also mentioned the discord he saw at home. He said he hoped the U.S. would continue its support, despite calls by some politicians in Washington to cut back American aid to Ukraine.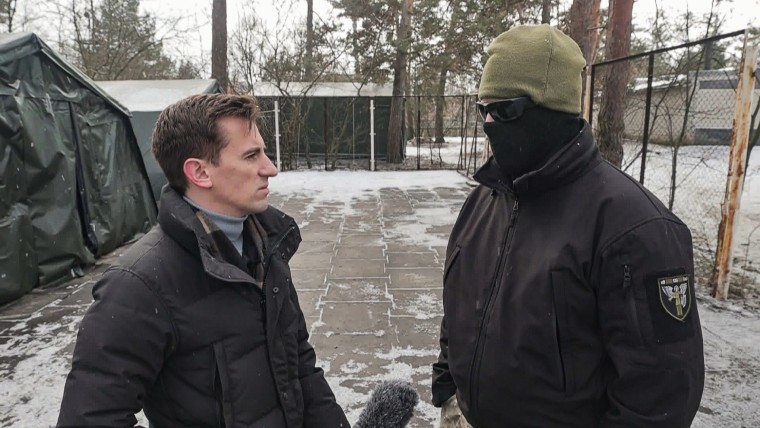 "I think it's short-sighted," he said. "Because of the spirit of the Ukrainian people, what they're asking for is materials and not asking for our people. The kind of existential threat that Russia poses to the world, I think this is the right place to take a stand."
Maimer served in the U.S. Army from 1996 to 1998. He then joined the Idaho Army National Guard until 2018, according to his military service record. He deployed to the Philippines in 2006 during Operation Enduring Freedom, in which Special Forces units advised the Armed Forces of the Philippines as they battled domestic and transnational terrorist groups. 
During his service, Maimer earned multiple awards and decorations, including the Special Forces Tab, Army Commendation Medal and four Army Achievement Medals. 
A Telegram post Tuesday by the commander of the private Russian military company Wagner Group cast a pall over Maimer's death. Yevgeny Prigozhin, who runs the mercenary group, posted a video that he claimed showed the body of an American, which he appeared to be inspecting. He alleged the man had been firing at the Russians when he was killed and said the group would return the body to the U.S.
NBC News could not verify the claims made by Prigozhin, who often uses his channel for propaganda purposes or to further his own interests. 
Vedant Patel, a State Department spokesperson, said the agency was aware of Maimer's reported death and is working to confirm the details surrounding it. He emphasized Russia's obligation under the Geneva Convention, however.
"Let me just note though that, as part of the conflict in Ukraine, Russia, including its Wagner forces, have an obligation under the Geneva Convention to respect the dead, including from disrespectful and degrading acts," Patel said at a briefing on Tuesday.
Sen. Jim Risch, R-Idaho, who is the ranking member of the Senate Foreign Relations Committee, met Maimer in Kyiv when he visited Ukraine last year. The senator said he was deeply saddened to hear the news about Maimer's death, but he knew the retired Green Beret's training was of great benefit to the Ukrainians. 
"I am deeply saddened to learn of reports that Idahoan Nick Maimer was killed in Ukraine," Risch said in a statement. "In meeting him, it was clear Nick was exceptionally well trained for, and sober about, the realities of the war in Ukraine. May he rest in peace."
Maimer said in a video he posted on his Facebook at the end of May 2022 that he had come to Ukraine a few weeks earlier and had first linked up with the Western volunteer organization, the Mozart Group, which was formed in response to the Wagner Group. 
At that point in the war, he said he found the Mozart volunteer effort to be "pretty unprofessional" as it failed at "taking care of basic security and stuff like that."
From there, Maimer said he met another retired Green Beret, Lt. Col. Perry Blackburn, who enlisted his expertise to help his nonprofit group called AFGFree. Through that group he began his work as a trainer of the Territorial Defense Forces. He said that he felt like they were really "moving the needle."
The effort "is going to allow me to hopefully save some lives by getting them some good training, because they're basically taking local civilians that are willing to fight and defend and trying to turn them into soldiers," he said on the Facebook video. "And of course, they're trying to do this on the fly." 
Almost a year later, standing in the snow on the training grounds, Maimer sounded as committed to the cause as ever. He said he had no imminent plans to give up his post, despite the fact that the group of Westerners, particularly Americans, had diminished in the months since. 
To him, he said, it was important for the American public to know that this war is not someone else's war, as the Ukrainians had the same desires and principles as the U.S. 
"These people want the exact same thing that your average American wants," Maimer said. "They want to raise a family, enjoy life, have a good quality of life and have the chance for prosperity — a better future for their kids. They want exactly the same thing. It's not somebody else, somewhere else. It could just as easily be America."