Prominent civil rights activist the Rev. Jesse Jackson has been diagnosed with Parkinson's disease, he announced Friday.
"My family and I began to notice changes about three years ago," Jackson, 76, said in a statement. "After a battery of tests, my physicians identified the issue as Parkinson's disease, a disease that bested my father."
A neurological disorder with no known cure, Parkinson's is commonly associated with tremors, stiffness and difficulty with walking and balancing.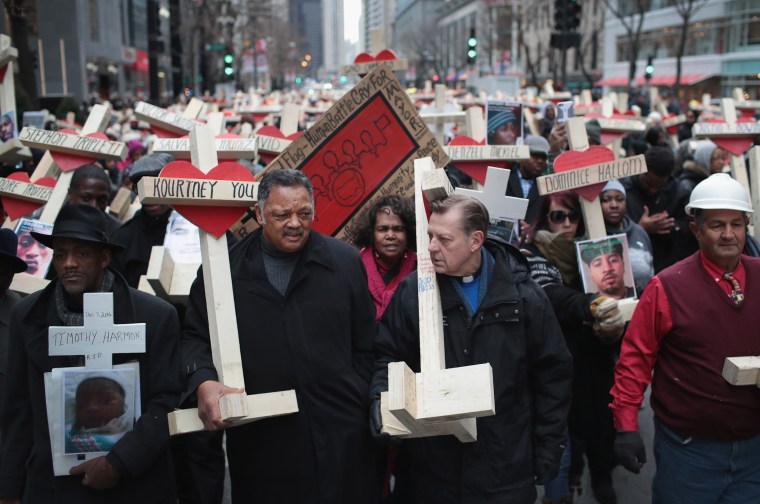 Northwestern Medicine in Chicago said in a statement that Jackson was diagnosed with the disease in 2015 and has been treated as an outpatient in the years since.
Congressman Danny Davis, D-Chicago, told NBC Chicago that those who have been close to Jackson recently "have noticed some of the signs."
Jackson also said that "recognition of the effects of this disease on me has been painful" and that he has "been slow to grasp the gravity of it."
Jackson was born in Greenville, South Carolina, and later became known for participating in civil rights demonstrations alongside the Rev. Martin Luther King Jr. He later ran unsuccessfully for the Democratic presidential nomination in 1984 and 1988.
Related: Gut Bacteria May Affect Parkinson's, Study Finds
In 1999, Jackson was credited with successfully negotiating the release of three U.S. soldiers who were held in Yugoslavia, and was awarded with the Presidential Medal of Freedom for those efforts from President Bill Clinton in 2000.
"I know Jesse Jackson will keep hope alive as he battles Parkinson's disease and continues his tireless commitment to justice and civil rights," Sen. Kamala Harris, D-Calif., said on Twitter. "Praying for him and his family."
In an Instagram video, the Rev. Al Sharpton said he spent the last few days with Jackson and others in New York and reflected on his impact on American politics and civil rights movement.
"As I watched him, I thought about the greatness of this man," Sharpton, an MSNBC host, said in the video. "How he continued Martin Luther King's movement for justice, how he cemented it in the North and made the King movement truly national … He changed the nation, he served in ways he never got credit. No one in our lifetime served longer and stronger. We pray for him, because he's given his life for us."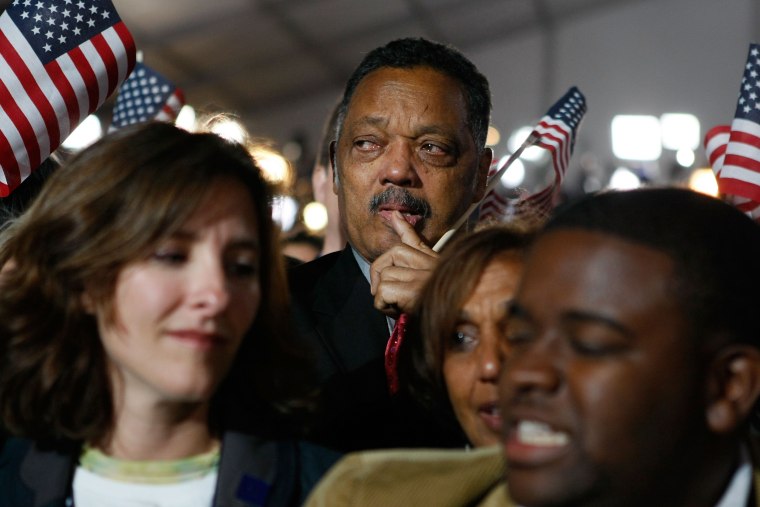 Jackson described his Parkinson's diagnosis as "a signal that I must make lifestyle changes and dedicate myself to physical therapy in hopes of slowing the disease's progression."
"It is an opportunity for me to use my voice to help in finding a cure for a disease that afflicts 7 to 10 million worldwide," he said in a statement. "Some 60,000 Americans are diagnosed with Parkinson's every year."
Although Parkinson's is considered to be the most complex disease in medicine, it is also very treatable, Dr. Michael Okun, the national medical director for the Parkinson's Foundation and chair of the University of Florida's neurology department, told NBC News.
"It's pretty common for 76-year-old men to have Parkinson's disease," Okun said. "As the population ages, we're going to see more and more people, particularly men, diagnosed with Parkinson's."
Related: How Patients Are Using Cycling to Slow Down Parkinson's
Jackson's plan to combat Parkinson's is likely to help slow the progression of his symptoms, but won't cure the disease, NBC News medical correspondent Dr. John Torres said.
Jackson already has the two major risk factors for Parkinson's disease, Torres said.
"Basically he's got an advanced age, and he's got a family history of Parkinson's, so that's going to make his outlook worse," Torres said. "What's going to make it better is more physical activity, family and social support and appropriate medication to slow the symptoms. But eventually the disease going to catch up with him."
Parkinson's patients typically live for six to 22 more years after their initial diagnosis.
Most recently, Jackson spoke out against President Donald Trump's proposed wall at the U.S.-Mexico border, comparing Latinos and Mexicans who would help build it to "blacks building slave ships." He also urged Hispanics and communities of color to unite under shared values.
Jackson also spoke about the shooting death of 18-year-old Michael Brown of Ferguson, Missouri, in 2014, generating a national conversation about race relations with law enforcement.