Joe Medicine Crow, the respected historian of Montana's Crow Tribe and the last surviving Plains Indian war chief, died Sunday at age 102, Montana Gov. Steve Bullock said.
Big Horn County coroner Terry Bullis confirmed Medicine Crow's death in a hospice facility in Billings, NBC station KULR reported. Bullis gave no further details.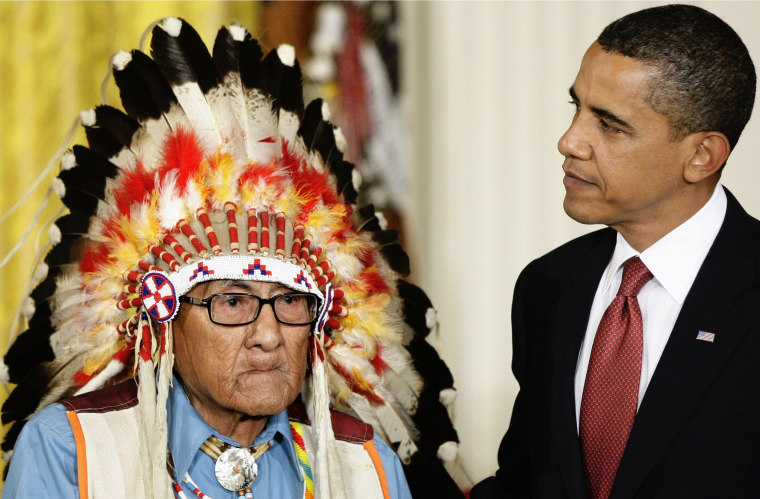 Medicine Crow, who lived most of his life on the Crow Reservation near Lodge Grass, Montana, and famously wore his war paint beneath his World War II uniform, was awarded the Presidential Medal of Freedom from President Barack Obama in 2009.
"Today, Lisa and I join Montanans to pay respect and celebrate the rich life of Dr. Joe Medicine Crow," Bullock said in a statement Sunday afternoon. "Joe was a Crow War Chief, veteran, elder, historian, author, and educator. His legacy will forever serve as an inspiration for all Native Americans — and all Montanans."
Medicine Crow was the sole surviving Plains war chief, an honor that was bestowed for his heroism during World War II. To earn the honor, he had to complete four tasks, which the national newspaper Indian Country Today outlined in a 2013 profile marking Medicine Crow's 100th birthday:
He led successful war parties behind enemy lines. He stole German horses. He disarmed an enemy. And he engaged an enemy without killing him — a German soldier whom he overcame in hand-to-hand combat before sparing his life.
Historian Ken Burns told Medicine Crow's story in his 2007 documentary "The War."
After the war, Medicine Crow became the Crows' tribal historian, lecturing widely on the Battle of Little Bighorn, in which his grandfather was a scout for Gen. George Armstrong Custer.
"Today, Montana lost a treasure," said Sen. Jon Tester, D-Montana, who nominated Medicine Crow for the Medal of Freedom, the nation's highest civilian honor.
"Joe Medicine Crow was a soldier and a scholar, but above all was a fierce advocate for Native American families," Tester said in a statement. "When you spoke with Joe Medicine Crow, it was impossible not to be inspired. I know his legacy will motivate generations of Montanans to follow in his footsteps and live a life dedicated to serving other."