A gold trader with ties to Turkey's president took the stand in a Manhattan courtroom on Wednesday and testified that he paid jaw-dropping bribes to a government minister to grease the wheels of a scheme to evade U.S. sanctions against Iran.
Reza Zarrab, whose name has come up in special counsel Robert Mueller's investigation, was the lead defendant in the case until he began cooperating with U.S. authorities and transformed into the star witness against a Turkish banking executive, Mehmet Hakan Atilla.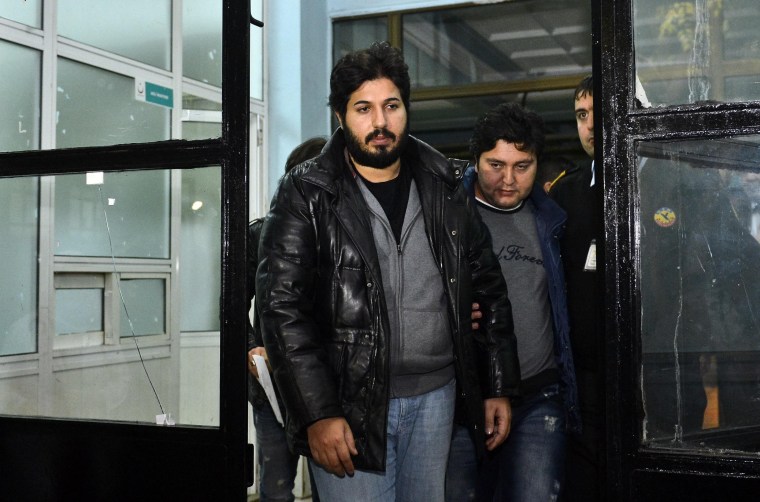 In his first hours under oath, Zarrab detailed the origins of a complex sanctions-busting operation to move Iranian funds through front companies, forged documents and bribes. He got help, he said, from the man who was then Turkey's economic minister, Mehmet Zafer Caglayan.
"He said, 'I can broker this providing there is a profit share — 50-50,'" Zarrab told the jury.
Prosecutors showed jurors a tidy spreadsheet that Zarrab said was a partial list of bribes he paid to Caglayan, who is under indictment but not on trial because he is still in Turkey. The numbers were massive: 31 million Euros, $4 million in U.S. dollars and 2.4 million Turkish lira.
But not all payments were listed, Zarrab said, who estimated that the total he gave Caglayan was more than $60 million.
Zarrab, 34, who appeared in jailhouse clothing, also made a fortune. Government documents have detailed his car and art collections, his yachts and his marriage to a Turkish pop star that made him a celebrity in his adopted homeland.
He is expected to be on the stand for the rest of the week. While the testimony he gives has the potential to make waves from Washington to Ankara, the initial round held no blockbuster revelations. For a chunk of the day, Zarrab used markers and poster-board to draw diagrams of how the money-laundering scheme worked.
He did say that after his arrest in March 2016 he hired attorneys to look into what prosecutors called a "prisoner exchange." Zarrab did not name the attorneys or the other prisoner. But two members of his legal team, former New York Mayor Rudolph Giuliani and former U.S. Attorney General Michael Mukasey, did visit Turkey on his behalf.
Zarrab also admitted he had bribed a federal prison guard in Manhattan for access to liquor and a cellphone. The defense is sure to hammer on that during cross-examination as they try to paint Zarrab as a liar who is using their client, Atilla, a former Halkbank deputy general manager, as "a get out of jail free card."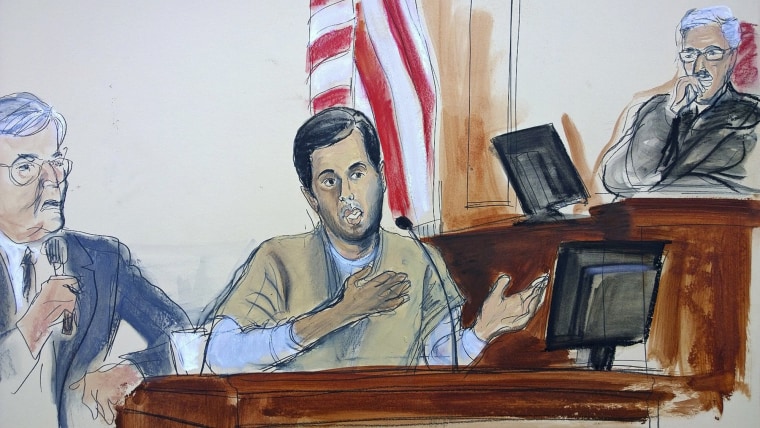 Anticipating an attack on Zarrab's character, prosecutors were quick to introduce to the jury lies he told U.S. investigators when he was first arrested. "I was afraid," he explained.
He said that as part of his cooperation agreement, prosecutors will tell the sentencing judge the help he has provided. "Cooperation was the fastest way to accept responsibility and get out of jail at once," he said.
Related: Did Giuliani Try to Cut Deal Between U.S. and Turkey for Zarrab?
The full scope of Zarrab's testimony is still unknown, but there's no question that officials on two continents are keenly interested in what he has to say.
Turkish President Recep Erdogan pushed both the Obama and Trump administrations to drop the case, and sources have told NBC News that Mueller's team is investigating whether Turkish officials offered a bribe to Mike Flynn, then on the cusp of becoming national security adviser, to make it go away. Flynn's lawyers have denied it.
Zarrab was arrested in March 2016 after he landed in the United States on a private jet with $100,000 in spending money for a family trip to Disney World. Although there are nine defendants in the case, most of them are in Turkey, leaving Atilla to stand trial alone.
"Atilla was the scheme's architect," Assistant U.S. Attorney David Denton told jurors during opening statements.
Another attorney defending Atilla, Victor Rocco, said Zarrab was the mastermind and Atilla a blameless dupe.
"The evidence will show he waged economic jihad against the U.S.," Rocco said of Zarrab in his opening. "He made hundreds of millions of dollars ... which he used to buy jets and yachts and people."
And then, Rocco said, referring to Zarrab's plea agreement, "he made the deal of a lifetime."