A Turkish gold trader with ties to President Recep Erdogan will not go on trial in the U.S. this week for allegedly skirting American sanctions against Iran.
Reza Zarrab, a flashy businessman with a pop star wife, was one of nine Turks indicted by federal authorities in the gold-for-gas scheme.
But as jury selection got underway Monday, the judge overseeing the case announced there is now only one defendant — and it's not Zarrab, who has been cooperating with prosecutors, according to sources familiar with the matter.
Instead, Mehmet Hakan Atilla, an executive of a Turkish-owned bank that allegedly helped cover up illegal transactions, will stand trial alone.
It is not yet known if Zarrab will take the stand, but his name was included on a list of people who may be called as witnesses or mentioned during the proceedings.
Also unclear is what information Zarrab may have provided prosecutors, although legal experts have told NBC News that U.S. investigators may be looking for ties between the Turkish government and Mike Flynn, who briefly served as President Donald Trump's national security adviser.
Before Zarrab began cooperating, Erdogan had pushed hard to get U.S. authorities to drop the case — asking then-Vice President Joe Biden last year and later pressing the Trump administration, officials say.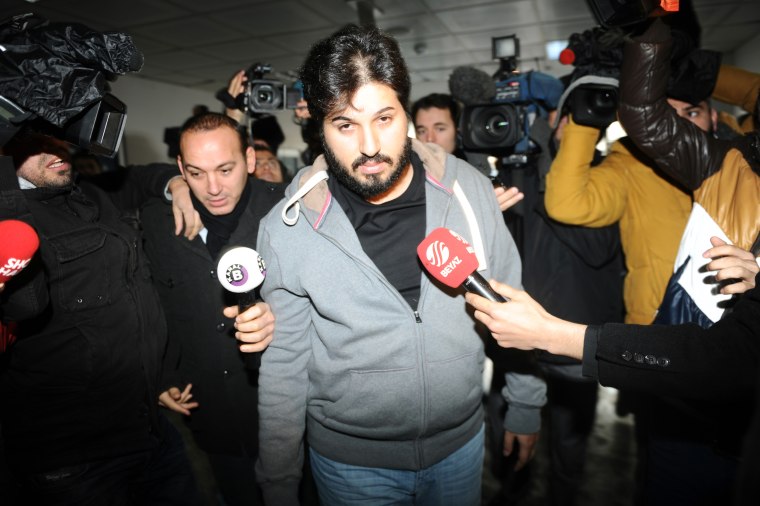 Special counsel Robert Mueller is investigating whether Erdogan offered Flynn more than $15 million to use his position as national security adviser to return a political rival, Fethullah Gulen, from the U.S. to Turkey and to see that Zarrab's case was dropped, NBC News has reported.
"You can fill in the gaps that federal investigators are looking for any relation between Erdogan and Flynn," attorney Danny Cevallos, a legal analyst for MSNBC and NBC News said last week. "So, to the extent that Zarrab has any connection or knowledge of that, it is very important that they're flipping him."
Zarrab, 34, was arrested in March 2016 after he flew to Florida to visit Disney World. In court papers, prosecutors allege the dual Iranian-Turkish citizen used a network of businesses and Atilla's bank to funnel cash and gold to Iran and duped U.S. banks into processing the transactions.
Tens of millions in bribes were paid to Turkey's economic minister to assist in the conspiracy, prosecutors said. He and six other co-defendants remain in Turkey.
Government officials in Turkey have accused U.S. prosecutors of doing the bidding of Gulen, the exiled Erdogan rival they blame for a 2016 coup attempt. Acting U.S. Attorney Joon Kim told reporters last week the suggestion was "ridiculous."