LOS ANGELES — A California panel Wednesday rejected parole for Sirhan Sirhan, the man who fatally shot Robert F. Kennedy in 1968.
The three-member panel denied parole for Sirhan, 78, for three years, a spokesperson for the Department of Corrections and Rehabilitation said.
In August 2021, a parole panel found Sirhan suitable for parole, but Gov. Gavin Newsom rescinded it.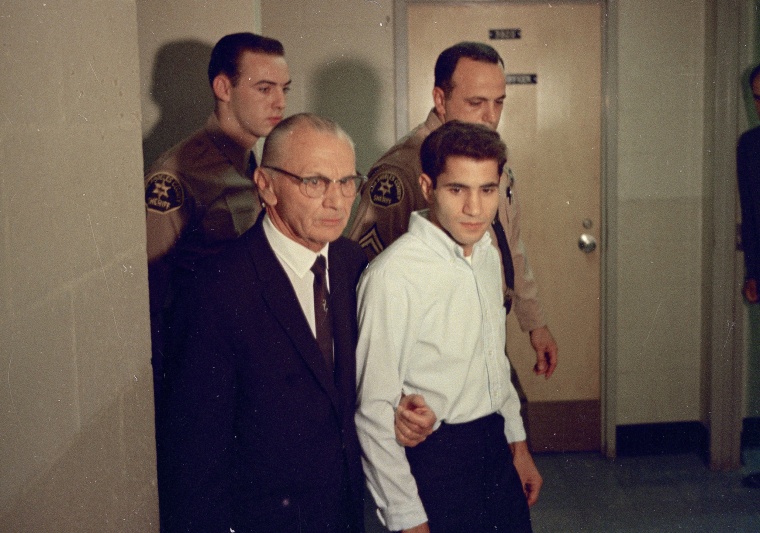 "I have determined that Sirhan has not developed the accountability and insight required to support his safe release into the community," Newsom wrote in an op-ed in the Los Angeles Times in January 2022.
Sirhan opened fire on Kennedy, a senator representing New York, at the Ambassador Hotel in Los Angeles on June 5, 1968, shortly after Kennedy claimed victory in California's Democratic presidential primary.
Sirhan was convicted of first-degree murder and assault with intent to murder. He has been imprisoned in the state system since 1969. A death sentence was commuted to life in prison in 1972.
His attorney, Angela Berry, did not immediately respond to a request for comment Wednesday afternoon.
Berry argued that Sirhan's psychiatrists have said for decades that he is unlikely to reoffend or be a danger to society, The Associated Press reported.
The Kennedy family said in January 2022 that they were relieved by Newsom's decision to reverse Sirhan's parole grant.
A parole grant is when an inmate is found suitable and recommended for parole, but grants are still subject to review by the board's legal office and the governor.
The Kennedy family said at the time that Sirhan "continues to deflect blame for his crime through 16 parole hearings," and they called the murder one of history's most infamous crimes.