State Department officials have determined that classified information was sent to the personal email accounts of former Secretary of State Colin Powell and the senior staff of former Secretary of State Condoleezza Rice, NBC News has learned.
In an interview with NBC News, Powell challenged the conclusion, saying nothing that went to his personal account was secret. A Rice spokeswoman said the emails were about diplomatic communications.
In a letter to Undersecretary of State Patrick Kennedy dated Feb. 3, State Department Inspector General Steve Linick said that the State Department has determined that 12 emails examined from State's archives contained national security information now classified "Secret" or "Confidential." The letter was obtained by NBC News.
Two of the messages were sent to Powell's personal account, and 10 were sent to personal accounts of Rice's senior aides, the letter said.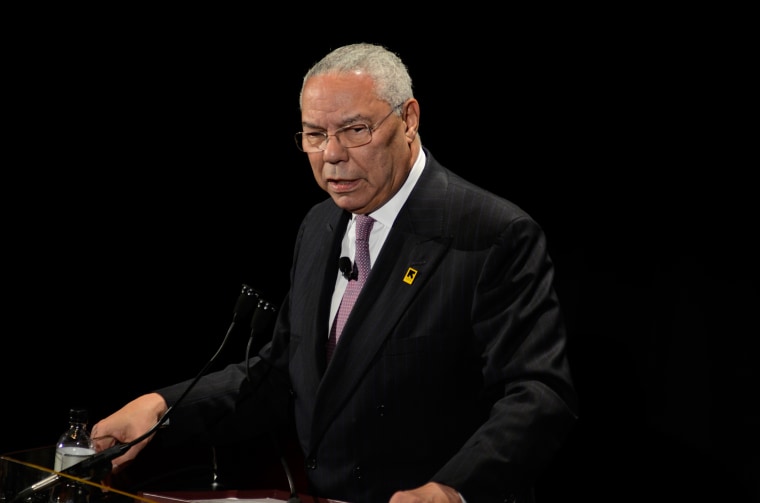 None of the messages were marked classified when originally sent, and none were determined to include information from the intelligence community, Linick said in the document.
Powell told NBC News he strongly disputed that the information in the messages sent to him was classified, and characterized the contents as "fairly minor."
"I wish they would release them," Powell said, "so that a normal, air-breathing mammal would look at them and say, 'What's the issue?'"
Powell said he has read the two messages in question, having been made aware of the letter. The messages originated with ambassadors -- one in the Philippines, the other in Europe. He said they were first circulated on unclassified State Department systems, and sent to his personal account by his assistant.
"They were unclassified at the time, and they are, in my judgment, still unclassified," he said.
Powell, who served as secretary from 2001 to 2005, said he used a personal email account because State's email system was slow and cumbersome. Powell is credited with modernizing State's computer infrastructure, which did not at the time allow each employee to have the internet at their desks.
"State's system at the time was inadequate," he said.
But, he added, "I did not use my email account for any classified matters because I had a classified computer on my desk."
Rice, now a professor at Stanford University, was unavailable for comment, said her chief of staff, Georgia Godfrey.
"She did not use email as secretary nor use a personal email account," Godfey said via email. "My understanding is that the report is in reference to emails sent to her assistant reporting diplomatic conversations and they contained no intelligence information."
Linick's letter said his initial findings suggest there could be a lot more classified material in State's unclassified archives. He recommended that State take steps to find and remove it.
The IG came upon the material during the course of a review of how current and past secretaries of state deal with classified material and with email. He sent 19 email messages to nine State bureaus and offices for review, and 12 were deemed to include classified material.
The review was prompted by the current controversy over Democratic presidential candidate Hillary Clinton's use of a personal computer server to conduct government business while secretary of state.
Linick's findings will be seen as helpful to Clinton, because they show that past secretaries of state and senior officials used personal accounts to conduct government business and occasionally allowed secrets to spill into the insecure traffic.
Powell, however, sought to draw a distinction between his use of a private email account and her use of a private home server through which all of her government-related email was routed.
"It's a lot different from what the rest of us were doing and what Mrs. Clinton is doing," said the former secretary of state, a longtime Republican who endorsed President Obama.
"Should she have had a private server?... Did she use it for classified information? I don't know and I don't want to know," Powell said.
But the Clinton campaign was reveling in the story.
"This announcement about Secretary Powell's emails shows just how routine it is for government bureaucrats to go overboard when it comes to judging whether information is too sensitive for the public to see," said John Podesta, Clinton's campaign chairman. "Hillary Clinton agrees with her predecessor that his emails, like hers, are being inappropriately subjected to over-classification. She joins his call for these emails to be released so that the public can view the contents for itself."