As a wave of U.S. cities have moved to topple their Confederate statues in the wake of violence at a white nationalist rally in Charlottesville, Virginia, Richmond — which was once the capital of the Confederacy — could become the next flashpoint in the debate over what to do with its monuments.
In the heart of Richmond, five statues depicting Confederate figures line a two-mile stretch of Monument Avenue. The monuments are of Robert E. Lee, J.E.B. Stuart, Stonewall Jackson, Jefferson Davis and Matthew Fontaine Maury. Another, added in 1996, depicts black Richmond native and tennis great Arthur Ashe.
On Wednesday, Richmond Mayor Levar Stoney pointedly reversed course and announced that he felt the Confederate statues should be removed. The marked change came days after the deadly protest in Charlottesville, where a woman was killed and 19 others were injured after a driver slammed his car into counter-protesters as white nationalists rallied against the planned removal of a Confederate monument.
"I wish they had never been built," Stoney said in a statement, later adding, "These monuments should be part of our dark past and not of our bright future. I personally believe they are offensive and need to be removed."
It was a seemingly sudden change for Stoney, who in June said he supported keeping the statues on Monument Avenue, but adding historical context and potentially other monuments. He formed the Monument Avenue Commission, a 10-person committee designed to evaluate ways to add proper context to the statues.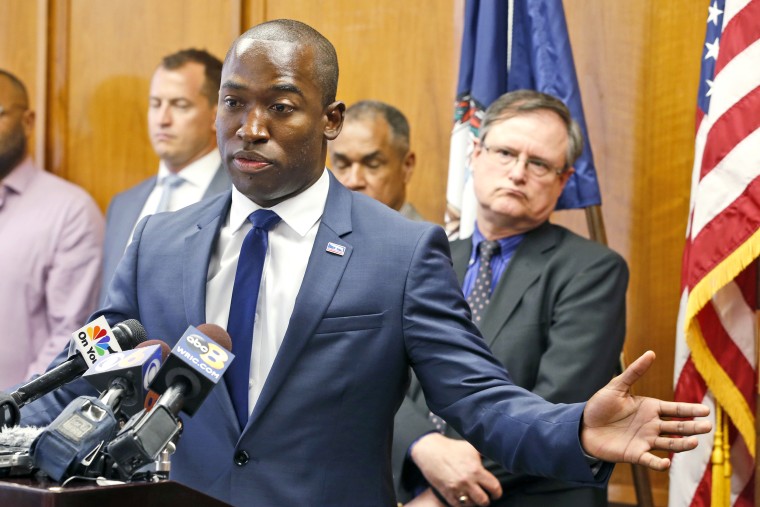 Stoney continued to express that belief until Wednesday, when he also announced that "effective immediately" the commission would include examining the removal or relocation of the statues.
The mayor said the Aug. 12 events at Charlottesville, about 70 miles to the west, marked a turning point for him.
Related: Trump Rails Against Removal Of 'Beautiful' Confederate Statues
"While we had hoped to use this process to educate Virginians about the history behind these monuments, the events of the last week may have fundamentally changed our ability to do so by revealing their power to serve as a rallying point for division and intolerance and violence," he said.
Bill Martin, director of The Valentine museum in Richmond, said the monuments were erected in the post-Civil War era, starting in 1890, as "the entire community started to structure how it remembers this past."
Martin said officials were "constructing this comfortable past that allows you to deal with the horror of what this city looked like and did during the war as a center of the domestic slave trade in this country."
He added that once again the city was going through the "messy process" of what it wanted its historical narrative to look like.
"This is a monumental moment, where just as when the Confederate statues were going up, we are now having a moment of deciding what the narrative for this community looks like," he said.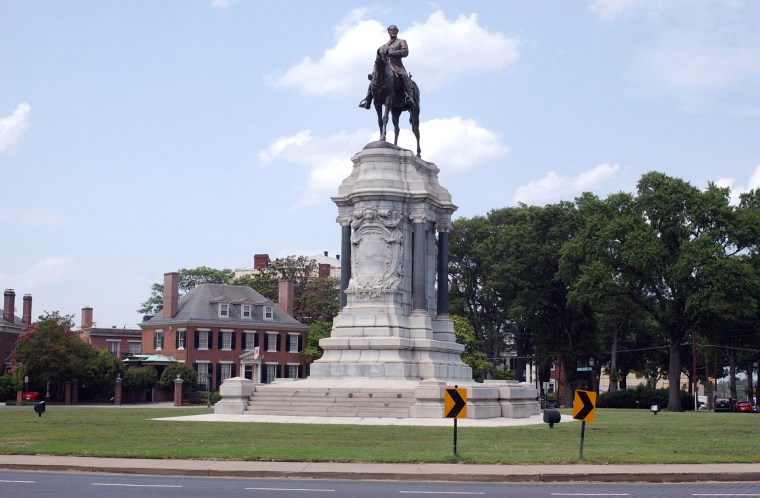 Virginia Gov. Terry McAuliffe has also called for Confederate monuments in the state to be relocated, after previously saying the decision should be left for local communities to decide.
"As we attempt to heal and learn from the tragic events in Charlottesville, I encourage Virginia's localities and the General Assembly — which are vested with the legal authority — to take down these monuments and relocate them to museums or more appropriate settings," he said.
The fate of the statues has already led to protests in Richmond and police have increased security on Monument Avenue.
Capitol Police Deputy Chief of Operations Ray Goodloe said Wednesday that they were stepping up security and "working very closely" with the Richmond Police Department to ensure safety to the public, and to protect the monuments.
"It's because of the events in Charlottesville and the anticipated events here in Richmond, certainly we are keeping a closer eye than normal," he said.
Goodloe added that police would assess the need for heightened security daily.
"For as long as necessary, we'll do our best to ensure the security of state property and the residents around that area," he added.
On Aug. 13, hundreds protested in Richmond chanting "take down the monuments!," according to NBC affiliate WWBT. At least one person was arrested and a person climbed one of the statues while waving an "anti-fascist flag" that later had to be removed by the local fire department, WWBT reported.
Related: National Battle Over Confederate Monuments Renewed After Charlottesville Violence
And two rallies, one in support of the monuments and one in opposition, that were planned for September have been cancelled, according to WWBT.
More than 500 people gathered at the monument commission's contentious first public meeting on August 9, where committee members listened to opposing sides in the debate to add historical context to the monuments.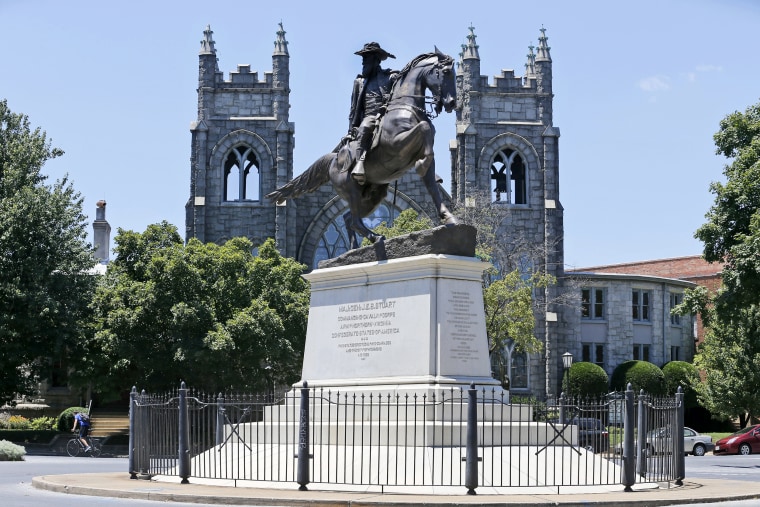 The next meeting is scheduled for Sept. 13 at the Virginia historical society, and this time, removing the statues will be on the table.
Christy Coleman, co-chair of the commission, said the mayor's decision "is giving us the opportunity to provide a full range of options to the city council once the time comes for a decision to be made."
But Richmond City Councilwoman Kimberly Gray said in a letter to Stoney that she had "serious concerns" over his decision and expressed worry over the safety of residents should the statues be removed.
"Richmond cannot become another Charlottesville," Gray wrote. "I believe now is the time to take a breath and afford cooler heads an opportunity to prevail."