Attorneys for Paul Manafort's business partner are splitting with him because of "irreconcilable differences," according to a court filing unsealed on Wednesday.
Rick Gates was indicted with Manafort, President Trump's onetime campaign chief, in October on money-laundering, conspiracy and other charges after being investigated by special counsel Robert Mueller, who is leading the probe into Russian interference in the U.S. election.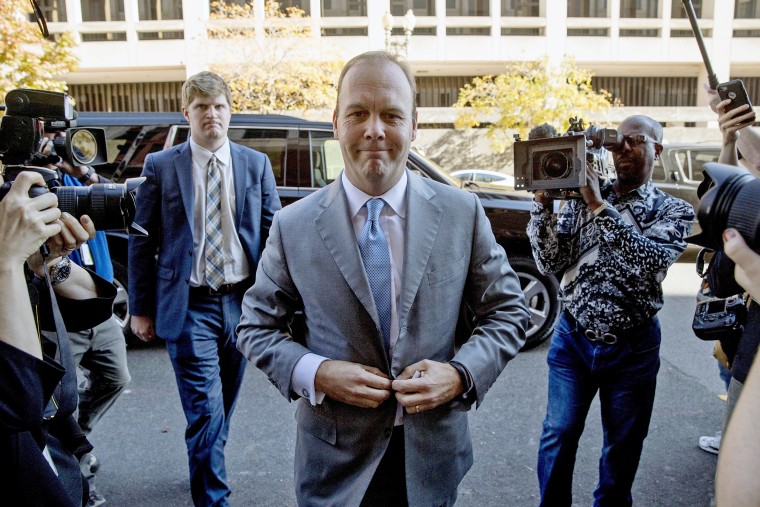 Last month, his attorneys requested permission to withdraw from the case but asked that an exhibit outlining the circumstances be sealed because it could be embarrassing to Gates.
A federal judge ordered the document unsealed on Wednesday. In it, the attorneys write that "irreconcilable differences have developed with the client which make our effective representation of the client impossible."
There were no specifics about the differences and it's unknown if the lawyers and client clashed over the question of whether Gates should take a plea and cooperate or over some other issue.
Related: Russian oligarch sues Manafort and Gates
Gates has a lower profile than Manafort but worked with him in Ukraine and flew to Moscow for meetings with associates of Oleg Deripaska, a Russian oligarch who paid them tens of millions of dollars, NBC News has reported.
The indictment says Gates and Manafort generated tens of millions of dollars through their Ukraine lobbying work and hid the payments by laundering the money through U.S. and foreign corporations, partnerships and banks.
Both men have pleaded not guilty. The judge has not ruled on the motion for Shanlon Wu, Walter Mack and Annemarie McAvoy to withdraw as Gates' counsel.