WASHINGTON — A right-wing activist who brought attention to debunked conspiracy theories — and who gained new prominence when he was retweeted by President Donald Trump this week — is a U.S. naval intelligence officer detailed to a reserve unit, Navy service records show.
John Michael Posobiec III's security clearance is currently suspended, according to a U.S. official, who did not disclose the reason for the suspension. Posobiec told NBC News that he was never given an explanation but suspects it was because he had become "more outspoken on Twitter."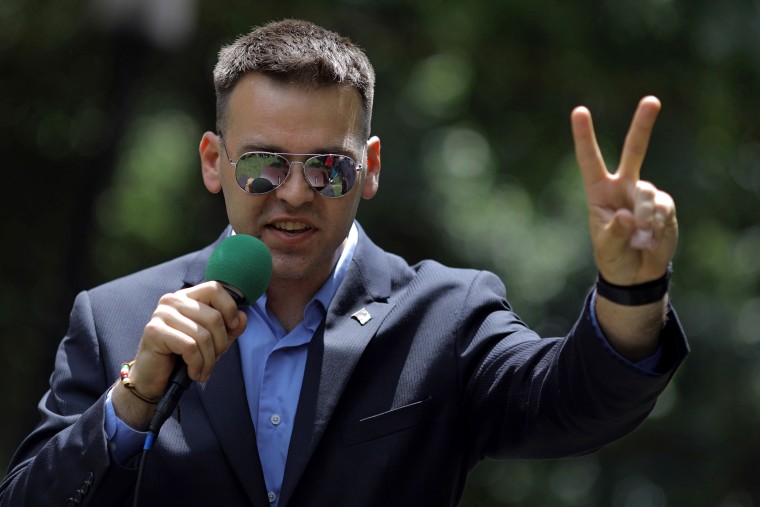 Posobiec, who goes by Jack, is a lieutenant junior grade in the U.S. Navy Reserves, assigned to Joint Reserve Intelligence Support Element Dekalb. From March 2014 through March 2017 he was assigned to a Reserve Intelligence Unit at Office of Naval Intelligence's Naval Maritime Intelligence Center in Washington.
He resigned his civilian job with the Office of Naval Intelligence in March, claiming his support for Trump led to a "toxic work environment" and because his "political advocacy" was taking off. He went to work for Canada-based right-wing Rebel Media but has since left.
He said he "never conducted any of my political activities while in uniform or on government time. I never once mishandled classified information."
During his time in the reserves, Posobiec has used his social media accounts to draw attention to false theories, including the rumor that former Democratic National Committee staffer Seth Rich was murdered for leaking emails to Wikileaks.
He also delved into the so-called Pizzagate theory, which posited that Hillary Clinton was running a pedophile ring out of a pizzeria. Shortly after the election, Posobiec visited Comet Pizza and posted a video in which he talked in a seemingly joking way about trying to find out what's happening in the bathroom.
He also promoted, through Twitter, leaked emails from the campaign of French President Emmanuel Macron.
In June, he was in the audience when a fellow pro-Trump protester rushed the stage at a New York production of "Julius Caesar" that drew controversy because the title character resembled the president.
"You are all Goebbels, you are all Nazis like Joseph Goebbels," Posobiec shouted into the audience in video posted on his Twitter feed.
More recently, he tried to organize a protest against Google for firing a engineer who wrote a controversial memo about women, but he then called it off, citing "Alt Left terrorist threats."
While Posobiec, 32, is frequently referred to as a member of the alt-right, he describes himself as a "conservative Republican" and member of the "New Right" — and an ardent Trump supporter.
On Monday, Trump retweeted Posobiec's tweet of a news article about shootings in Chicago, with a comment questioning why there was "no national outrage." Posobiec crowed on Twitter that his tweet ultimately racked up 6 million impressions.
He sometimes refers to his military service, most recently in a video posted this week in which he said it showed he is not a racist.
"I am an American military veteran. I served this country by wearing the uniform overseas on multiple deployments," he said.
"If you are an extremist, if you are a racist, if you are someone who does not believe in tolerance in this country, you're not allowed to serve in the military."
His service record shows one overseas deployment: 10 months in Guantanamo Bay, Cuba, starting Sept. 11, 2012. He said he was also sent overseas for annual training and as a civilian Navy employee.
Records show Posobiec enlisted in the U.S. Navy Reserves on May 25, 2010, and was later commissioned as an officer on Halloween in 2013. He has been a Lieutenant Junior Grade since October 2015.
He has numerous awards and decorations from his time in the Navy, most of which are unit awards and service awards for completing an assignment. He also earned the Military Outstanding Volunteer Service Award.
Heidi Beirich, director of the Southern Poverty Law Center's Intelligence Project, which has written about Posobiec on its Hatewatch blog, said she doesn't think he should be in the reserves.
"Nobody with these crazy ideas should be in the U.S. military," she said. "It's just too dangerous."
Posobiec said the only organization he belongs to is Citizens for Trump and he added that he had no involvement with the groups that protested in Charlottesville, Virginia.
"I'm not a member of any of the Charlottesville extremist groups. I have condemned them for over a year at this point. I've always been a patriotic American. I condemn hatred and bigotry in all its forms," he said.