NEW YORK — After nearly 150 years, the show will not go on for the iconic Ringling Bros. and Barnum & Bailey Circus, which is performing its final act on Sunday.
Throughout its 146 year history, the massive, traveling circus elated crowds from small towns to big cities across America with its exotic animals, mile-long trains and death-defying feats — but not without courting its fair share of controversy.
As Ringling Bros. prepares to take its final bow before a sold-out crowd at Nassau Coliseum in the suburbs of New York City, circus performers and enthusiasts lamented the shutting down of "The Greatest Show on Earth." Yet animal rights activists who have sparred with Ringling for years said the end could not come soon enough.
Ringling Bros. Ringmaster Johnathan Lee Iverson told NBC News the show was "one of these wonderful dynamic miracles in the annals of time, and that's where it's going."
"It'll be in the memories of many people for years to come," he said, adding, "It doesn't feel good, of course, you know that such a storied institution is at its end, but everything comes to an end."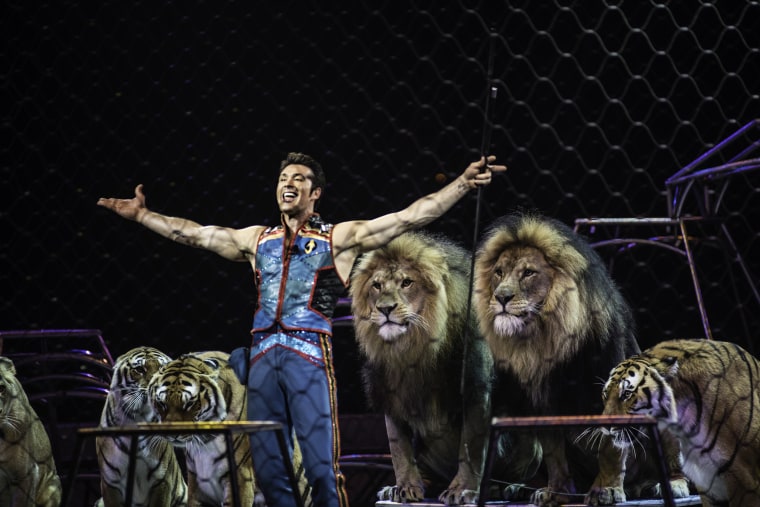 Ringling is "the grandparent" of the circus art form and many other kinds of modern live entertainment, according to Scott O'Donnell, a former performer with Ringling and now executive director of Circus World Museum in Baraboo, Wisconsin.
"The thought of it not being there is sad and bewildering," said O'Donnell. "It'll live on through those in our art form, and it will always be remembered fondly and respectfully for really being sort of the trailblazer — there are not too many brands that have been around for 146 years."
Ringling Bros. and Barnum & Bailey Circus' roots trace back to 1871, with showman P.T. Barnum's Grand Traveling American Museum. But the "Greatest Show on Earth" truly began after 1919, when the Barnum & Bailey Circus merged with the separate Ringling Bros. circus, which had been founded in 1884 — in Baraboo.
PHOTOS: Goodbye to the 'Greatest Show on Earth'
In its prime, Ringling was an "enormous" operation, and its three-ring tent seated 12,000 people and featured two stages, Gary Payne, president of the Circus Fans Association of America, told NBC News.
"Depending on where you sat, you would see a completely different show, it was that enormous," he said. "In a day and age when the circus would come to town, it really was like a holiday."
Ringling's absence leaves about 23 circuses on the road, of various size and format, in the United States today, according to Payne.
"Some are still three-ring, some are one-ring, but I think the common denominator is what is left is a great deal more flexible than Ringling Bros. could be," he said.
After years of changing public tastes, declining ticket sales and bitter battles with animal rights activists, Feld Entertainment, which owns of "The Greatest Show on Earth," announced in January that the show would be making its final run.
Related: Ringling Bros. Circus, 'The Greatest Show on Earth,' to Close After 146 Years
The company said it saw a rapid drop in ticket sales after it ended its use of live elephants in performances last May — following scrutiny from animal rights groups and local governments passing "anti-elephant" ordinances in response to those concerns.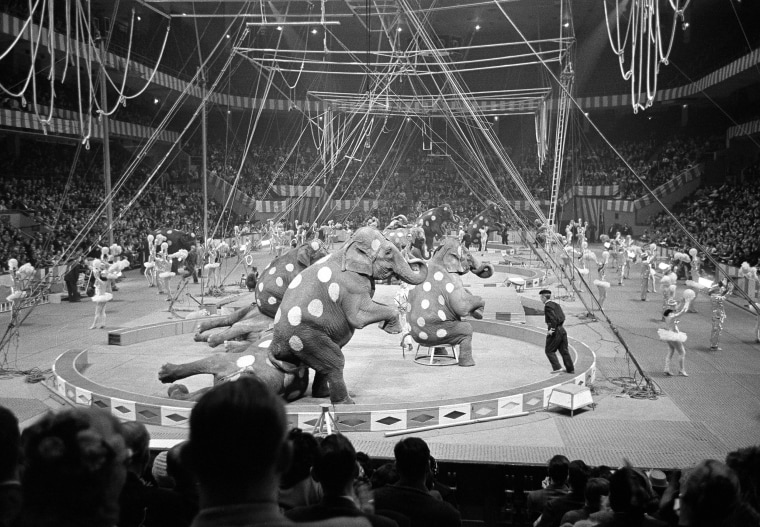 Feld Entertainment spokesman Stephen Payne told NBC News the company "wanted to give fans one last chance to experience" the circus with its final tours.
"It really is the end of an era," he said.
Ringling Bros. had two touring circuses this past season, one of which ended its run earlier this month in Providence, Rhode Island.
PHOTOS: Ringling Bros. Draws Curtains on the Greatest Show on Earth
For Ashley Byrne, associate director of campaigns for People for the Ethical Treatment of Animals (PETA),the circus' final show "can't come soon enough."
"It is long overdue for this very cruel company to end their days," Byrne told NBC News.
PETA has long been an outspoken critic of Ringling's use of elephants — and it's still protesting the circus' use of other animals, including big cats, horses, kangaroos and small farm animals.
The group has also expressed disapproval with Ringling for retiring its 11 touring elephants to its own company-owned 200-acre Center for Elephant Conservation in Florida.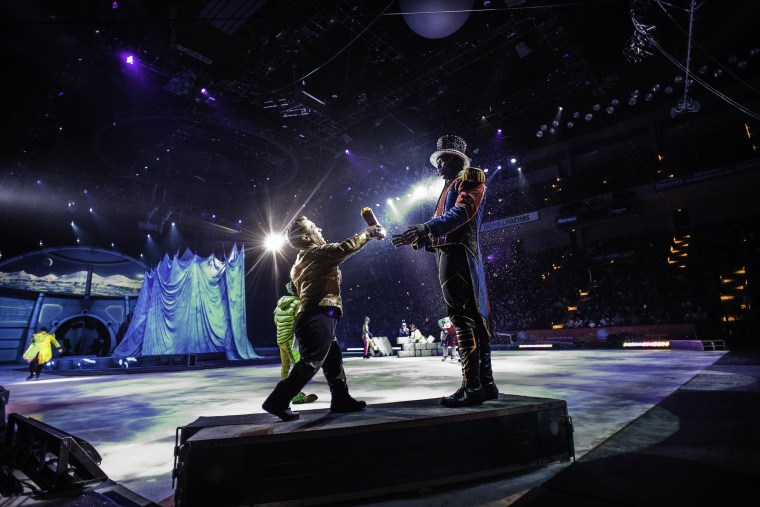 Byrne said that while the circus was ending, PETA was concerned over where the animals may go next.
"All of the animals, including the [elephants] should be sent to reputable sanctuaries," she said.
The group, as well as local animal rights advocates, have been protesting the circus' final shows, and plan to be there again on Sunday.
Feld Entertainment and the circus' workers have repeatedly denied any claims of animal mistreatment, and spokesman Payne said they had found homes for all of the approximately 50 animals with the show.
Any animals that are owned by the show's presenters will remain with them, he said. For example, trainer Alexander Lacey's famous big cats will remain with him, he said, while the show's other tigers will go to a center that specializes in tigers.
Payne said that due to privacy concerns, the company was not releasing the specific information on where all the animals were going, but insisted that they had to meet Feld's standards for a "high-level of care."
Lacey told NBC News there was a lot of "misinformation" about the way circuses treat their animals and said it was important for him to show his audiences the relationship he has with his big cats,
"I try to display to the public the friendship I have with my animals," he said.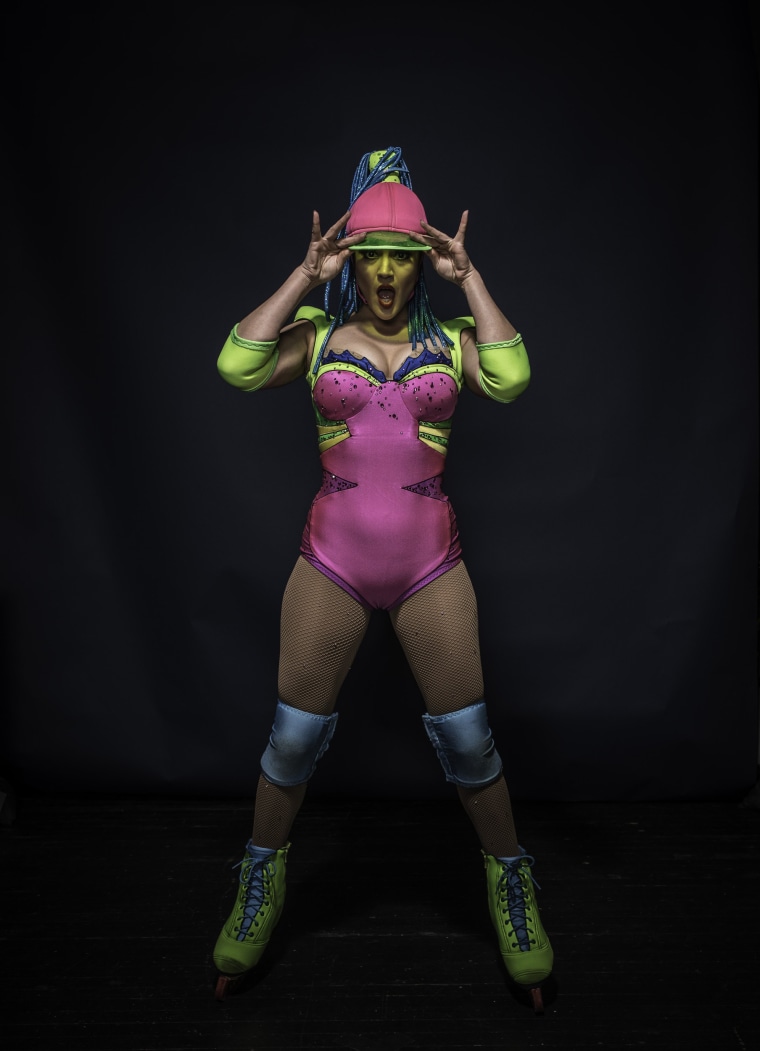 Lacey said he and everyone who worked with the show were "all heartbroken" that is was all coming to an end, but that he personally hoped to "do this for many more years to come" because "I love doing what I do."
Performer Ashley Vargas said she was proud to have been a part of such a historic show and among such talented people.
"It's sad that people aren't going have that anymore, but people that have experienced the 'Greatest Show on Earth,' I'm sure they have it some place deep in their heart," she said.
Vargas said she looked forward to the "new adventures" she and her circus family would have going forward.
O'Donnell, the museum director, said he hoped the Ringling Bros. circus would be remembered for its special place in history, but looked forward to seeing the future of the industry.
"It will, as it should, be revered in the circus heritage, and in American heritage," he said. "It has been the home for performers that will go on start their own circuses, and in many ways might be cultivating the next greatest show on earth."