The academic term at Robb Elementary School in Uvalde, Texas, was coming to a close, and celebration was in the air.
In neon-colored Facebook posts, Robb administrators announced lively events, like field trips and classroom parties. High school seniors dropped by Monday to give high fives. Tuesday was shaping up to be especially festive: "Footloose and Fancy," a chance to wear "fun/fancy shoes," and "Awards Day," a commemoration of achievement.
The theme of the month: "May Madness."
Xavier Lopez, a 10-year-old fourth grade student with jet-black hair and wise eyes, accepted an honor roll award Tuesday morning. He held up his paper certificate and posed for photos in front of pink and red balloons.
Jose Flores, another 10-year-old fourth grader, accepted his honor roll certificate with a wide, toothy grin, standing proudly under a black-and-white banner that said, "ROBB 22." 
Hours later, Xavier and Jose were dead.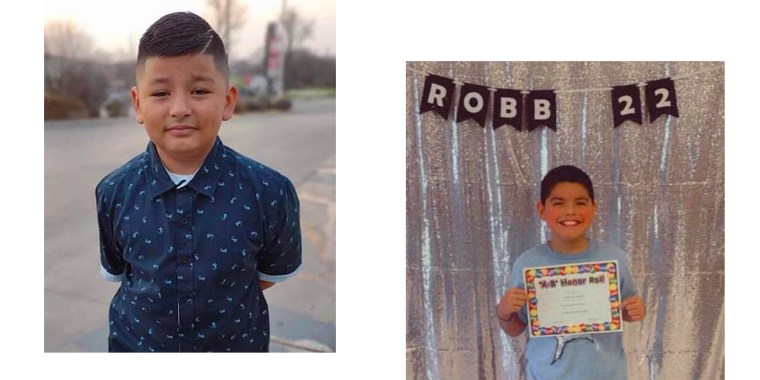 Elsewhere in Uvalde that morning, Salvador Rolando Ramos, an 18-year-old with two AR-style rifles, was evidently preparing to carry out a massacre. 
He had been living with his grandmother for the last two months after he got into a fight with his mother because he disconnected their Wi-Fi connection, according to his mother's boyfriend.
Ramos shot his grandmother in the face Tuesday morning, said Texas Gov. Greg Abbott, who added that Ramos had described his plans in three posts on Facebook. (The platform's parent company, Meta, said that the warnings were sent in private messages.) Ramos left his wounded grandma in her home.
He then got in a pickup truck, drove it at high speed and crashed near Robb Elementary School, less than a half-mile away. He exchanged gunshots with police officers, who were unable to stop him from getting inside the school with one of the rifles.
The shooter barricaded himself in a classroom and started shooting indiscriminately, law enforcement officials said. When he was done, he had gunned down Xavier, Jose, 17 of their classmates and two of their teachers. 
Authorities were scrambling Wednesday to discern the shooter's motive. Ramos was killed by law enforcement officers who had rushed to the scene. A day later, a rough timeline of events has started to emerge.
Facebook posts, chaos and grief
In a Facebook post published at 11:43 a.m. local time Tuesday, sometime after the honor roll event, Robb administrators announced that the campus was under "a Lockdown Status due to gunshots in the area."
"The students and staff are safe in the building. The building is secure in a Lockdown Status," Robb spokeswoman Anne Marie Espinoza said in the post.
Thirty-four minutes later, Robb administrators published an update on Facebook: "There is an active shooter at Robb Elementary. Law enforcement is on site. Your cooperation is needed at this time by not visiting the campus."
Inside the school, the shooter managed to "make entry into a classroom," Lt. Chris Olivarez, a spokesperson for the Texas Department of Public Safety, said Wednesday on NBC's "TODAY" show. 
"He barricaded himself inside that classroom and … just began shooting numerous children and teachers who were in that classroom, having no regard for human life."
The authorities arrived. An off-duty agent with the U.S. Customs and Border Protection Border Patrol Tactical Unit and two law enforcement officers killed the shooter, law enforcement sources said.
"Robb Elementary students are being transported to the Willie DeLeon Civic Center for reunification," the school said in a Facebook post at 12:30 p.m. 
"The Civic Center will be under a Secure Status until all students are [accounted] for. Parents please do not pick up students at this time. You will be notified to pick up students once all are accounted for."
Parents of Robb students descended on the area in the hours that followed.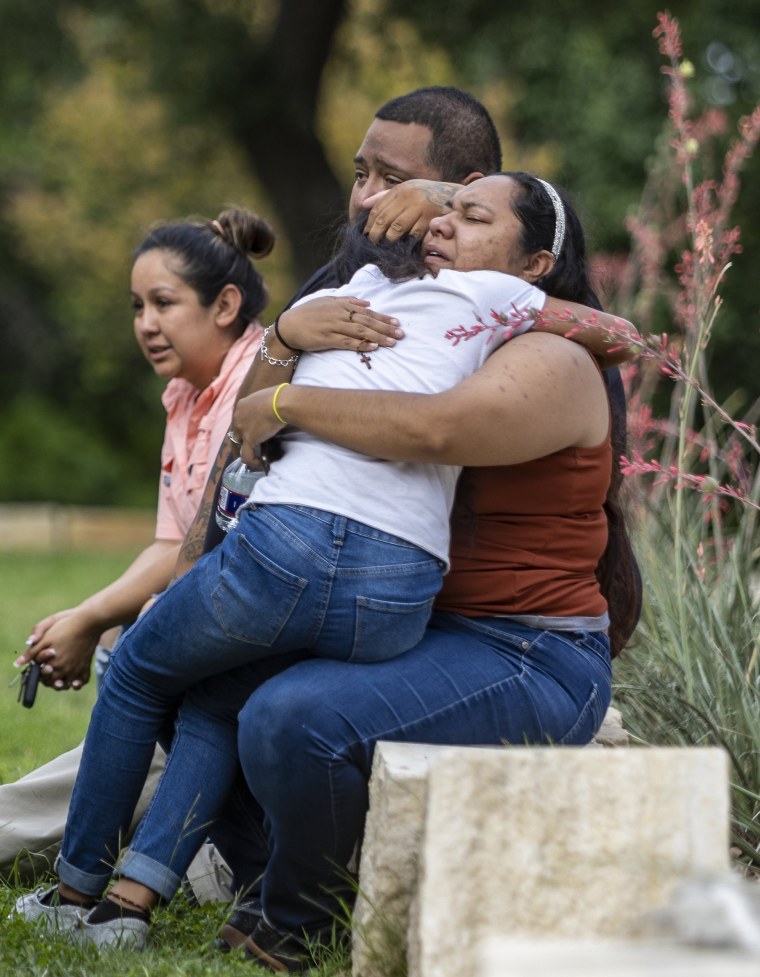 Nearly 2,000 miles away, funeral services were held for Aaron W. Salter Jr., a retired police officer who was one of 10 people killed at a supermarket in Buffalo, New York, on May 14. The service at Amigone Funeral Home started at 2 p.m. local time, a spokeswoman said.
Funeral services were also held Tuesday for another victim of the Buffalo massacre, Celestine Chaney, a grandmother of six.
Hours later, around 10 p.m. local time, reporters in Texas described hearing sobs as parents and families of Robb Elementary School students learned the worst news imaginable.
"The agonized screams of family members are audible from the parking lot," Austin American-Statesman reporter Niki Griswold tweeted.
It was pouring rain in Uvalde, she said, and in time all of the families went home.
CORRECTION (May 25, 2022, 8:30 p.m. ET): A previous version of this article misstated the name of the newspaper Niki Griswold works for. It is the Austin American-Statesman, not the Austin Statesman.