Venerable Scottish actor Robbie Coltrane, best known as the dragon-loving half-giant Hagrid from the "Harry Potter" film franchise, died on Friday, his managers said.
He was 72.
A representative with the actor's agency, William Morris Endeavor, confirmed his passing to NBC News, saying Coltrane had been ill and wasn't active recently.
"We are hugely saddened to hear of the passing of the magnificent Robbie Coltrane who played Hagrid with such kindness, heart and humour in the Harry Potter films," the "Harry Potter" film franchise said in statement. "He was a wonderful actor, a friend to all and he will be deeply missed."
Daniel Radcliffe, who played Harry Potter in the seven installments of the franchise, fondly recalled all the moments he spent with Coltrane, who always kept it light even if it was dark outside.
"Robbie was one of the funniest people I've met and used to keep us laughing constantly as kids on the set," Radcliffe said in statement.
"I've especially fond memories of him keeping our spirits up on Prisoner of Azkaban, when we were all hiding from the torrential rain for hours in Hagrid's hut and he was telling stories and cracking jokes to keep morale up."
Radcliffe added: "I feel incredibly lucky that I got to meet and work with him and very sad that he's passed. He was an incredible actor and a lovely man."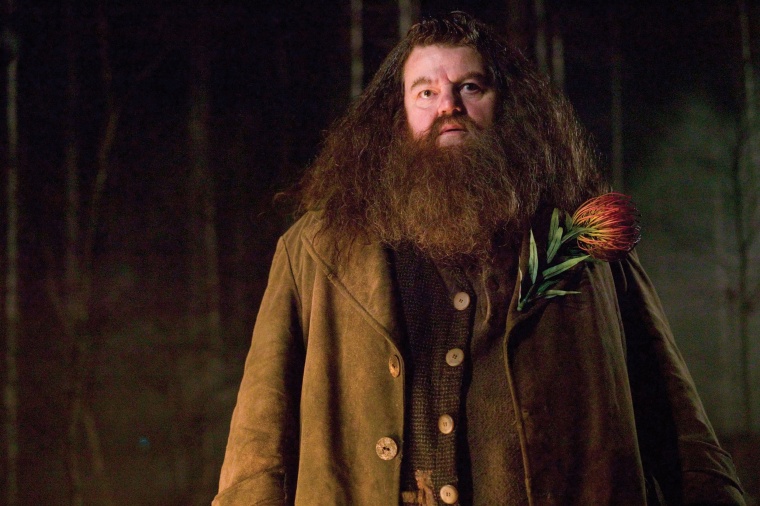 And fellow "Harry Potter" actor James Phelps, who played one of the Weasely twins, recalled being a fresh-faced 14-year-old, nervous on first day on the set in September 2000.
He met Coltrane and the veteran actor reassured him, "Enjoy it, you'll be great," according to Phelps.
"Thank you for that," the actor tweeted.
"Potter" novelist J.K. Rowling said Coltrane was a one-in-a-million talent who always made coming to work fun.
"I'll never know anyone remotely like Robbie again," she said in statement. "He was an incredible talent, a complete one off, and I was beyond fortunate to know him, work with him and laugh my head off with him."
Coltrane's cause of death wasn't immediately disclosed, though his agent Belinda Wright thanked the staff at Forth Valley Royal Hospital in Larbert for its care.
"For me personally I shall remember him as an abidingly loyal client," Wright said in statement. "As well as being a wonderful actor, he was forensically intelligent, brilliantly witty and after 40 years of being proud to be called his agent, I shall miss him."
While U.S. and worldwide viewers know him best for playing Harry Potter's friend and pseudo-parent figure, British audiences have long adored him as Dr. Edward 'Fitz' Fitzgerald on the long-running crime drama "Cracker."
He won three consecutive British Academy of Film and Television Arts (BAFTA) awards for best actor from his work on "Cracker," playing a foul-mouthed, hard-drinking, gambling-addicted forensic psychologist.
Scottish First Minister Nicola Sturgeon said "Ftiz" was one her favorite TV characters and called Coltrane a "Scottish entertainment legend."
"Very sad news. He had such range and depth as an actor, from brilliant comedy to hard-edged drama," the Scottish National Party leader said in statement.
His last credit came in 2020 on the British comedy drama, "Urban Myths," with an off-beat, amusing take on Orson Welles.
The lovable Hagrid character stood in stark contrast to his conniving Valentin Dmitrovich Zukovsky, the on-again, off-again enemy of James Bond in "Golden Eye" and "The World is Not Enough."
Coltrane also won rave reviews for another dark role, in the 2016 British mini-series "National Treasure." He gained a BAFTA best actor nomination, playing a popular comedian accused of rape, in a plot inspired by the Jimmy Savile scandal.
Few actors have ever shown such big-screen range, according to Micheal G. Wilson and Barbara Broccoli, who oversee the James Bond franchise.
"Robbie Coltrane's passing is a tragic loss to the world. He was an exceptional actor whose talent knew no bounds," Wilson and Broccoli said in statement. "We shall miss him as a dear friend. Rest in peace Robbie."
The beloved thespian was born Anthony Robert McMillan in Rutherglen, Scotland, before changing his name to Coltrane in his early acting days in honor of jazz legend John Coltrane.
Comedian and Monty Python co-founder Eric Idle lamented the loss of his "Nuns on the Run" co-star.
"Such a bright and brilliant man," Idle said in a statement. "He was also a very good friend. I shall miss him very much."
Actor, author and comedian Stephen Fry also mourned the passing of Coltrane, his friend of 40 years. They worked together on the British sketch comedy show "Alfresco," which also included Hugh Laurie and Emma Thompson.
"I was awe/terror/love struck all at the same time. Such depth, power & talent," Fry said in a statement. "You'll be so dreadfully missed."
Coltrane is survived by sister Annie Rae, ex-wife Rhona Gemmell and their children Spencer and Alice.