Weeks after he admitted killing three people at a Colorado Planned Parenthood clinic, Robert Dear told a judge he wanted to fire his court-appointed attorneys and continue on his own.
"I do not want them as my lawyers. I reserve my constitutional right to defend myself," Dear said in a Colorado Springs court appearance Wednesday.
Dear, 57, is charged with multiple counts of murder and attempted murder for a five-hour siege on Nov. 27 in which three people — Jennifer Markovsky, 36, there to support a friend; Army veteran and father Ke'Arre Marcell Stewart, 29; and police officer Garrett Swasey — were killed.
In his first court appearance on Dec. 9, Dear railed against his public defenders, accusing them of being in league with Planned Parenthood. He also declared that he was guilty, calling himself a "warrior for the babies."
This time, Dear, dressed in a teal jumpsuit with his legs shackled and hair unruly, made no abrupt outbursts. Relatives of victims watched from a few feet away.
Dear could be seen discussing his case with his defense team, which includes Daniel King, who also represented Aurora theater shooter James Holmes.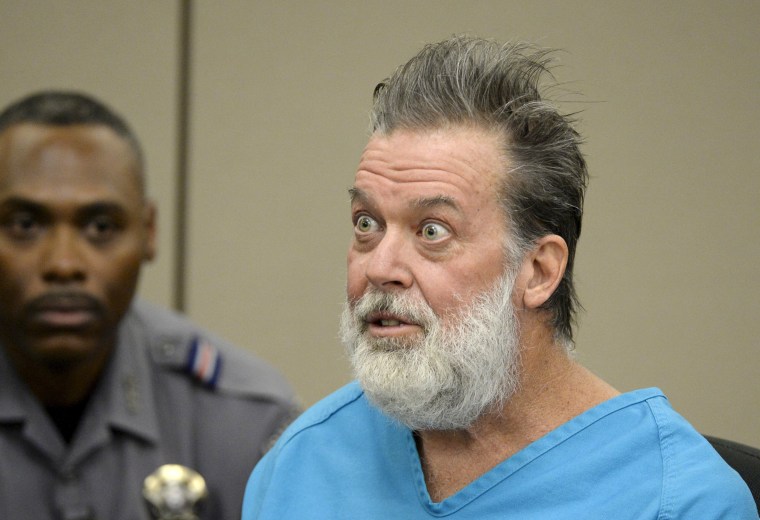 Dear could face the death penalty for the shooting, for which Planned Parenthood has blamed anti-abortion rhetoric. Authorities have not offered a motive, but law enforcement officials have told NBC News that after Dear was arrested, he talked about "no more baby parts."
When Dear asked to represent himself, the judge ordered the public, including reporters, out of the courtroom to discuss the request.
Afterwards, the judge told Dear he would have to submit to an exam that will determine whether he is of sound enough mind to defend himself.
King has already voiced "serious concerns" about Dear's mental competency.
At first, Dear recoiled, telling the judge, "I'm not going to say one word."
The judge told him that failure to cooperate could hurt his case.
Dear acquiesced, but suggested he feared he'd be drugged into compliance, like "a zombie." He accused his jailers of poisoning him.
The competency exam will be given at the Colorado State Mental Health Institute in Pueblo, a process that could take months. Dear is due back in court for an update in February.