With time running out before the scheduled execution of Texas death row inmate Rodney Reed, a cousin of the woman he was convicted of murdering is joining his supporters in a growing effort to help clear his name.
Given the new witnesses and forensic evidence that have been uncovered since the death of Stacey Stites in 1996, Reed should be granted a new trial, Heather Stobbs, the victim's cousin, said.
"If we're seeking justice for Stacey, we have to make sure there's absolutely no doubt that the person who's been sentenced for this and being held responsible is the right person," Stobbs told NBC News.
"He deserves a chance to clear his name," she added.
Supporters of Reed, 51, say his case demands priority as his execution by lethal injection is set for Nov. 20. But it remains unclear whether Texas Gov. Greg Abbott would consider halting the execution, even as a bipartisan group of 40 state lawmakers have sent letters to him and the Texas Board of Pardons and Paroles saying discrepancies and unanswered questions in the case underscore a need for its reexamination.
Stobbs agrees.
"You can't put somebody to death with all of these questions," she said. "The amount of questions coming out on a daily basis is unbelievable — and that's what I find crazy."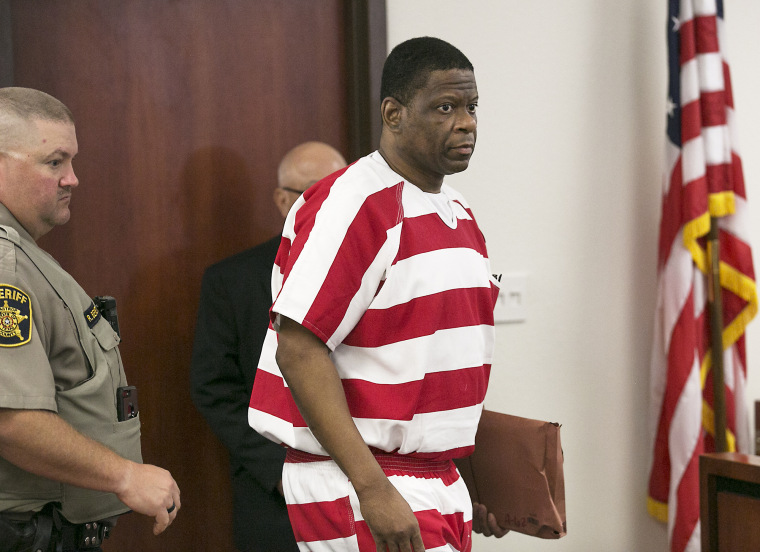 In 1998, prosecutors at trial laid out how Reed encountered Stites on the road as she drove to work at a grocery store in the Central Texas town of Bastrop, east of Austin. After she stopped for him, they said, Reed raped and strangled Stites with her own belt. Stites, then 19, was weeks away from getting married to a police officer named Jimmy Fennell.
Semen was found inside Stites, and police matched the DNA to that of Reed, who was arrested a year later. Reed's sperm had previously been collected as part of an unrelated sexual assault investigation.
Reed initially denied to investigators that he knew Stites. But he later gave a startling explanation for why they discovered his DNA: He and Stites were having a clandestine and consensual sexual relationship, one that was taboo because he is black and Stites was white.
He said they met at a game room where they played pool, and they last had sex a couple of days before her death. Reed's sperm was the only physical evidence that connected him to Stites at the crime scene.
In closing arguments at trial, special prosecutor Lisa Tanner told an all-white jury that the DNA evidence was "the smoking gun," and "the equivalent to the slipper in the Cinderella story." Reed was sentenced to death.
While Reed has maintained his innocence, at least 11 people have recently cast doubt on his conviction and put a spotlight on Fennell, NBC affiliate KXAN reported Tuesday. As part of a last-minute appeal to void Reed's conviction, the new witnesses include a co-worker of Stites' who said she admitted to having an affair with a black man and being afraid of her fiancé and a former Bastrop County sheriff's deputy who learned that "Stites would hide from Fennell when Fennell would come into the [grocery store] in order to avoid him starting a fight."
Fennell, at the time a 24-year-old police officer, was originally a person of interest and had reportedly failed two polygraph tests before the investigation centered on Reed.
Fennell was later sentenced in the 2007 kidnapping and rape of a woman in his custody while he was on duty. He was released last year after serving 10 years behind bars.
In a sworn affidavit last month, Arthur Snow Jr., a prisoner who served time with Fennell, said Fennell had bragged to him about killing Stites after learning she had been "sleeping around with a black man behind his back." He added that Fennell felt comfortable sharing that information because Snow had been a member of the Aryan Brotherhood.
Snow said he never said anything at the time because he didn't want to be labeled as a snitch in prison.
Robert Phillips, Fennell's attorney, could not immediately be reached for comment Tuesday, but has previously downplayed Snow's statements as untrustworthy.
"He joins the list of incredible witnesses. But he is probably the least credible," Phillips said. "I joke the next one's going to be Mother Teresa appearing via epiphany. I keep waiting for the pope to be on the list."
He added that Reed's own past, including accusations of sexual assault, shouldn't be discounted. Reed has denied involvement in other assault cases, and although he was accused he was never convicted in those cases, according to the Texas Tribune.
Family members of Stites have said the attention given to exonerating Reed has done a disservice to her memory.
"For too long we've been trying to fight for justice for Rodney, who didn't deserve justice at all," Stites' sister, Debra Oliver, told KXAN when Fennell was released from prison last year. "We need justice for Stacey."
But lawyers for the Innocence Project, which is helping in Reed's case, believe other witness statements from people who say they heard Fennell make threatening comments about Stites when she was alive should not be ignored.
Reed's family told NBC News that he never got a fair trial from the beginning because of what they contend was a cover-up by police in the early stages of the investigation to protect Fennell.
"People were standing up for their brother in blue — that's where it started and that's where it stems," Reed's brother, Rodrick Reed, said, adding that long-standing racist attitudes also undercut the case.
Among the errors made in the case, Reed's supporters say, is that DNA was never collected from the belt used to strangle Stites, the home that Fennell and Stites shared was never searched for evidence, and forensic evidence reexamined indicates Stites was killed several hours earlier than believed — potentially putting her location at the time of death at her home, where Fennell told investigators he had been that night.
Stobbs said she only met Fennell once — during the memorial for her cousin. She said she walked up to him, and gave him a hug and her condolences.
But while Stobbs knew Stites' mother and sisters were relieved that Reed was behind bars, she began doing her own research, including reading an article by journalist Jordan Smith that described evidence pointing to "ineffective lawyering, possible prosecutorial misconduct, junk science and racial bias."
Stobbs said she believes her cousin and Reed were having a casual relationship, and once she reconciled that, "everything fell into place."
"But in order to believe that, you have to believe that Stacey was cheating on her fiancé," Stobbs said. "Unfortunately, I think race played a big part in all of it."
Stobbs said the fallout from her cousin's murder has left a rift within the family, with some relatives adamant the right person has been convicted and others who aren't convinced Reed is guilty.
"I'm not the only one who supports that Rodney Reed deserves a new trial," she added.