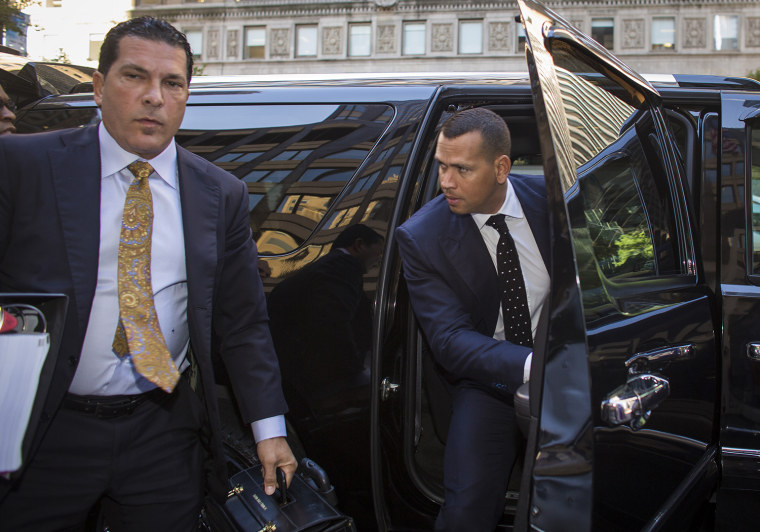 When the most despised player in Major League Baseball wanted to take a swing at the Yankees, who did he turn to? A guy once dubbed "the most hated lawyer in New York."
Madison Avenue attorney Joe Tacopina represented a string of high-profile scoundrels long before Yankees third baseman Alex Rodriguez put him on retainer.
There was Joran van der Sloot, suspected of killing Natalee Holloway; Bernard Kerik, the former police commissioner now jailed for tax fraud; Lillo Brancato, an actor accused in the killing of a police officer.
When former state senator Hiram Monserrate was on trial for slashing his girlfriend, Tacopina convinced a judge to clear him of a felony charge. An NYPD cop he represented was acquitted of raping a drunk woman — the case that led the New York Post to call him "the devil's advocate."
His personal style is no more understated, starting with the Maserati he used to drive and the 49-foot yacht. The camera loves his dark good looks, flashy suits and gravelly voiced pronouncements — and it's mutual.
"People are initially put off. He's a little too good-looking and a little too well-dressed," said Bill Stanton, a private detective who has worked on numerous cases for Tacopina.
"But he's essentially a Tyrannosaurus Rex in shark's clothing with the mind of Perry Mason," he added. "God forbid I would ever get in trouble, he would be my first call."
A-Rod called this summer after the highest-paid player in baseball was socked with an unprecedented 211-game suspension for performance-enhancing drugs.
Tacopina immediately went on the offensive, accusing the Yankees front office of skulduggery, trading barbs with team president Randy Levine, a fellow Brooklyn kid who doesn't mind a bench-clearing brawl.
Things got so nasty that A-Rod temporarily muzzled Tacopina and said he would do his talking with his bat as he returned to the diamond for the end of the season while he appealed his suspension.
But when Rodriguez marched into a hearing on that appeal this week, Tacopina was at his side. And when he sued MLB on Friday, accusing the league and commissioner of a "witch hunt" and "vigilante justice," Tacopina's name was on the papers.
MLB called the suit "desperate," but Ed Mandery, who worked with Tacopina on the so-called rape-cop trial, says his opponents would be foolish to underestimate him.
Mandery said the key to Tacopina's success is painstaking preparation before the trial and a "sixth sense" for the right move to make when it starts.
His friend's detractors, he said, are just jealous — of his headline-grabbing cases, his well-connected friends, his money and his victories.
"I remember during the trial people came up to me and said, 'I hope you win, but I hope he loses,'" Mandery said.
In an interview last year with the alumni magazine at his alma mater, Skidmore College, Tacopina, 47, shrugged off the "vicious" critics.
"I don't let it get to me," he said. "You develop a thick skin when you're always under the microscope, which is fine. I like that pressure."
He admitted he might be a "little cocky" — "I know I'm very good at what I do; the results speak for themselves" — but said he didn't crave the spotlight like he once did.
"It used to be that reading about myself in The New York Times or GQ was just so gratifying. Now it's not that important to me anymore," he said.
"If you'd talked to me 10 years ago, I would have said that the greatest thing was that I make so much money. But that lasts for about a year or two. I got rid of my fancy cars and all that stuff, and now success is having a good family, healthy and successful kids, being there for them, juggling it all, serving your clients, doing well and enjoying what you do."
Tacopina has five kids with his wife, Tish. At home in Westport, Conn., "he is like something out of 'The Godfather,'" Stanton said. "He's a traditional Italian. He likes his black coffee — espresso — and he likes his kids around him."
Though he got his start working on a Mafia case, Tacopina doesn't represent mobsters any longer, he's said, out of respect for law-abiding Italian-Americans — like the working-class parents who sacrificed to send him to private school.
His father was born in Rome, and a couple of years ago Tacopina engineered the purchase of the city's soccer team, A.S. Roma, where he serves as a vice president. His big love is hockey, which he played in college -- he broke a Skidmore record for most minutes in the penalty box.
He still plays and is so aggressive that one of these days, he and A-Rod may even have something in common.
"I actually got suspended for three games," he said.
Earlier coverage: