Young Roger Ailes is standing on the top bunk of his bed and his father holds out his arms and tells him to jump.
When he does, his dad suddenly steps back and Ailes crashes to the floor.
"Don't ever trust anybody," his father says.
It's a story the controversial Fox News founder, who died suddenly on Thursday, told several times throughout his life and which New York Magazine writer and MSNBC contributor Gabriel Sherman found so telling he put in on page 7 of his unauthorized biography.
Related: Ex-Fox CEO Ailes Built A Media Empire. Then Came The Fall.
Sherman heard it from a guy Ailes worked with back in the 1970s named Stephen Rosenfeld who called it Ailes' "Rosebud story." And the title ofSherman's 2014 book, "The Loudest Voice in the Room: How the Brilliant, Bombastic Roger Ailes Built Fox News and Divided a Country," is as succinct a summation as any of the life of the 77-year-old media titan.
"Roger Ailes grew up with a domineering father prone to outbursts of physical violence," Sherman wrote in an email to NBC News. "Ailes' older brother Robert recalled in interviews how their father would beat them with a belt when they misbehaved. From these experiences, I think Ailes became determined never to be dominated again. He would be the one dominating others."
Ailes was not among the 600 people Sherman interviewed. In fact, Ailes was so angry that Sherman was poking into his past that he enlisted another writer to pen a more flattering tome.
But for Sherman this was the "cruelest lesson" Ailes learned from his abusive father and helped fuel the rise of the man who helped yank the country's politics rightward and transformed cable news by dismissing objectivity and openly pushing a conservative agenda that resonated with many Americans — and turned Fox News into a ratings juggernaut.
"Roger played a huge role in shaping America's media over the last thirty years," Rupert Murdoch, executive chairman of 21st Century Fox and Fox News Channel, who was Ailes' boss for many years, said in a statement. "Roger and I shared a big idea which he executed in a way no one else could have. In addition, Roger was a great patriot who never ceased fighting for his beliefs."
Former President George H.W. Bush tweeted that Ailes "wasn't perfect" but admitted he would not have won the White House without his help.
Ailes' death was also acknowledged by opponents like Democratic political operative David Axelrod, who helped Barack Obama twice win the White House.
Back when he was boy, there was little to suggest that Ailes would one day amount to much.
He was the sickly son of an abusive Ohio factory foreman and suffered from hemophilia, a medical condition that causes sufferers to bleed severely even from minor cuts. He spent much of his childhood in hospitals.
Born May 15, 1940 in the small manufacturing town of Warren, he found his calling at Ohio University on the flickering screens of a then-young industry called television.
Ailes graduated in 1962 as the U.S. was about to plunge into the Vietnam War and the country was roiled by cultural and societal changes that threatened to upend the established order and challenged the cherished assumptions of conservatives like him.
His first stop was a Cleveland television station and "The Mike Douglas Show," a locally-produced talk show. It was there that Ailes met the man who would launch his political career — future president Richard Nixon.
To Nixon, TV was a gimmick that he was slow to embrace. But Ailes used it to successfully sell Nixon to the American public and helped create a formula that propelled other Republican politicians into the White House like Ronald Reagan and Bush.
Infamously, Ailes was one of the brains behind the "Revolving Door" attack ad that helped Bush win by portraying his Democratic rival Michael Dukakis as soft on crime.
Ailes also pioneered the art of framing campaign issues for a national audience. And he was one of the Republican operatives who helped turn the word "liberal" into a dirty word with attack ads that portrayed Democrats as out of touch with real Americans and, at worst, traitors bent on destroying the very fabric of the nation.
Like Nixon, Ailes believed the mainstream media was inherently biased against conservatives. For a time he worked for right-wing radio jock Rush Limbaugh. And in 1993, he took a job as president of CNBC, which is NBC's business channel.
Among other things, Ailes helped create the spinoff America's Talking channel that was later replaced by MSNBC.
But his tenure there was marked by ugliness. An NBC investigation concluded that Ailes had a "history of abusive, offensive, and intimidating statements/threats and personal attacks made to and upon a number of other people."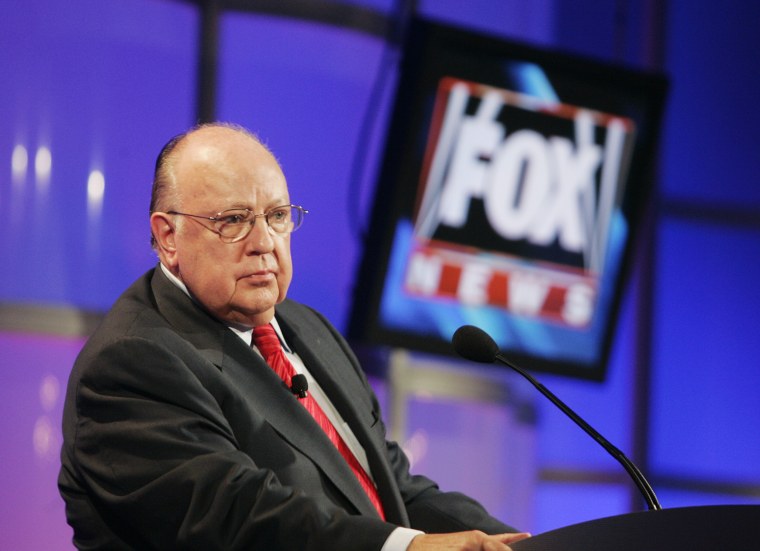 Then in 1996, Murdoch approached Ailes with the idea for a conservative cable TV network called Fox that would be an alternative to the so-called liberal media.
Ailes, at first, was reluctant. "The world doesn't need another business network," he said.
But he took the job and quickly turned the fledgling network into a huge success in part by spicing-up its conservative message.
Short-fused and prone to obscenity-laden tirades, Ailes became the swaggering leader of an operation that adopted "Fair & Balanced" as its slogan. But critics said that under Ailes it was anything but.
Fox's stable of right wing hosts like Bill O'Reilly, Sean Hannity, and Glenn Beck were quick to pounce on Democrats and toe the Republican line. It became a haven for GOP bomb throwers like Sarah Palin, Newt Gingrich, Mike Huckabee and Ailes' pal, Rudy Giuliani.
Fox News ripped President Bill Clinton for the Monica Lewinsky scandal and championed President George W. Bush and his the Iraq War. And no network was more fiercely opposed to President Barack Obama and what he represented.
Among other things, Fox News helped Donald Trump flog the bogus story that Obama was born in Kenya.
Ailes' two decades atop the cable news game came to an abrupt end less than a year ago. He was undone by accusations that he presided over a network where sexual harassment was rife and that he himself was a predator.
Ailes hotly denied the accusations and claimed he was being "persecuted by the liberal media."
But in July 2016 he resigned from Fox News and left with a reported $40 million exit package.
"I will not allow my presence to become a distraction from the work that must be done every day to ensure that Fox News and Fox Business continue to lead out industry," Ailes wrote in a parting letter to Murdoch.
Suddenly jobless, Ailes became an unofficial Trump campaign adviser and helped the candidate prep for his debates with Hillary Clinton.
Trump, in turn, defended Ailes as "a very good person."
Ailes died at his home in Palm Beach, Florida, three days after turning 77. The medical examiner ruled Thursday that he died of complications of a subdural hematoma after he fell at his home, injuring his head. His hemophilia contributed to his death. He is survived by his wife Elizabeth and their son Zachary.
"Roger was my best friend, the most wonderful loving husband and father to our son Zachary," Elizabeth Ailes said in a statement. "He was a loyal friend to so many. Roger was a patriot, grateful to live in a country that gave him so much opportunity to work hard, to rise — and to give back."