Yet another high-profile female pundit has slapped Fox News with a sexual harassment lawsuit.
The latest was filed Monday by a current Fox News contributor named Julie Roginsky, who is also suing former Fox News chief Roger Ailes and current company president Bill Shine. She claims her promotion to co-host of the news show "The Five" was "contingent upon having a sexual relationship with Ailes."
"During these meetings, Ailes additionally (and without irony) volunteered the advice that Roginsky should engage in sexual relationships with 'older, married, conservative men' because 'they may stray but they always come back because they're loyal,'" the papers state. "Ailes also remarked that he was loyal but that loyalty was a two-way street. These comments and their delivery made it clear that Ailes wanted a sexual relationship with Roginsky."
Ailes, at his meetings with Roginsky, "usually sat in a low armchair."
"He repeatedly insisted on a kiss 'hello' requiring Roginsky to bend down to kiss him," the papers state. "Ailes would consistently position himself in such a way as to look down Roginsky's dress."
When she "rejected his sexual advances," Roginsky said her job was given to Geraldo Rivera.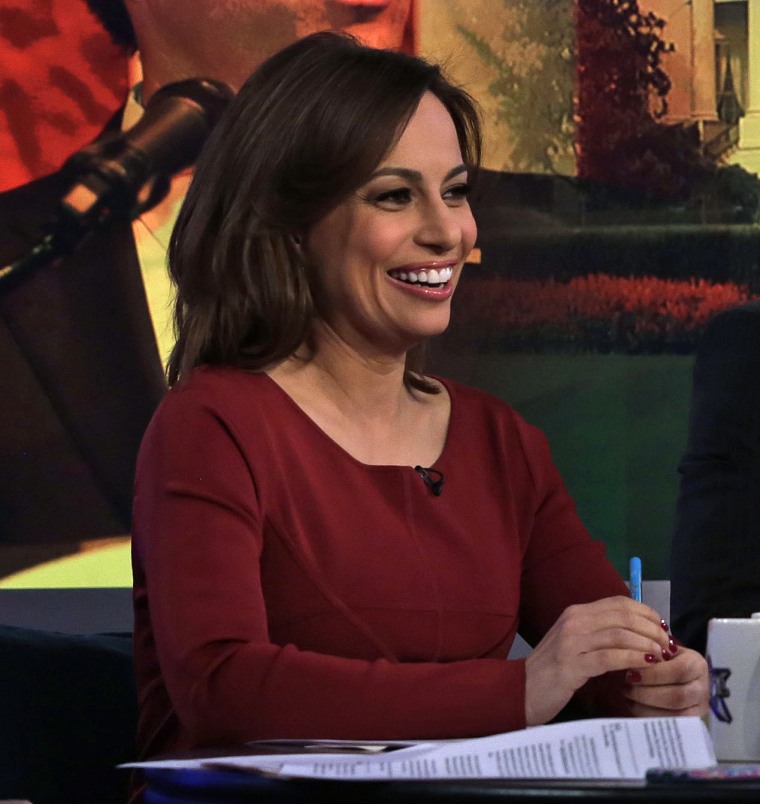 There was no immediate response from parent company 21st Century Fox to the latest 17-page lawsuit, which was filed in New York Supreme Court.
But Ailes's lawyer, Susan Estrich, called Roginsky's claims "total hogwash."
"Mr. Ailes vociferously denies her allegations," Estrich said in a statement. "Her interactions with Mr. Ailes were not even close to the fictional version she wants people to believe now. The idea that Mr. Ailes would pressure Ms. Roginsky or any other women to have sexual relations with him is total nonsense."
New Jersey Assemblyman John Wisniewski, however, spoke up in defense of Roginsky, who is also a Democratic party strategist.
"Beyond the vulgar sexual advances Ms. Roginsky was forced to endure from her employer, the unwillingness of Fox to even investigate her claims is equally disturbing," he said in a statement.
Roginsky is not the first woman to accuse Ailes of crossing the line. Former Fox News host Gretchen Carlson also claimed she had been sexually harassed by Ailes, who resigned in July.
Fox News announced later it had reached a settlement with Carlson. Vanity Fair, which first reported news of the settlement, said Fox had agreed to pay Carlson $20 million.
Ailes has also — and repeatedly — denied sexually harassing Carlson or any other woman at Fox.
Roginsky's lawsuit appeared a day after a blockbuster New York Times expose which revealed $13 million in settlements to five women who have accused Fox News host Bill O'Reilly of sexual harassment and other inappropriate behavior.
One of the women featured in the Times piece, TV psychologist Wendy Walsh, said O'Reilly put the moves on her after he took her to dinner "to talk about my career in FOX."
"He said, 'Let's get out of here'," she said Monday in a press conference at the office of lawyer Lisa Bloom. "He said, 'Come back to my suite'."
A single mother of two girls, Walsh said she politely declined and "he immediately got defensive."
"You think I'm going to attack you or something?" O'Reilly asked, according to Walsh.
After that, Walsh said, her appearances on "The O'Reilly Factor" dwindled. And at one point, she said on a visit to the studio O'Reilly barked at her "When are you leaving?"
Bloom called on New York state authorities to investigate what she called the pattern of sexual harassment against women at Fox News.
In response to the Times report, which NBC News has not independently confirmed, O'Reilly released the following statement:
"Just like other prominent and controversial people, I'm vulnerable to lawsuits from individuals who want me to pay them to avoid negative publicity. In my more than 20 years at Fox News Channel, no one has ever filed a complaint about me with the Human Resources Department, even on the anonymous hotline.
But most importantly, I'm a father who cares deeply for my children and who would do anything to avoid hurting them in any way. And so I have put to rest any controversies to spare my children.
The worst part of my job is being a target for those who would harm me and my employer, the Fox News Channel. Those of us in the arena are constantly at risk, as are our families and children. My primary efforts will continue to be to put forth an honest TV program and to protect those close to me."
Fox News also insisted it "takes matters of workplace behavior very seriously" but insisted nobody has ever called their internal "hotline to raise a concern about Bill O'Reilly, even anonymously."
"While he denies the merits of these claims, Mr. O'Reilly as resolved those he regarded as his personal responsibility," the statement continued. "Mr. O'Reilly is fully committed to supporting our efforts to improve the environment of all our employees at Fox News."
Asked why she didn't report O'Reilly to Fox News, Walsh said she didn't call the hotline because she wasn't a Fox employee. She also said she is not suing O'Reilly but is speaking out "as a single mother of two daughters."
Two of the reportedly settled lawsuits cited by the New York Times were previously known — the first involving former producer Andrea Mackris, which made headlines in 2004, the second filed by Fox News employee Juliet Huddy, which emerged in January. The three others cited in the piece had not been previously reported.
O'Reilly is also named in a sexual harassment lawsuit another former Fox News contributor named Andrea Tantaros has filed against Ailes. She claims she too was retaliated against by Fox News after she complained about Ailes fostering a work environment she likened to a "sex-fueled, Playboy Mansion-like cult."
Fox has denied Tantaros' claims.