Bobcats and coyotes are common hazards for hikers in the foothills of the California's Santa Ana Mountains, but visitors to the Chino Hills State Park complain of a much bigger problem — feral cattle, including "intimidating" wild bulls.
The problem has become so bad that officials at the 14,000-acre park are asking cowboys to come and wrangle the rogue bovines.
It brings echoes of the Wild West to a park that isn't far from urban centers, located on the four corners of Los Angeles, Orange, Riverside and San Bernardino counties.
"He was staring at me and he stared me down," hiker Ed Loritz told NBC Los Angeles. "He had a look in his eye like he wanted a piece of me."
Park Superintendent Kelly Elliott said visitor have been sending sightings and photos to Hills For Everyone, a non-profit that looks after wildlife in the area.
Rob Moore, a mountain biker, told NBC Los Angeles: "I came around a corner really fast and there were two in the road."
He said he saw several other cows, about four miles into his trail ride, which is where others have spotted them. "They were upsetting a lot of people in the park. The bull especially was scaring a lot of riders, afraid they were going to get charged."
Another hiker, Frank Turcaz, told the San Gabriel Valley Tribune that he was unable to shoo a wild cow he encountered on a recent visit. "I started slapping my hiking stick and the calves and the females took off running but the bull turned toward us. I had never encountered mean cows. When he finally retreated up the hill he never stopped looking at us," Turcaz said.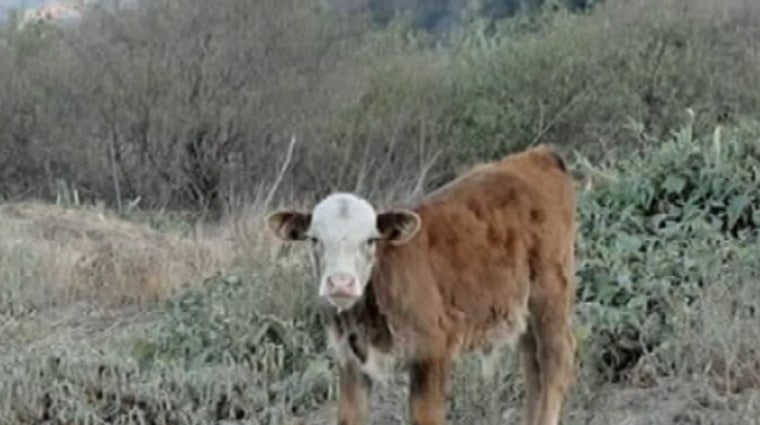 The park is surrounded by ranches, and Elliot said some of the animals escape from those farms through vandalized or knocked-down fences to get to greener pastures. Those cattle are usually tagged or branded, and can be returned to their owners — for a fee — once rounded-up by wranglers.
However, some of the cattle were bred in the park and are wild. Offspring legally belong to the ranch owner, and can also be rounded up and returned — if they can be identified through color or characteristics. 
The wranglers are not paid, but can claim a fee every captured cow, or keep unclaimed animals.
"It's a tricky problem," said Elliot. "The wranglers tell me the ones that have never been handled by humans are a more aggressive.
"They are intimidating. They are large, and not what you expect to see when you're hiking, or mountain biking."