A romance novelist charged with fatally shooting her husband at a Portland culinary institute where he worked pleaded not guilty on Monday.
Nancy Crampton-Brophy, 68, was charged with murder and unlawful use of a weapon three months after her husband, Chef Daniel Brophy, was gunned down inside the Oregon Culinary Institute. On Monday, she pleaded not guilty to those charges as her friends and family watched. She is due back in court again Oct. 26.
Crampton-Brophy describes herself on her website as an author of "fiction books under the Romance Suspense genre." One of her books, "The Wrong Husband," is about a woman who comes up with a plan to run away from her abusive husband while on an anniversary trip overseas with him.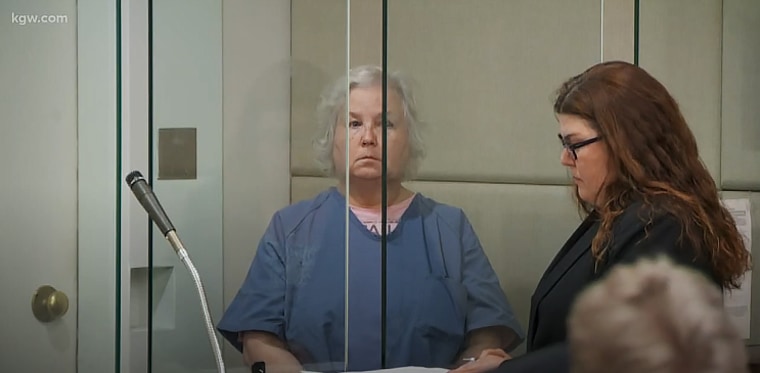 Her name is also attached to a 2011 essay titled, "How to Murder Your Husband."
"If the murder is supposed to set me free, I certainly don't want to spend any time in jail. And let me say clearly for the record, I don't like jumpsuits and orange isn't my color," the essay says. She lists guns as primary method of choice for carrying out the crime.
The day after Brophy, 63, was shot to death at his job in early June, Crampton-Brophy wrote on Facebook that she was "struggling to make sense of everything right now." The couple had been married for 26 years, according to NBC affiliate KGW.
Police have not released a possible motive, and a judge sealed the documents that lay out the case against Crampton-Brophy.
Brophy was described in local media reports as beloved teacher. "There are no words that can truly describe the legacy that Dan Brophy leaves behind," the Oregon Culinary Institute posted on Facebook with a tribute video for him after his death.