NASHVILLE, Tenn. — Nashville-area residents are reeling after the second-deadliest tornado event in Tennessee history tore through their homes and killed at least 24 people early Tuesday.
Corey Quinlan said in an interview that he, his wife and their son were barely able to find proper shelter before a tornado hit their house. Quinlan, who described himself as a lifelong worrywart, said he was sitting outside after the National Weather Service issued a tornado watch when he saw the wind pick up in the distance.
He immediately yelled to his wife and went to find his son, Sid, so they could run into their basement for safety.
"As we're running from his room to the basement, the roof is sucking up," Quinlan said. "So I'm looking at my son running towards me, and I'm looking behind him, and the roof is going in the sky and debris everywhere. I mean, I've never seen so much particles flying in the air."
Together, the family huddled for about 20 minutes while the tornado passed over them.
"All you could hear was crashing. You didn't know what it was, what was breaking, what was coming down. It was just loud," Quinlan said. "I mean, when we were walking down the stairs, I could feel the atmospheric pressure change. My ears popped."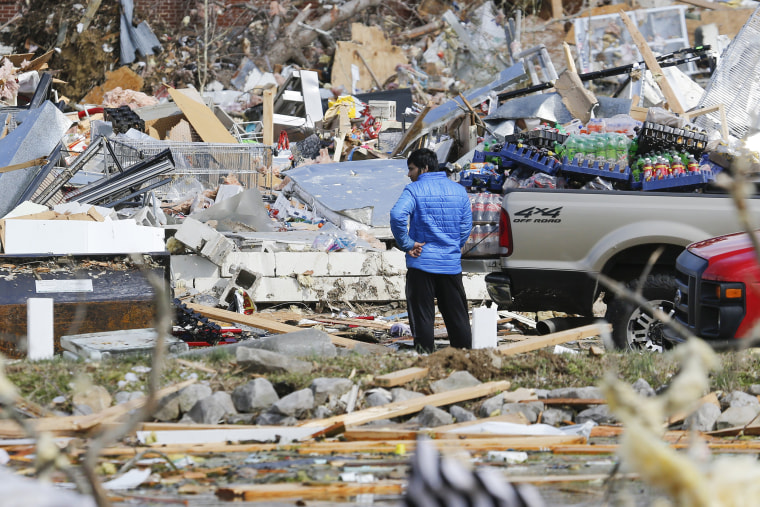 Quinlan said that if he had waited just a few more seconds to alert his wife to the tornado, they might not have made it out alive.
"I'm letting that sink in a little bit, but yeah," he said. "It definitely was a miracle, because, I mean, that's where we sleep. That's where he sleeps."
The family is unsure what will happen in the coming days, but Quinlan is trying to stay positive knowing that his wife and son are alive. Everything else is replaceable, he said.
Download the NBC News app for breaking news
Tennessee Gov. Bill Lee, who declared a state of emergency Tuesday, called the devastation heartbreaking. But Lee also noted his pride in how survivors have banded together to help their fellow Tennesseans amid the destruction.
"In the worst of circumstances, the best of people comes out, and that's what we're seeing here in Tennessee," Lee said at a news conference Tuesday. "It is as we would expect."
Shani Nokes was lucky enough that her family's home wasn't terribly damaged. She decided to bring her 11-year-old son, Josiah, with her to help those who were less fortunate and clean up the wreckage in their neighborhood.
"Well, we are firm believers in helping others and serving others, and the only way to get them used to doing it and making it part of their lives is to bring them out when they're young," Nokes said.
It was sad to see their friends lose their homes, but Josiah said he was happy to help with the cleanup.
"A good Samaritan, everybody helps you and you help everybody," Josiah said.
Chris Folsom worked with a group of people in his neighborhood to help save an elderly couple who were trapped in their home. Folsom said they had to climb in through the couple's window after the devastation of their home left the door inaccessible.
"There was debris all on the ground and insulation and into the bedroom, they're laying — the elderly couple — and the ceiling had fallen on top of them," Folsom said. "So they're just laying there with the ceiling on top of them."
Folsom said he didn't even think before going to help the group of strangers extricate the couple. He's sure that the people who were helping had their own losses but still went out to lend a hand.
"I mean, people just show up in your yard and start cleaning up debris and saws and, you know, just doing work," Folsom said. "They don't know you. They don't ask for thanks. They just do it."
Looking at the destruction and wreckage is overwhelming, Folsom said.
"You do have to take a step back and [say] 'OK, what's my next step?'" he said. "You know, but then you just make a plan. There's really no other choice. You just have to do it."
Catie Beck reported from Nashville. Doha Madani and Natasha Roy reported from New York.