Does Roy Moore's inscription in the high school yearbook of one of the nine women who have accused him of sexual misconduct mean the writing is on the wall for the embattled Alabama senate candidate?
Not so fast say professional forensic document examiners who specialize in detecting forgeries.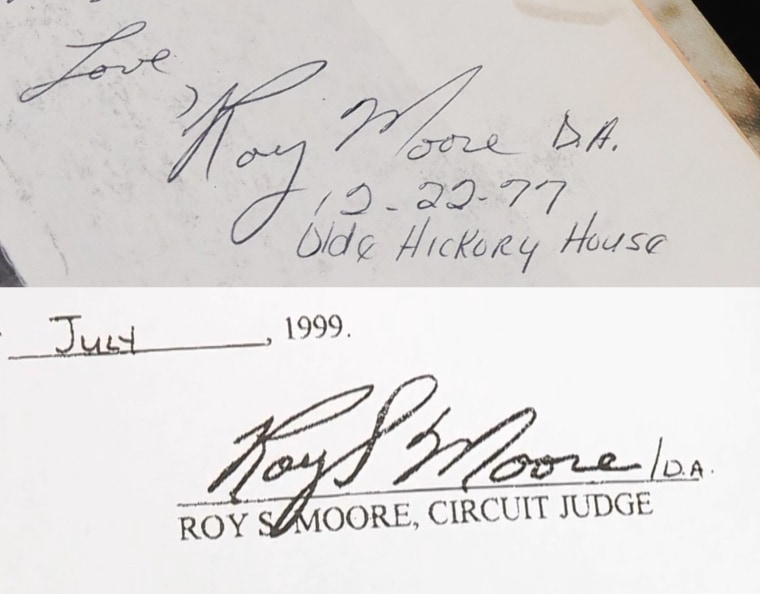 There's not enough evidence publicly available to tell whether the writing in accuser Beverly Young Nelson's yearbook was forged — as Moore suggested — after she claimed earlier this week that he assaulted her when she was 16 and he was in his early 30s.
And while the signature and writing may look a lot like Moore's scrawl, experts made it clear that they would need to compare it to other writing samples.
Verification would also require doing things like testing the ink and subjecting the writing to a microscopic examination to be able to say with certainty that this is the Moore's John Hancock or a forgery, the experts said.
"What a true forensic examiner will do is look at as many samples as possible from as broad a time period as possible," Steven Drexler, a retired handwriting expert and document examiner from the Alabama Department of Forensic Sciences, told NBC News. "Everybody's writing changes over time."
Signatures especially, Drexler added.
Related: Roy Moore scandal ignites fundraising explosion for Democratic challenger Doug Jones
"People have narrow or wide ranges of signature variations over time," he said. "And some people have different signatures for different tasks. I know some attorneys who have what I call credit card signatures which are illegible and more formal legible signatures for court documents."
Drexler declined to weigh-in specifically on Moore, saying that anybody who would issue a judgement based on the available evidence is a fraud. "The woods are full of snakes," he said.
Mark Songer, a former FBI agent who now works as a forensic document examiner in Denver, said he too couldn't say with certainty that the supposed Moore signature in the yearbook was authentic.
"Under microscopic examination you can actually see the line quality from the writing instrument, whether there is any hesitation which could be an indication of unnatural writing," he said.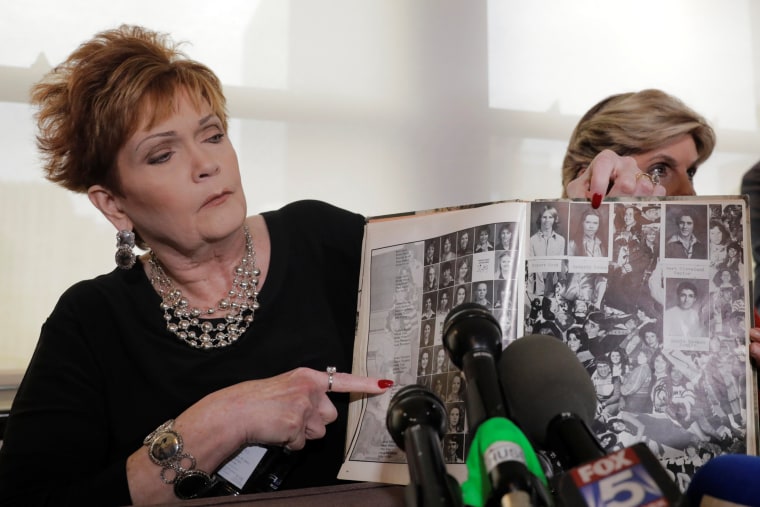 Songer said there are federal standards forensic document examiners adhere to and "many variables" they have to consider when investigating forgery claims.
Nelson was the fifth woman to accuse Moore of hitting on her when she was a teenager — and the first to allege assault. She claims Moore offered her a lift from the restaurant where she worked and on the drive home he groped her breasts and tried to force her head toward his crotch.
A week before the alleged attack, Nelson said she asked Moore to sign her yearbook. She showed the inscription to reporters, which read: "To a sweeter, more beautiful girl, I could not say Merry Christmas. Christmas 1977. Love Roy Moore, Old Hickory House." It was signed, "Roy Moore, D.A."
As he had with the other female accusers, Moore denied Nelson's claim. Later, in an open letter to FOX News' Sean Hannity, Moore said he believes there was evidence that "tampering has occurred" in the inscription. His lawyer also noted that at the time of the alleged attack Moore was deputy district attorney for Etowah County, not the district attorney.
Nelson's lawyer, Gloria Allred, said her client "is willing to testify under oath before the U.S. Senate that there has been no tampering."
"If such a hearing is held, she is will to submit the yearbook to an independent examiner to have it tested," Allred added in an email to NBC News. "Is Roy Moore willing to step down from his race for the Senate seat if we can prove that what appears to be written by him is authentic?"