With heavy hearts and a fierce determination to prevent the next school shooting, students from Marjory Stoneman Douglas High School came face-to-face with the National Rifle Association and Florida's two U.S. senators during a town hall Wednesday night, one week after a gunman massacred 17 people at their school.
The event, hosted by CNN and attended by more than 7,000 students, parents, legislators and community members, opened with a video montage honoring the 14 students, two school staffers and one teacher killed in the Feb. 14 shooting in Parkland, Florida.
Moderator Jake Tapper opened up the floor to questions for Sens. Marco Rubio, a Republican, and Bill Nelson, a Democrat, as well as Rep. Ted Deutch, D-Fla.
Rubio bore the brunt of the anger, engaging in searing confrontations with parents of victims and survivors of last week's shooting.
"Your comments this week and those of our president have been pathetically weak," said Fred Guttenberg, whose 14-year-old daughter, Jaime, was killed in the shooting.
A stone-faced Rubio responded that the issue "can't be solved with gun laws alone," which prompted boos from the audience.
In another heated exchange, Rubio was asked by junior Cameron Kasky, a prominent face among those driving a nascent student movement to strengthen gun laws, whether he would "accept a single donation from the NRA" going forward.
Rubio avoided the question, saying instead that the NRA "buys into my agenda, I don't buy into theirs," which again evoked jeers.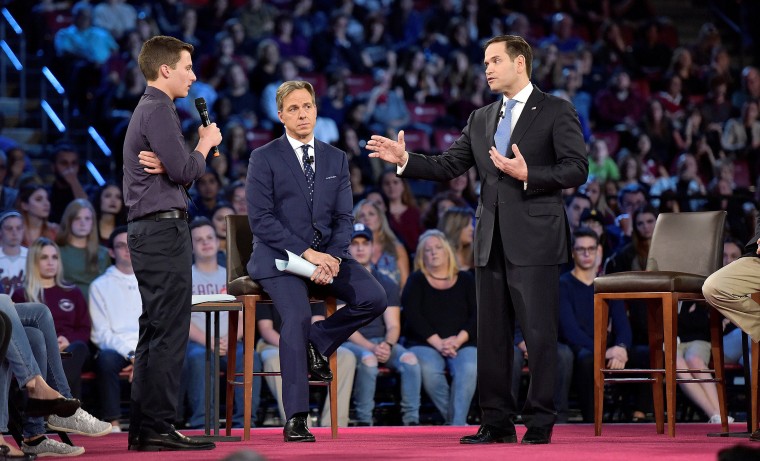 Rubio said he supported raising the age limit on rifle purchases to 21 and "gun violence restraining orders," but he repeatedly stressed that the issue of gun control is complex.
Both Nelson and Deutch said they supported a total ban on assault weapons.
The NRA, the nation's largest pro-gun organization, was represented by spokeswoman Dana Loesch, who pointed the finger at lax reporting by states to a gun database system, the lack of a federally mandated standard, and missed "red flags" by law enforcement on potentially dangerous people.
"We have to have better protocol to follow up on those red flags," Loesch said. "We have to follow up on protocol and why are the states not complying with this law."
She maintained that a "deranged" person like Nikolas Cruz, the suspect in the massacre, should never have gotten a gun if rules had been followed and if "good guys with guns" were there to protect the students.
Tapper noted that President Donald Trump and Florida Gov. Rick Scott both declined invitations to attend the town hall, but the panelists still discussed Trump's suggestion during a meeting with relatives and friends of victims earlier in the day that arming teachers could prevent school shootings.
All three legislators said they disagreed with Trump. Nelson called it a "terrible idea."
Earlier in the day, thousands of students, including some from Stoneman Douglas, protested in front of Florida's Old Capitol in Tallahassee after the state Legislature voted down a bill to ban purchases of assault rifles — like the one the Florida gunman used.
"Why do we have to be ones to do this?" Stoneman Douglas senior Ryan Deitsch, who was hiding in a closet during the attack, said at the town hall. "Why do we have to march on Washington just to save innocent lives?"
The town hall was also attended by Sheriff Scott Israel of Broward County, where Marjory Stoneman Douglas is located. He asked lawmakers to give law enforcement officers "more power" to take guns away from dangerous people and said deputies would now be armed with rifles in Broward County schools.
The night ended with Max Schachter, who lost his 14-year-old son, Alex, reading a poem written by the teen comparing life to a roller coaster.
"It may be too much for you at times, the twists the turns, the upside downs," he read. "But you get back up, you keep chugging along. And eventually, it comes to a stop. You won't know when or how but you will know that'll be time to get off and start anew."