A federal judge is expected to rule soon on an emergency motion to broaden the scope of exceptions to President Trump's executive order on travel.
Hawaii and other challengers filed their final court papers on Wednesday, clearing the way for a ruling on the state's claim that the Trump administration wrongly excluded grandparents and other relatives from the list of close family members who can get visas to travel to the United State during the 90 days while the executive order is in force.
Three days after the Supreme Court's June 26 ruling that the administration could begin partially enforcing the executive order, the State Department said parents, parents-in-law, spouses, fiancés, children, and children-in-law would be exempt from the ban on visas for travel to the United States from six Muslim countries. But grandparents, aunts, uncles, cousins, nieces, nephews, and siblings-in-law would be subject to the ban.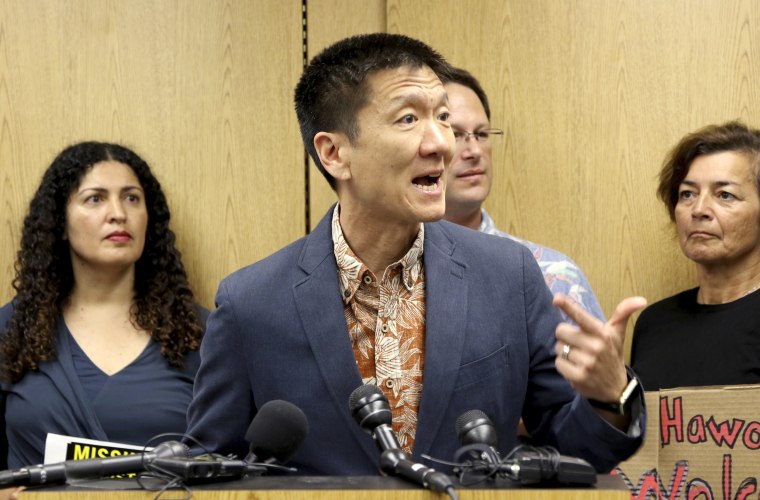 The government explained that it was abiding by the Supreme Court's ruling which said the exception should apply only to people overseas with a "credible claim of a bona fide relationship" with a family member in the United States. The list of exceptions was based on definitions of close family members contained in federal immigration law, Justice Department lawyers said.
But in its filing Wednesday, Hawaii said the government "fundamentally misconstrues the Supreme Court's partial stay," adding that the court said the ban should apply only to people overseas with no connection to someone in the United States.
The administration "still adheres to the preposterous contention that grandchildren, siblings-in-law, and other fundamental relations are not close family," the state said, citing two U.S. Supreme Court decisions that described aunts, uncles, and grandparents as "close relatives" or "close blood relatives."
Hawaii officials also contended that the government misread a portion of the Supreme Court's ruling that said refugees would be exempt from the travel ban if they had a relationship to an American "entity." Hawaii said that should include any of the organizations that sponsor refugees coming to the United States.
Federal District Court Judge Derrick Watson could rule any day now. The Justice Department has urged him to put his ruling on hold if he intended to give the challengers any of the relief they sought, to allow the government to file an immediate appeal to the Supreme Court.