ROBERT LEE, Texas — After a bus driver called in sick one recent afternoon, Robert Lee Independent School District Superintendent Aaron Hood filled in for her. Slipping behind the wheel in a button-up shirt and tie, he rumbled down country roads, past ranches and wind farms to shuttle a few dozen students home in this tiny West Texas town.
Out here, where cattle outnumber children 20 to 1, no one is hollering about critical race theory in textbooks or pornography in the library. But those battles raging 250 miles away in the state capital and in far-away suburbs have galvanized a political movement that Hood fears could deal a devastating blow to rural school districts like his.
Backed by a surge of campaign spending from far-right Christian megadonors, Republicans in Texas and nationwide are pushing legislation that would siphon money from public education under the banner of "parents' rights." These plans, commonly known as vouchers, would give parents the money the state would have spent educating their children in public schools — between $8,000 and $10,000 per child per year in Texas — and allow them to put it toward homeschooling expenses, private school tuition or college savings accounts. 
Officials in communities like Robert Lee, which has a population of about 1,000, warn these policies will chip away at already razor-thin public school budgets. With only 250 students — about 18 children per grade — even a slight drop in enrollment and funding can force rural schools like Robert Lee to make hard decisions, Hood said.
"We don't have the same economy of scale as larger districts," he said, which is one reason he obtained a commercial driver's license to serve as a substitute bus driver. "If we lose five or 10 students, that's a teacher salary. But we can't afford to have one less teacher, so now we're cutting academic programs, we're cutting sports, we're cutting the things that this community relies on."
As president of the Texas Association of Rural Schools, a collection of 362 public school districts that are united in their opposition to vouchers, Hood and his fellow small-town superintendents have been trying to sound an alarm in Austin. They see the state GOP's push for what advocates call "school choice" or "education freedom" as a betrayal of the party's rural base in favor of wealthy campaign donors. 
In a remote county where 9 in 10 voters cast ballots for then-President Donald Trump in 2020, Hood and other school leaders worry that many local families won't pay attention to the debate until it's too late.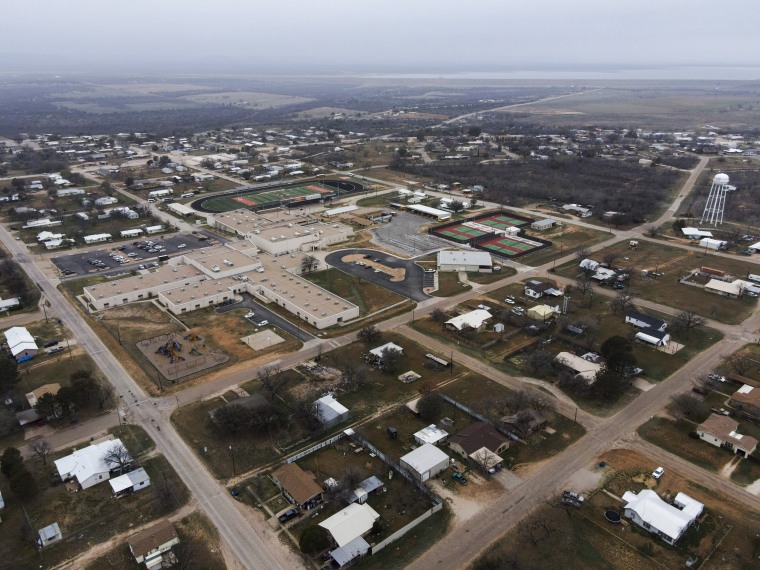 "Nobody opposes school choice, but that's not really what we're talking about," Hood said. "It's all in how you ask the question. If you ask people in this community if they support sending their tax dollars to private schools with no accountability and no standards, they're going to tell you they're against that."
Gov. Greg Abbott has made education freedom an emergency priority in this legislative session, a reversal from past years when he seemed to toe the line between the interests of pro-voucher activists and the concerns of rural constituents. 
Andrew Mahaleris, a spokesman for Abbott, said in an email that school choice programs "bridge the partisan divide" and are supported by "voters across rural Texas." He pointed to a January survey conducted by the University of Houston Hobby School of Public Affairs that found a majority of Texans — including 62% of those living in rural counties — supported giving parents tax-funded vouchers to send their children to private schools.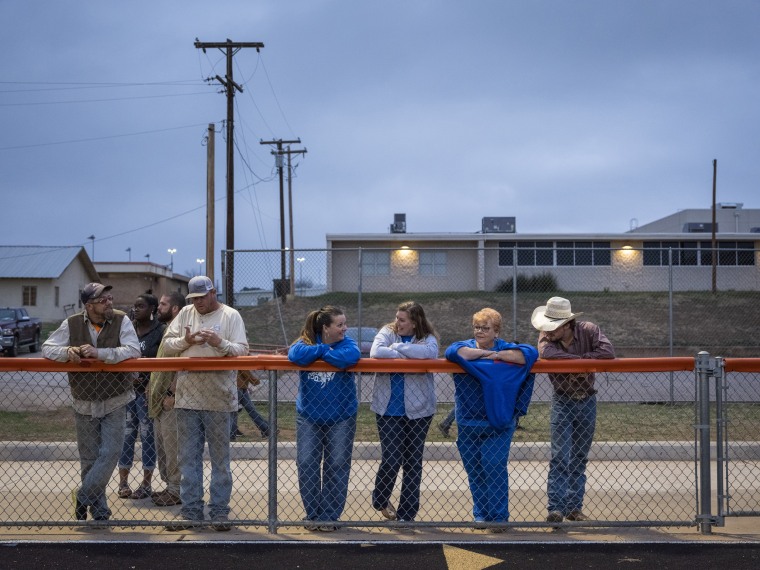 To rally support for the cause, Abbott has staged a series of events alongside leaders from the Texas Public Policy Foundation, an influential conservative think tank that has spent years fighting to end "the government monopoly in public education." 
Despite its branding as a tour to highlight support for school choice in rural Texas, all of the governor's stops have been held at private Christian schools in mid-size cities, including Amarillo, a West Texas metro with a population roughly the size of Charleston, West Virginia.
Wes Washam, Robert Lee's school board president, chuckled when he heard about the event. 
"Amarillo is not rural," he said, noting that in Robert Lee, the closest private school is more than 30 miles away. "We're kind of getting left out of the conversation."
Spending money, winning votes
For many years, an unlikely coalition of rural Republican lawmakers and urban Democrats formed a wall against private school vouchers in the Texas Legislature. But political spending by conservative Christian megadonors has helped chip away at opposition within the Texas GOP — including in the state Senate district that represents Robert Lee.
Until this year, Senate District 31 had long been held by Republican Kel Seliger, whose steadfast opposition to vouchers helped turn him into a target from ultraconservative political action committees like Defend Texas Liberty and the now-defunct Empower Texans. Both PACs drew the vast majority of their funding from the families of Tim Dunn and Farris Wilks, a pair of billionaire oil and fracking magnates who've expressed the view that government and education should be guided by biblical values.
"They set out to make an example of me," Seliger said.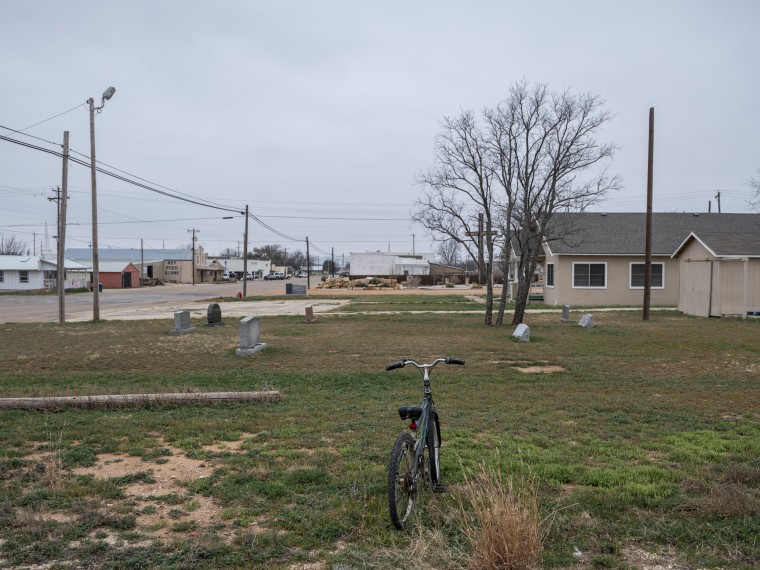 The PACs spent millions of dollars over the past decade backing the GOP primary opponents of Seliger and other moderate Republicans, ousting a handful of legislators and winning concessions from others. Seliger always managed to hold on to his seat — until last year, just as the backlash against school diversity programs was beginning to supercharge the nationwide movement for private school vouchers.
Ahead of what would have been Seliger's 2022 re-election campaign, several far-right donors threw their support behind his latest primary challenger, Kevin Sparks, a Midland oilman who'd served on the board of the pro-voucher Texas Public Policy Foundation. Sparks also sits on the board of trustees at Midland Classical Academy, a private Christian school founded by Dunn, whose family donated $200,000 to Sparks' campaign. Later, Trump jumped into the race, endorsing Sparks and calling Seliger a RINO — Republican in Name Only.
NBC News requested interviews with Sparks, Wilks and Dunn, but they declined or did not respond.
After two decades in the Legislature — facing an uphill re-election battle and having concluded that the Texas Republican Party had "really gone off the rails" — Seliger decided to retire.
"Now was a good time to leave," he said, "because I could leave on my own terms."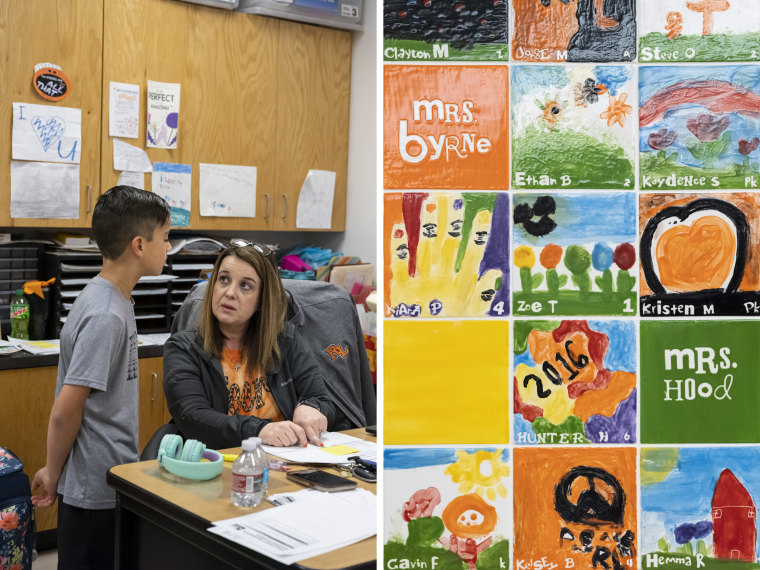 Sparks, who easily won the Republican primary and ran unopposed in the general election, was sworn in to Seliger's former seat in January, flipping it in favor of school choice. The freshman senator's district includes 91 public school systems stretching from the Texas panhandle to the oil-rich Permian Basin; all but six of them are small rural districts with no local private school options, an NBC News analysis found.
The interests of public schools in those communities, Seliger argued, are no longer fully represented in the Texas Senate.
"These powerful donors figured out they could just buy the campaigns," he said. "Those people essentially own those seats now, and they're going to get what they want out of them."
Lobbying for rural support
On his private Christian school road tour, Abbott has pitched school choice as a way of empowering parents to protect their children from a "woke agenda" he says is being pushed by some public school educators.
Such allegations sound fanciful to many in Robert Lee, where both the town and the school district are unapologetically named in honor of the famous Confederate general's military service in Texas prior to the Civil War.
The biggest political controversy Hood has dealt with in recent years has been over the strictness of the dress code. "When you've got all of your students ages 5 through 18 in one building," he said, "you sort of have to be conservative."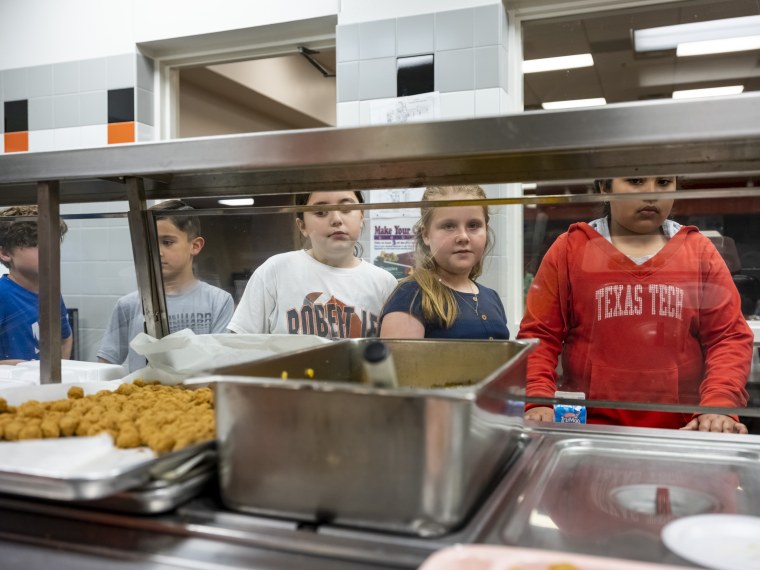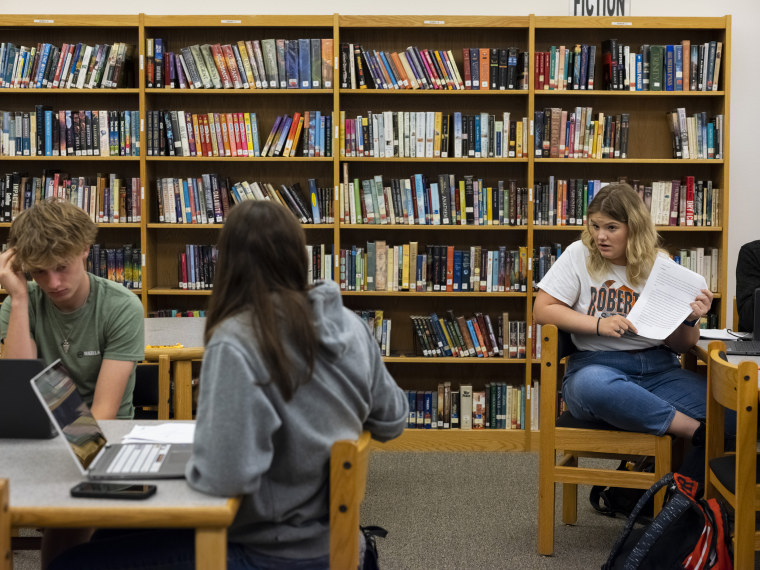 And yet, according to Hood and other rural school officials, conservative districts like Robert Lee stand to suffer the most serious consequences under the Republican plans.
Because Texas public schools are funded with a mix of local tax revenue and state dollars — with state money distributed on a per-student basis — rural districts could see their funding cut in two ways: either as a result of losing local students directly to vouchers, or as a result of the overall pot of state funds being diluted to cover private and homeschooling expenses of students in far-away cities and suburbs, leaving less per-student funding for every district.
"Imagine making that pitch to a rural voter," Hood said. "You're going to take our tax money and give it to a parent in the Dallas suburbs so their child can go to an expensive private school? Absolutely not."
Republican leaders have attempted to head off those criticisms. Under Senate Bill 8, the leading school choice bill before the Legislature, parents who pull their children out of public school would be eligible to receive $8,000 per child each year in an education savings account. To offset that funding loss, districts with fewer than 20,000 students would receive $10,000 a year from the state to make up for each student they lose due to the program — but only for the first two years after the child disenrolled. And the savings accounts would be available only to students currently attending public schools and children entering kindergarten, not those already in private schools. 
The bill, titled The Texas Parental Bill of Rights, also gives parents more oversight of public school curriculum while prohibiting schools from providing instruction "regarding sexual orientation or gender identity" at all grade levels.
In a statement, the bill's Republican author, state Sen. Brandon Creighton, framed the legislation as a compromise between "parents, educators, employers and students."
But Michael Lee, the executive director of the Texas Association of Rural Schools, said the concessions didn't change his organization's position on vouchers. The temporary $10,000 payments to small districts and limits on student eligibility would merely delay, not prevent, cuts to rural schools, he said.
"We continue to encourage legislators who represent our rural school districts to vote in the best interest of their constituents," Lee said.
'Not asking for a handout'
A few days after picking up the route for the sick bus driver, Hood was in the press box overlooking the Robert Lee Steers athletic complex at the start of a middle school track meet.
PA announcer: one more job that sometimes falls to the superintendent of a small-town school.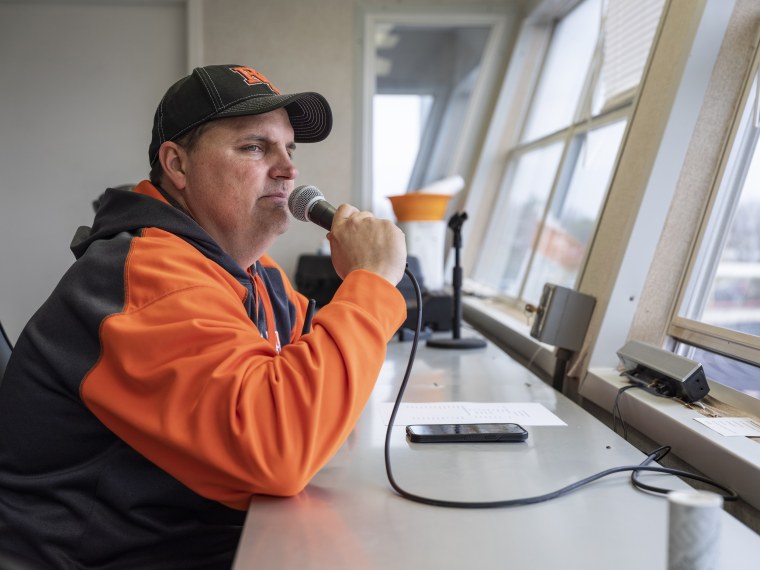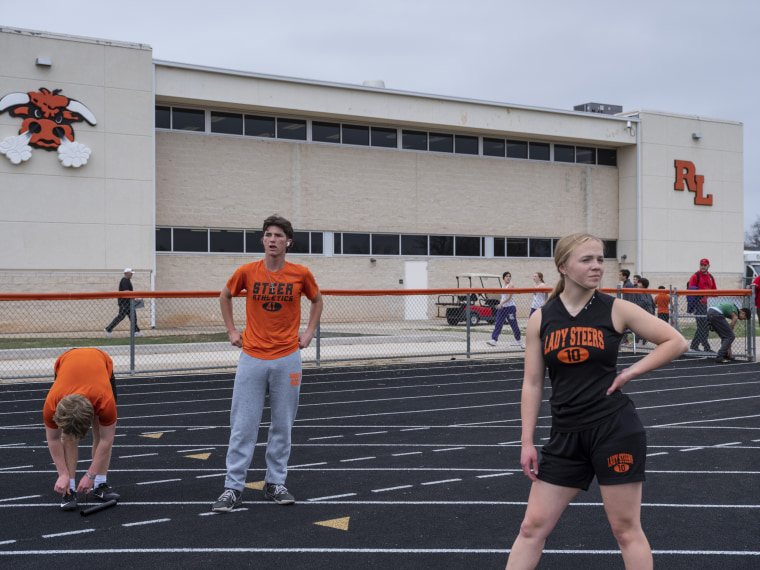 Families and student-athletes had come to Robert Lee from eight other rural school districts, some of them more than an hour away. After the meet, Hood said, many of them would stop for dinner at one of the town's three restaurants or fill up their tank at one of the town's gas stations — a boost to the local economy.
It's not just sporting events that make the school the center of the town's identity. It's where residents host potluck fundraisers to help pay a loved one's medical bills, or gather for the annual Robert Lee BBQ Cookoff. There's no gym or YMCA in Robert Lee, but the school weight room is open to the public in the evenings and on weekends. So is the playground.
Lupe Torres, the school district's head of maintenance and facilities, said he doubts many folks in Austin understand the indelible connection that rural Texans have to their public schools.
"Most of the people in this community work hard," he said. "They're ranchers, farmers, educators. They're not asking for a handout to send their children off to some private school."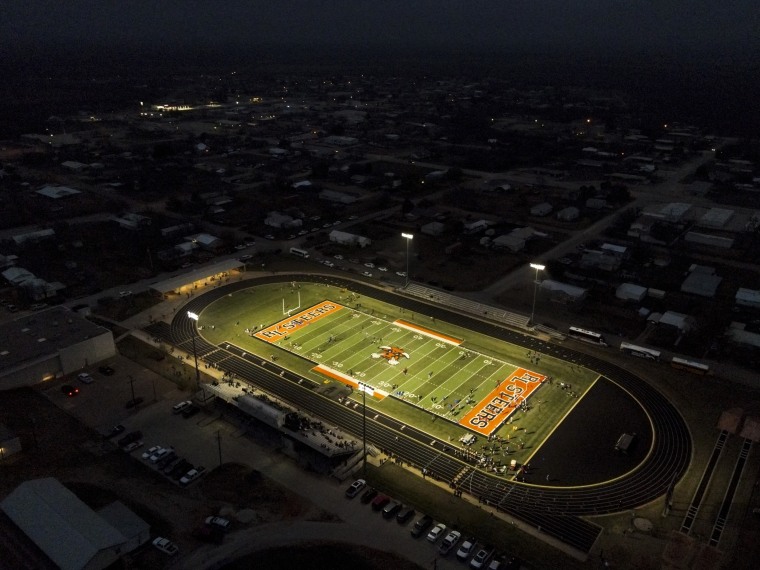 Hood, whose father was superintendent of Robert Lee before he took the job 17 years ago, is worried about what will happen to his hometown if too much of the school's funding is redirected to religious schools that aren't required to educate all children and into the college savings accounts of homeschooled children.
He's seen it happen in other rural Texas communities. At some point, as populations dwindle, the budget math doesn't add up anymore, and rural schools are forced to consolidate with adjacent districts — or worse.
"If the school goes down," Hood said, "the town goes down with it."