WASHINGTON — An estimated 126 million Americans, roughly one-third of the nation's population, received Russian-backed content on Facebook during the 2016 campaign, according to prepared testimony the company submitted Monday to the Senate Judiciary Committee and obtained by NBC News.
Underscoring how widely content on the social media platform can spread, Facebook says in the testimony that while some 29 million Americans directly received material from 80,000 posts by 120 fake Russian-backed pages in their own news feeds, those posts were "shared, liked and followed by people on Facebook, and, as a result, three times more people may have been exposed to a story that originated from the Russian operation."
The testimony by Facebook's general counsel, Colin Stretch, was submitted to the Judiciary Committee ahead of a hearing on Tuesday with executives from Facebook, Google and Twitter. The hearing is part of the congressional inquiry into Russia's use of these platforms to try to influence last year's U.S. presidential election.
Related: What to Expect When Facebook, Google and Twitter Testify on Election Meddling
Posts from Russian-backed Facebook accounts from January 2015 to August 2017, by Facebook's estimation, reached potentially half of the 250 million Americans who are eligible to vote. None of the 80,000 posts generated by fake Russian-backed pages includes the 3,000 Facebook advertisements purchased by Russian entities, according to a person familiar with the issue.
The shared content that Facebook estimates reached 126 million Americans was likely hard, if not impossible, for users of the social media platform to identify as originating from Russia.
Twitter also revealed Russian-backed entities played a larger role than previously disclosed. Two sources told NBC News Monday that the company found 36,746 automated accounts — or bots — that were linked to Russia between September 1 and November 15, 2016. The accounts tweeted 1.4 million times and were seen 288 million times.
According to prepared testimony, Twitter acting general counsel Sean Edgett plans to tell Congress these "Russian-linked, automated accounts constituted less than three quarters of a percent (0.74%) of the overall election-related tweets on Twitter at the time."
Related: Just How Easy Is It to Game Twitter Like the Russians?
Twitter also found 2,752 accounts associated with the Russia-run Internet Research Agency, up from the 201 the company originally disclosed. The company has suspended all 2,752 accounts and is "proactively giving committee investigators the handles of these accounts."
Stretch, in his prepared testimony, seeks to play down the significance of that level of exposure to content from Russian-backed accounts.
"Our best estimate is that approximately 126 million people may have been served one of their stories at some point during the two-year period," Stretch says in prepared testimony. "This equals about four-thousandths of one percent (0.004%) of content in News Feed, or approximately 1 out of 23,000 pieces of content."
The person familiar with the issue said: "Put another way, if each of these posts were a commercial on television, you'd have to watch more than 600 hours of television to see something from" the Russia-backed posts.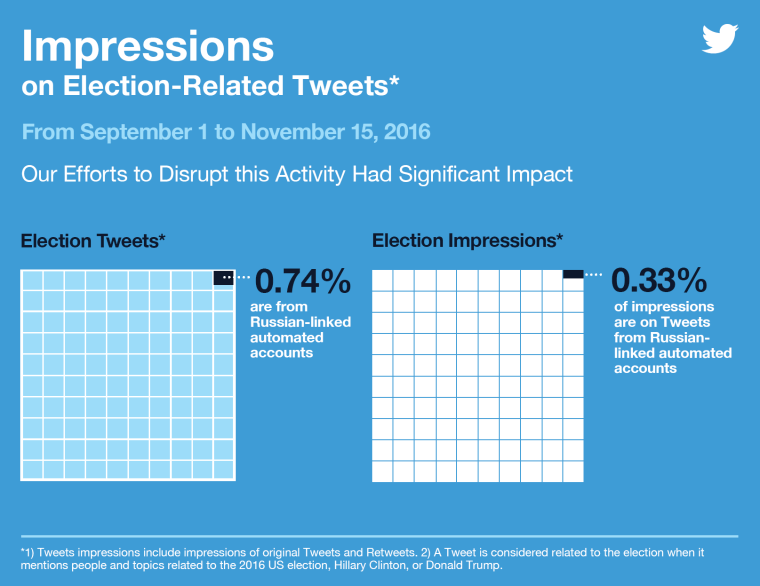 Dave Karpf, a professor of media and technology at George Washington University, said the reach of the Russian-backed content is problematic but is unlikely to have affected the outcome of the election.
Related: Despite Scrutiny From Congress, Tech Companies Get Mega Rewards from Investors
"It is a problem in that this is evidence that foreign nationals actively attempted to impact our election and they did manage to reach 126 million with messages," Karpf said. "It's going to be important for Facebook and Google and Twitter to get a handle on this stuff before the next election, hopefully with the help from our regulators, but what we should avoid is thinking, 'Wow, 126 million people were duped into voting for Trump.'"
Facebook has said the Russian-backed entities violated the company's policies because, Stretch says in his prepared testimony, they "came from a set of coordinated, inauthentic accounts."
"We shut these accounts down and began trying to understand how they misused our platform," the testimony says.
Stretch's testimony also says that Facebook tried to mitigate threats "from actors with ties to Russia" by reporting them to U.S. law enforcement, including accounts belonging to a group the U.S. has linked to Russian military intelligence services. Stretch says that group, APT28, also created "fake personas that were then used to seed stolen information to journalists" and that those were "organized under the banner of an organization that called itself DC Leaks" whose accounts Facebook later removed.
He also plans to testify that Facebook has taken lessons from the 2016 campaign and applied them to identify fake accounts ahead of the French and German elections this year.