The Russian hacker arrested in Spain this weekend is the latest suspect swept up in a global dragnet that U.S. officials hope will yield intelligence on Russian government interference in November's presidential election.
At least six Russians have been arrested in Europe on international warrants over the past several months, according to McClatchy Newspapers. The most recent arrest was Friday in Barcelona, where a 32-year-old Russian computer programmer was nabbed.
Pyotr Levashov, 32, was arrested Friday. A tweet from the Spanish National Police said that "In cooperation with the FBI, one of the most wanted cybercriminals has been detained in Barcelona. He is accused of scamming and data theft." The U.S. has charged that Levashov is spam kingpin Peter Severa, who is closely associated with Russia's most active cyber criminals.
According to Russian television, quoting Levashov's wife, armed police stormed into their apartment in Barcelona and quizzed her husband for two hours. Later in a phone conversation from a Spanish jail, Maria Levashov said her husband told her the arrest was "linked to Trump's election win."
However, a U.S. official familiar with the arrest said authorities have not yet determined if Levashov was part of the political hacking operation.
Related: U.S. Has Identified Russians Who Gave Hacked Emails to WikiLeaks
"It is to-be-determined whether he had anything to do with the WikiLeaks hack or the Russian role in the election. He was being looked at on other cyber issues, so he will be asked about the elections," said the official.
Related: U.S. Unveils Plan to Punish Russians for Election Hack
A former high-ranking U.S. intelligence official said the operation and other arrests are part of a broad attack on Russian hackers, some of whom may have information on the election hacking.
U.S. intelligence officials and cyber experts have long reported that the Russian security services use "patriotic" hackers to carry out attacks on intelligence targets. The hackers have the expertise and their operations can't be easily traced back to the security services. If hackers decline to help out, said one official, they can find themselves in trouble with Russian authorities.
In addition to Levashov, international warrants have been served on at least five others, according to McClatchy:
-- Stanislav Lisov, a computer programmer from Taganrog, on Russia's Black Sea coast, was also grabbed in Barcelona, arrested at the city's international airport with his wife on January 13. Spanish Civil Guard police arrested him on an FBI warrant issued through Interpol. The charges: electronic and computer fraud.
-- Yevgeniy Nikulin, 29, was arrested by Czech police while eating in a hotel restaurant in Prague's Old Town on October 5. He is under indictment in northern California on charges of computer intrusion, identity theft and other crimes for penetrating LinkedIn, Dropbox and Formspring.
-- Olga Komova, a 26-year-old Uzbek, and Dmitry Ukrainsky, a Russian, were arrested in July 26 at beach resorts in Thailand and accused of stealing more than $28 million as part of a mega cyber bank fraud ring. Komova is in U.S. custody and faces federal charges of wire fraud and money laundering. Komova worked in guest relations at a Thai resort.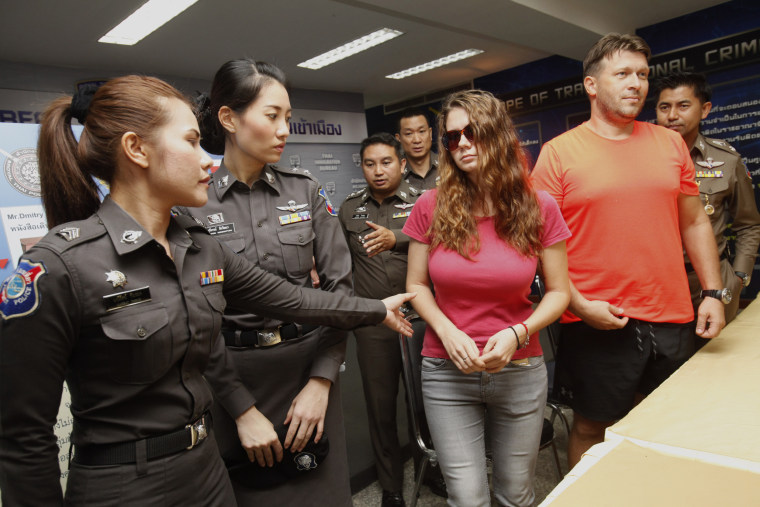 -- Maxim Senakh, a 41-year-old Russian, was visiting his sister in Finland three months ago when he was arrested by Finnish authorities, again in cooperation with the FBI. He was quickly extradited to the U.S. and pleaded guilty in a Minneapolis courtroom last week to violations of the Computer Fraud and Abuse Act and wire fraud. Senakh and his associates allegedly installed malware on tens of thousands of computer servers worldwide to generate fraudulent payments for themselves.
FBI Director James Comey has testified that his agency is investigating whether members of President Trump's campaign colluded with Russia to influence the 2016 election.