Hundreds of motorists have complained to the feds that the bottoms of their older-model Nissan Altimas are rusting through, potentially putting their feet awfully close to the road.
It sounds like a scene out of a certain cartoon set in Bedrock, but the drivers say there is nothing funny about this problem.
"I'm not Fred Flintstone. This is not a good thing," Marie DeMaria, a Chicago-area realtor, told NBC News after her mechanic examined the corrosion on the floor pan of her 2005 Altima.
"This is not safe. I drive every day for a living. This is very nerve-racking for me to be driving now."
The National Highway Traffic Safety Administration (NHTSA) has received more than 400 complaints of rusted-out Altimas rolled out between 2002 and 2006.
Some came from states that have heavy snow, where road salt can eat away at metal — but not all of them. And Nissan Maximas from the same period had far fewer complaints.
The cause is unknown, though several mechanics told NBC News they think a design flaw may be preventing water from draining, causing floor pans to rot from the inside out.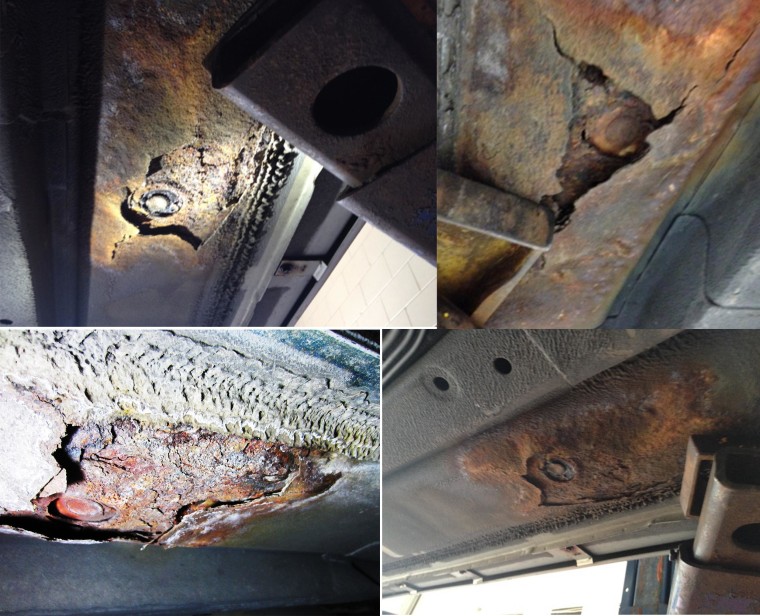 Nissan said it has no plans to order a recall and notes that corrosion in older cars is not unusual.
"This issue is not considered a safety defect by Nissan or the government agency that administers safety recalls," the automaker said in a statement.
Although only one injury related to a rusty Altima has been reported to NHTSA, DeMaria's mechanic, Zoran Sarich, said the potential for more exists.
"Sooner or later, you're going to be able to put your feet through the floor," he said.
Sarich said DeMaria's car wasn't the first Altima he had seen with a rusty floor.
"I have a couple of other customers with the same exact car and the same issues," he said.
Follow NBC News Investigations on Twitter and Facebook
Bill Eveland, who owns a body shop in Shawnee Mission, Kansas, told NBC affiliate KSHB that it can cost up to $5,000 to replace a floorboard — often more than the car's book value.
"Once it is out of the warranty period, [Nissan] doesn't have any legal obligation," Eveland said. "It becomes more of a customer service issue of whether they want to deal with it or not."
Drivers like Herb Brown, who owns a 2006 Altima, feel like they're stuck with a car that costs too much to fix and isn't safe enough to sell.
"I mean who would want to buy a car with holes in the floor boards?" he said.
Brown, who lives in Overland Park, Kansas, said he hopes Nissan puts its recall decision in reverse.
"I've had three Nissans in my life. I love the car, but if they don't make this right, I won't get another one," he told KSHB.