The immediate fate of the rusty patched bumble bee no longer hangs in the balance.
The prodigious pollinator officially landed on America's endangered species list Tuesday, the Department of the Interior said — the first time in the history of the continental United States that a bee species is under federal protection.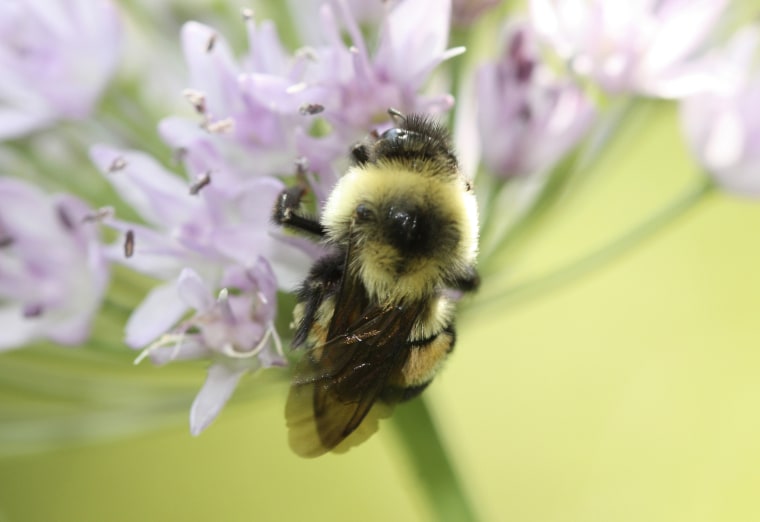 The humble bee's new special status comes after the Trump administration delayed branding the insect as an endangered species last month — a move made under the outgoing Obama administration that had yet to go into effect. The new administration said it needed time to review a flurry of forthcoming regulatory changes.
Environmental groups blasted the nearly six-week delay as unwise, but the U.S. Fish and Wildlife Service denied it would have any lasting impact because the agency must still develop a recovery plan to bring this species back to a "healthy and secure condition."
Related: Bumble Bee Species Declared Endangered in the U.S. for First Time
With the rusty patched bumble bee's inclusion as an endangered species — alongside the Florida panther, whooping crane and 700 other species — the federal government is now tasked with ensuring it flourishes. It is also a now federal crime to harm or kill the bees, which were once abundant along the East Coast and through South Dakota and parts of Canada, but has seen its numbers plummet by 87 percent in recent decades, according to experts.
Rebecca Riley, senior attorney with the nonprofit Natural Resources Defense Council, said the Trump administration reversed course "just in the nick of time."
"Federal protections may be the only thing standing between the bumble bee and extinction," said Riley, whose environmental advocacy group filed a federal lawsuit against the government over the delay.