Following a week-long strike, Rutgers University reached a deal with faculty unions Friday night for new contract, the first of its kind in the school's 257-year history.
On Monday, thousands of professors, part-time lecturers and graduate student workers at New Jersey's flagship university went on strike to demand salary increases, better job security for adjunct faculty members and guaranteed funding for graduate students, among other requests.
The new deal will increase salaries for full-time faculty and New Jersey Educational Opportunity Fund counselors by at least 14% by the summer of 2025, according to a statement from the university's President, Jonathan Holloway. It will also increase the per-credit salary rate for part-time lecturers by 43.8% and the minimum salary for postdoctoral fellows and associates by 27.9%, both over a four-year contract, as well as enhance the wages of teaching and graduate assistants and provide them with multi-year university support, according to a statement from the university's President, Jonathan Holloway.
"Most important, closure on this framework will allow our 67,000 students to resume their studies and pursue their academic degrees," Holloway said. "Nothing we do is as important as living up to the expectations that our students and their families have of us to be fully supportive of them and nurturing of their academic ambitions and dreams."
The amendments are still pending ratification by members of each faculty union, according to a statement from the university.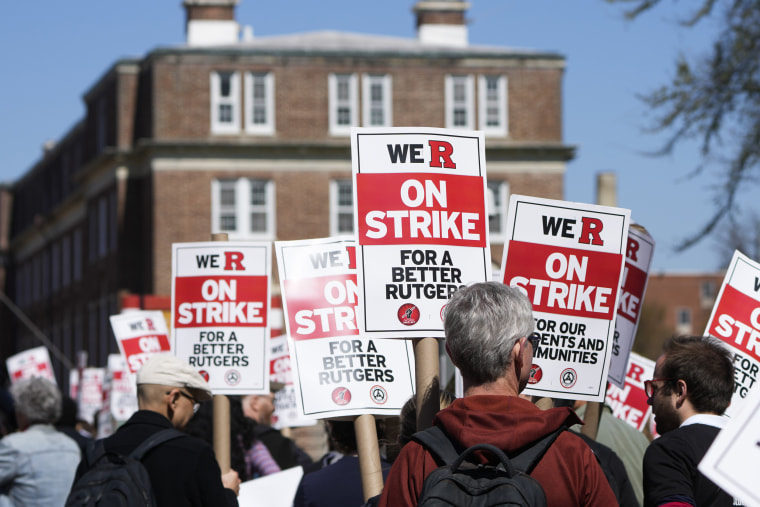 The agreement was reached after New Jersey Gov. Phil Murphy brought members of the university's administration and union representatives together to come to a resolution, according to a news release from the Governor's office.
"This fair and amicable conclusion respects the interests of many different stakeholders, upholds New Jersey's values, and puts an end to a standoff that was disruptive to our educators and students alike," Murphy said.
Faculty union Rutgers AAUP-AFT President Becky Givan says the new framework "sets a new standard." The union represents more than more than 5,000 faculty members, according to their website.
"The framework we have agreed to today sets in place unprecedented gains for contingent workers, graduate students, and our communities," Givan said. "We look forward to working together with the university to realize President Holloway's vision of a beloved community."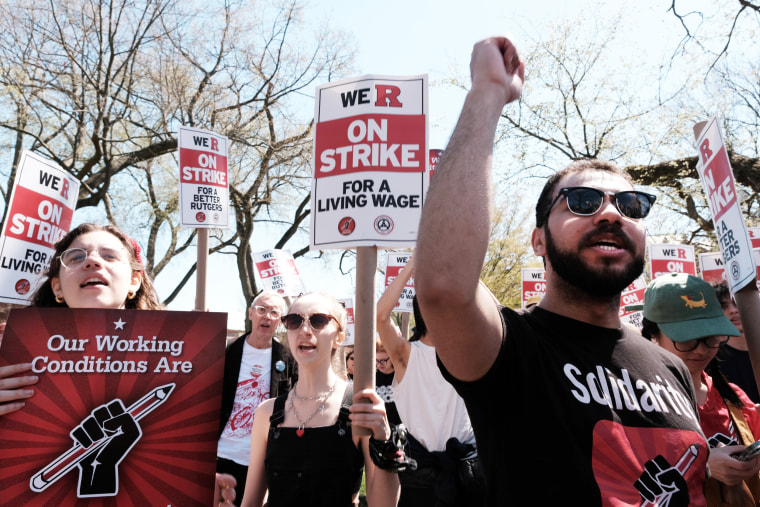 "We are extremely pleased that we reached what we believe is the basis for a transformative contract for part-time faculty at Rutgers," said Amy Higher, President, Adjunct Faculty Union (PTLFC). "We deeply appreciate the Governor and his staff's efforts to help us win gains for which we have been fighting for a long time: multi-semester appointments for hundreds of us, and significantly higher pay for all of us. We still have work to do to come to a full tentative agreement, and we will resume doing so next week. Most of all, we are eager to get back to teaching our students and helping them finish up spring semester."
Classes will resume on Monday at three of Rutger's New Brunswick, Newark, and Camden campuses.
Last night, Rutgers University reached the framework on economic issues for new contracts with several of our faculty unions that allows our 67,000 students to resume their studies and pursue their academic degrees, President Jonathan Holloway announced. Reaching consensus comes as a result of the active and engaged leadership of Governor Phil Murphy. While the agreements are subject to ratification by the members of each union, the settlements bring to a halt the strike that began on Monday, April 10, 2023.