Star swimmer Ryan Lochte apologized Friday for giving a misleading account of being held at gunpoint in Rio, saying he "should have been much more responsible in how I handled myself."
The 12-time Olympic medalist posted his statement on Instagram and Twitter, which he said he delayed releasing until his three teammates caught in the scandal had been cleared by Brazilian authorities to return home.
The International Olympic Committee confirmed Friday it has set up a disciplinary commission to look into the matter.
Related: Robbery, Shakedown or Misunderstanding? How the Ryan Lochte Stickup Story Unfolded
Two swimmers, Gunnar Bentz and Jack Conger, arrived in the United States early Friday morning. The third, Jimmy Feigen, has been cleared to leave Rio after agreeing to donate nearly $11,000 to a local charity.
"I want to apologize for my behavior last weekend — for not being more careful and candid in how I described the events of that early morning and for my role in taking the focus away from the many athletes fulfilling their dreams of participating in the Olympics," Lochte wrote.
Lochte has twice spoken publicly about the Sunday morning encounter and given his account to police — descriptions that Brazilian authorities have dismissed as fabrications.
He initially told NBC News that he and his teammates were returning home from a party when they were robbed at gunpoint by men who appeared to be police officers. Lochte said the gun was held to his head and he refused the assailants' order to get on the ground — while the other three complied.
Later, after Olympic officials appeared caught off guard and authorities began to question his account, Lochte told USA Today that he'd waited to tell anyone because he was afraid they'd get in trouble. After returning to the United States, Lochte spoke again to NBC News, with some different details: the gun wasn't pointed at his head, he said, and the robbery had happened at a gas station.
But police, citing surveillance video and witness accounts, said the encounter happened after the swimmers vandalized a gas station bathroom and were told to pay for the damage. The gun was pulled by security guards, police said; there had been no robbery.
Bentz and Conger told police that the story Lochte told the media was not how they remembered the incident, according to portions of their statements released Friday. Conger is also quoted as saying he and Lochte urinated behind the gas station, and that Lochte ripped a board from the side of the building, causing a lot of noise.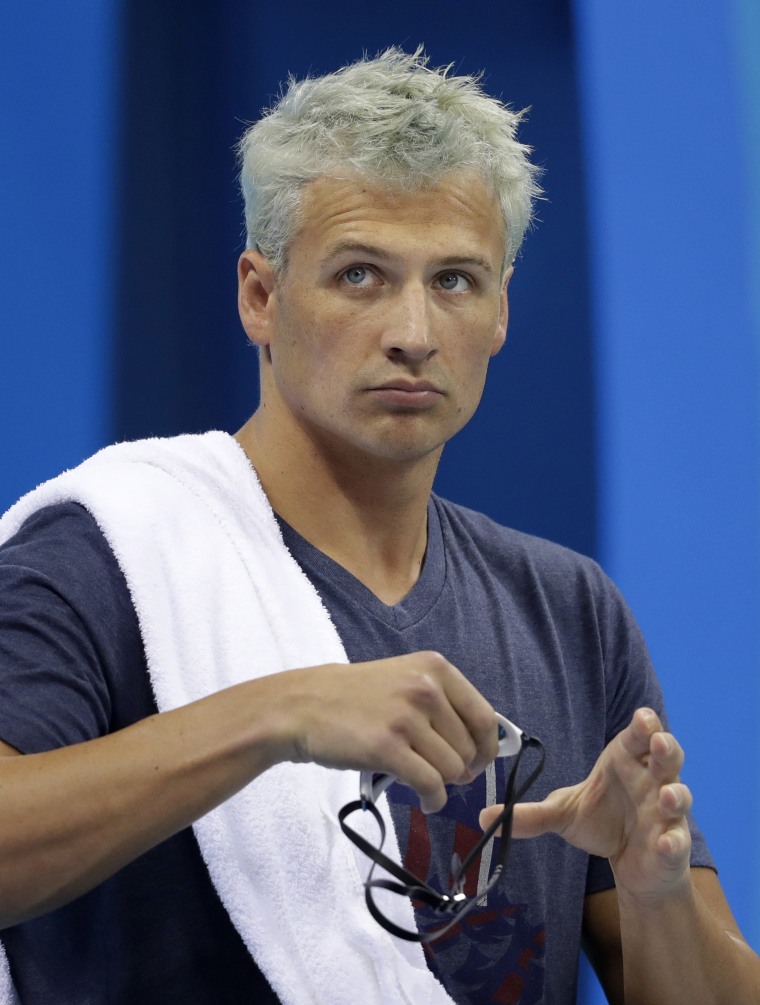 The swimmers have become, to many in Brazil and the United States, symbols of American boorishness.
Lochte, who'd never publicly mentioned the vandalism or argument with gas station staff, suggested in his statement that he still viewed himself as a victim, but that it didn't excuse how he acted.
"It's traumatic to be out late with your friends in a foreign country — with a language barrier — and have a stranger point a gun at you and demand money to let you leave, but regardless of the behavior of anyone else that night, I should have been much more responsible in how I handled myself and for that I am sorry to my teammates, my fans, my fellow competitors, my sponsors, and the hosts of this great event," he wrote.